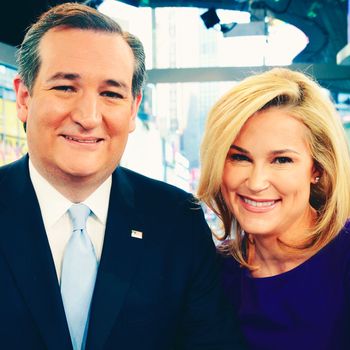 Ted and Heidi Cruz.
Photo: Ida Mae Astute/ABC via Getty Images
Who will Texas voters choose this November in a pivotal U.S. Senate race: The bassist of the punk band who put out the 1993 record The El Paso Pussycats, or the adult man (and possible Zodiac Killer) who demanded his wife let him play Disney music at their wedding?
In a sympathetic Atlantic profile of Heidi Cruz, the wife of Republican Texas senator Ted Cruz opened up about a number of unmemorable details about her life: That she met Cruz when they were working together in the George W. Bush administration, and since then, she's been trying to navigate how to be a political spouse and the "primary breadwinner." But apparently two hours into her interview with reporter Elaina Plott, Heidi revealed something disturbing and unfortunately unforgettable: that her husband insisted that their wedding ceremony conclude with Aladdin's "A Whole New World," a song off what Cruz believes to be an unparalleled soundtrack. In his words, as Heidi remembers them, "No one can do Aladdin":
Which is how Heidi found herself planning a May wedding to a man who, for all his pretension, insisted they play "A Whole New World," the popular Disney song, at the end of the ceremony. She didn't understand: They had a band, she told him — a violinist, no less! Why on earth would they play a CD? "Because no one can do Aladdin," he said. She relented, and it became a theme of sorts. Or that's how she remembers it, anyway. On a magic carpet ride.
While she didn't understand her husband's song-choice at the time, she now "often" thinks about the conclusion of her wedding ceremony, and "[appreciates] that Ted started [their] life together with that song, because there's some truth to it,"
She continued: "He'll be like, 'It's such a great life! We have so much adventure ahead! It's like our magic-carpet ride,'" she continued. "And sometimes I'm like, 'I hope we don't hit the cement.'"
Incredible news for Democratic Senate candidate Beto O'Rourke: He's still the extremely cool one in the pivotal Texas race.