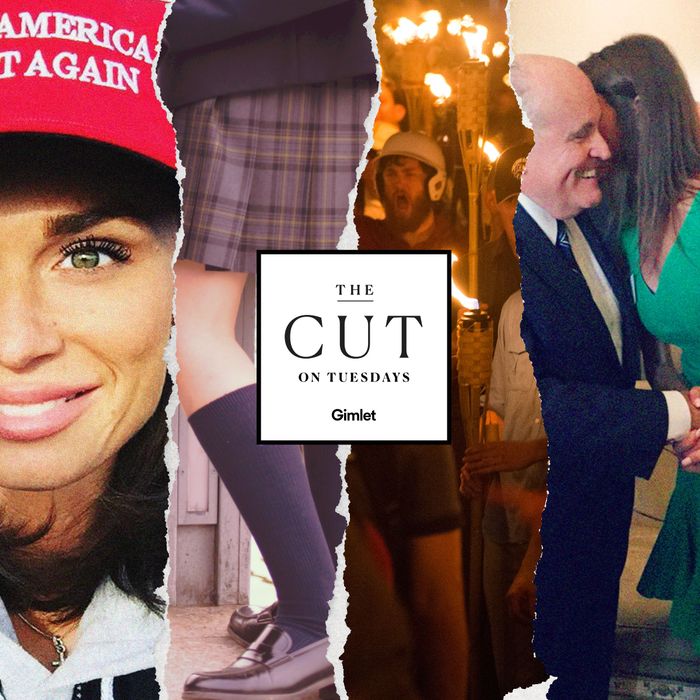 Photo: Photo-Illustration: by Stevie Remsberg; Photos Getty Images, @faithgoldy/Instagram, @FaithGoldy/Twitter
On this week's show, we're taking a look at the roots of far-right radicalization and how the rhetoric of hatred is propagated online. And we're also thinking about high school and the ways people change — some more than others.
In this episode, senior culture writer Anna Silman goes back to Toronto to find out how a girl she went to school with became a poster-girl for white nationalists. Back when Anna knew her, Faith Goldy was an outspoken feminist who was voted school prefect at their private all-girls school. Now, she's a media personality on the far-right internet. She's appeared on a podcast from Neo Nazi website the Daily Stormer, guested on misogynist Roosh V's show about '#tradthots' (far-right women who preach traditional values without upholding them), and recited the 14 words, a white supremacist slogan. This year, she ran a far-right populist campaign for Mayor of Toronto. It was steeped in Islamophobic and anti-immigrant rhetoric and received an endorsement from Iowa Congressman Steve King.
Anna's been reporting this story for months, but it takes on special weight in light of the events of last week, which showed how online extremism can spill over into real-world violence. Just last week, a far-right conspiracy theorist mailed out bombs to people Donald Trump has labeled enemies, and a white-supremacist murdered 11 people at a Pittsburgh Synagogue in one of the worst anti-Semitic hate crimes in American history. This violent extremism doesn't come out of nowhere; it festers in the same parts of the internet where Faith Goldy is a star.
Click below to listen to episode two of The Cut on Tuesdays, and subscribe for free wherever you get your podcasts. (Also, look out for a longer feature about Faith running soon on the Cut.)