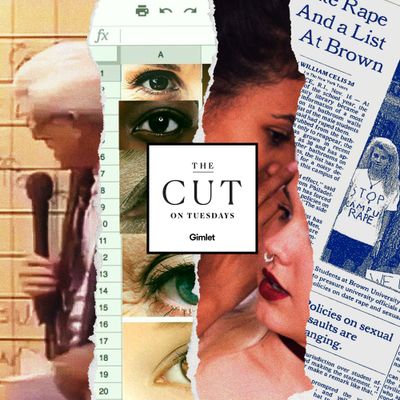 Photo: Photo Illustration by Stevie Remsberg/Photo Getty, Multimedia Inc., The New York Times
On this week's show, we're talking about the weaponization of whisper networks, from last fall's Shitty Media Men spreadsheet to Stephen Elliott's new lawsuit against list creator Moira Donegan. And we're looking back at another anonymously sourced list of men — one that appeared on a bathroom wall at Brown University in the fall of 1990.
Two of the women who were at the heart of it all explained why what happened at Brown was about much more than a so-called "rape list." They also told us about some of the responses they heard from men at the time.
Here's Toby Simon, who was an assistant dean and health educator at Brown:
Because we didn't have the internet—we couldn't tweet things, we didn't have cells phones—people used the bathroom walls to write all sorts of information. I used to get referrals as a health educator … How did you get my name? Saw it on a bathroom wall. The gay students at Brown also used bathroom walls to communicate with other gay men on campus, because it was anonymous, because they were so much in the closet in the '80s — AIDS was just coming apparent.




So that's why the bathroom wall was not a surprise to me. But what was surprising was the men that I worked with. They wanted to figure out a way to get the names off and then wanted to talk about, What do we do about the guys who are listed? Do we have a duty to warn them? Should we send them a letter or call them in and say, "Your name is on a wall. We just want you to know and you might be upset by that and we're here to help you"? And I said, "Whoa, whoa, whoa!"




They didn't get the fact that it was out of some desperation that women really took to the walls. The public relations person for the university —man, of course — called the students "magic marker terrorists."
Plus, we talk to Robbie Kaplan, the lawyer who made the case for gay marriage before the Supreme Court, and who's now representing Donegan.
Click below to listen to episode two of The Cut on Tuesdays: "He's Coming for Us." You can subscribe for free wherever you get your podcasts. (If you'd like to read a transcript of this episode, head over to our show page at Gimlet.)