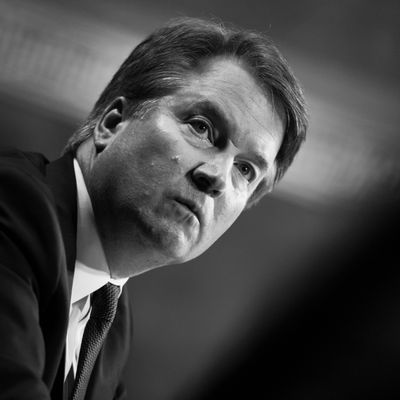 Brett Kavanaugh.
Photo: Tom Williams/Getty Images
The night before the Senate is set to begin voting on Supreme Court nominee Brett Kavanaugh's confirmation, Kavanaugh released an op-ed in The Wall Street Journal, to tell the country what many doubt: that he is an "an independent, impartial judge."
Kavanaugh relied heavily on his role as a father and his long history of public service as a lawyer and judge as evidence that he is deserving of a seat on the Supreme Court — barely mentioning the multiple allegations of sexual misconduct against him. Here are the most ridiculous points made in Kavanaugh's op-ed.
He reminded us that he is a father of daughters, a basketball coach of girls.
Kavanaugh has repeatedly used women as shields against the allegations of his bad behavior: his wife, Ashley, who sat behind him at his testimony, his two daughters, Margaret and Liza, his all-girls basketball teams, his mom.
"I was deeply honored to stand at the White House July 9 with my wife, Ashley, and my daughters, Margaret and Liza, to accept President Trump's nomination," he wrote. He went on to describe his hardworking mother Martha, before detailing the positive relationships he has with women he's not related to. "I talked about my long record of advancing and promoting women, including as a judge—a majority of my 48 law clerks have been women—and as a longtime coach of girls' basketball teams."
In his op-ed, by mentioning these women in passing, he implies that because he treated these women well, he could not treat any other woman — like the women who accused him of sexual misconduct and assault — with anything other than the highest respect.
He compared being a good judge to being a good umpire.
Kavanaugh reused a sports analogy from the night he was selected as Supreme Court nominee, insisting he was just as impartial as an umpire.
"As I explained that night, a good judge must be an umpire—a neutral and impartial arbiter who favors no political party, litigant or policy," he wrote. "I do not decide cases based on personal or policy preferences."
During his prepared, pre-written remarks before the Senate Judiciary Committee, Kavanaugh called the hearings a "coordinated attack" by the Democrats and implied that Ford's allegations were orchestrated as part of a Clinton revenge plot. When questioned by Democrats about those remarks later in the hearing, Kavanaugh avoided giving direct answers.
He says his time in high school and college was "distorted."
"My time in high school and college, more than 30 years ago, has been ridiculously distorted," Kavanaugh wrote, after calling the allegations made against him both "wrongful" and "sometimes vicious."
Kavanaugh claimed during his testimony last week that as a teen and young adult, he never blacked out, was a virgin who had the utmost respect for women, and spent the majority of his time focusing on his studies and his athletics. Several classmates and former friends of Kavanaugh from high school and college have come forward to say that Kavanaugh's testimony at the Senate hearing about his drinking habits and behavior during those years was dishonest.
One friend came forward with recollections of getting "blackout drunk" with Kavanaugh while they were at Yale together. Another former friend said that Kavanaugh lied about what the words "boofing" and "Devil's Triangle" actually referred to. A New York Times investigation revealed that Kavanaugh was involved in a bar fight after attending a UB40 concert in 1985. Kavanaugh even referred to himself as an "obnoxious drunk" in a handwritten letter to friends in 1983.
He may have been "too emotional last Thursday."
Kavanaugh described his testimony at the hearing as "forceful and passionate," because both his prewritten remarks and his answers to questions were a reflection of "deep distress."
"I was very emotional last Thursday, more so than I have ever been," Kavanaugh wrote. "I might have been too emotional at times. I know that my tone was sharp, and I said a few things I should not have said. I hope everyone can understand that I was there as a son, husband and dad. I testified with five people foremost in my mind: my mom, my dad, my wife, and most of all my daughters."
Again, he brings up his daughters as both an excuse for his behavior and a testament to his character. Kavanaugh insists that it is not his own interest in becoming a Supreme Court judge, but his duty to his family, that caused him to rudely ask Senator Amy Klobuchar if she had ever blacked out from drinking.
Kavanaugh's final paragraphs were aspirational, confident: "I will remain optimistic, on the sunrise side of the mountain. I will continue to see the day that is coming, not the day that is gone."
Tomorrow, the Senate is expected to hold a vote on his nomination, after a short, incomplete FBI investigation into Christine Blasey Ford's allegation of sexual assault against him. Republicans are hopeful, believing they have secured the votes to make Kavanaugh the next Supreme Court judge.