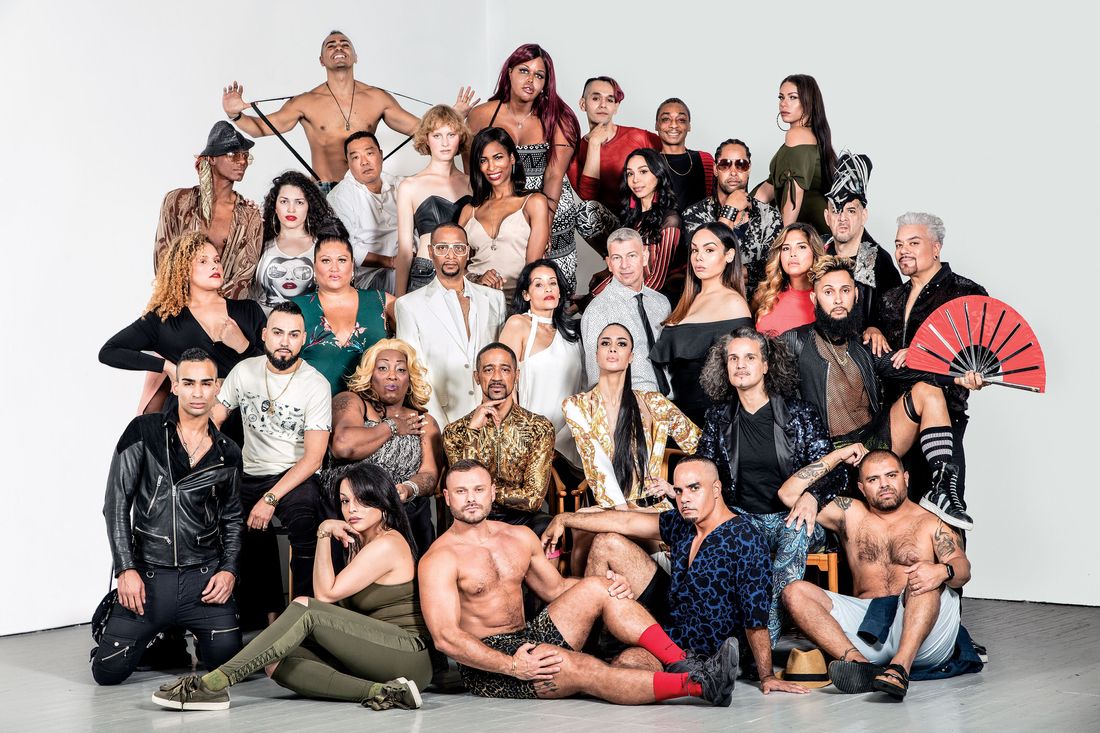 Don't be mistaken: This photo doesn't show a reunion. It's a current family portrait of the legendary House of Xtravaganza, founded in 1982 as part of the city's then-underground ballroom scene. House members have walked the ballroom runway competing in style and beauty, displaying the flexibility and athleticism voguing requires. You might assume voguing houses are just for the young, but you never age out.
Houses aren't teams. Xtravaganza is a multigenerational chosen family for people who were often rejected or, at the very least, not understood by the families and communities they were born into. But it's not just "passing as family," says former house father, Hector Xtravaganza, 60, who long ago legally changed his surname and more recently had "grandfather xtravaganza" tattooed on his forearms. "This family is more real to me than my biological family. They are first."
The ballroom subculture was developed by people who found themselves excluded from the straight, white American Dream. They created an alternate, heightened, and fabulously DIY version of that reality for one another. "Rejection is my power," explains Hector, who was young and poor, out and proud, black and Puerto Rican.
But the scene could be exclusionary, too. Hector "Xtravaganza" Valle, who died in 1985, and Angie Xtravaganza, who died in 1993, were both Latin, founded Xtravaganza after becoming fed up with being doubly rejected: first by the people who raised them, then by the ballroom houses that restricted membership to the black community only.
This unlikely group of disenfranchised individuals came together and turned their collective fantasy of a family into a reality, taking the best and leaving the worst (and yes, they get together on Thanksgiving, just like your family). In their new home, the same flamboyance that might have gotten members killed on the streets was nurtured and celebrated, transforming them from homeless youths to confident stars of the scene.
The general public first learned about the Xtravaganzas in Jennie Livingston's groundbreaking 1990 documentary, Paris Is Burning, which prominently featured two house members: Venus (who was murdered in 1988 before filming was completed) and Angie, the house mother. Madonna's hit "Vogue" also came out in 1990 and introduced voguing to millions around the planet. She invited two Xtravaganzas, José and Luis, to join her as backup dancers on the "Blond Ambition" tour; the tour documentary, Truth or Dare, made them stars.
Lately, along with the attention being paid to the threats to hard-won transgender rights, ballroom has experienced a resurgence of interest. Ryan Murphy, creator of Glee and American Horror Story, convinced the FX network that there was an audience for a fierce, soapy series about ballroom. Pose has been renewed for a second season. Murphy also did it right: Hector and José are consultants on the project, and both (along with other members of the house and the larger ballroom community) appear on the show.
And don't think the house system isn't still needed. Pose getting renewed can't cancel out Trump, or decades of injustice. Rori Xtravaganza, 22, just joined the house last year. "I had just come to New York to try to find myself. I had no money and no support system, but I was full of hope," she says. "I was modeling in stealth — meaning my agency didn't know I was transgender."
And then she met the Xtravaganzas. "Something about them drew me in and made me feel safe," Rori continues. "They were so full of artistic expression and fire. Now I'm blessed with a family I never knew could exist. They drew me in and made me feel safe." And she's doing what she wanted to do: "last season I walked for Marc Jacobs in New York."
And she'll be family for life.
"When the doctor diagnosed me with HIV, he told me I had three months to live," says Hector. "I knew my family would be with me till the end. I just didn't realize the end was nowhere in sight."
Now, let's hear from some of the family members:
Coko Xtravaganza
Grandmother, Family Since 1984
I've only ever been in the House of Xtravaganza — it's to the grave for me. When I joined the house I was a hairstylist and attending BMCC [Borough of Manhattan Community College]. Today I own and operate my event-planning business. For me family means loyalty, being honest (whether good or bad), and a loving bond that can withstand the test of time.
Pose is an amazing show. I am extremely proud of my kids, grandkids, brothers, and sisters that are a major part of it. We've been through this before with Madonna's "Vogue." We've always been trendsetters.
Alexia Garcia Xtravaganza
Family Since 2007
I would never have pursued acting had it not been for Father José Xtravaganza. He told me to audition for Damon Cardasis's film Saturday Church and I landed one of the principal roles. On Pose I play Aphrodite Ferocity — I hope they develop her character further in the second season. Most people don't understand the struggles of of trans women of color, simply because they may not know any trans people. Pose has been a great way to enlighten the public about our stories. The visibility has been amazing, but we have not made enough progress. Job discrimination still goes on in liberal cities! There are many still suffering.
Gisele Xtravaganza
Mother of the House, Family Since 1999
I love that the ballroom culture has become mainstream because I believe everything should evolve into something new. It would be extremely boring if everything stood in the same place. When I came into the house, I was working at clubs, parties, and being a scandal [laughs]. Now I'm a professional model, actress, painter, event producer, and activist. I've worked with Baz Luhrmann, Robert Pulcini, Shari Springer Berman, and now Ryan Murphy. Our house values loyalty and extravagance! Being a part of the house has taught me how to deal with so many different personalities. When there is unity, Xtravaganza is magic.
G Xtravaganza
Family Since 2007
I didn't know anything about the Xtravaganzas before I joined. People would always tell me, "Watch Paris is Burning," but I never did, so I'd be like, "I didn't know that city burned." I was a hot mess before I came into the house and they made me feel like I finally belonged somewhere. That grounded me. The best thing I have learned from them is expression — to experiment and, whatever your thing is, dance, music, runway, or costume, to go at it with like-minded people.
Marisol Xtravaganza
Family Since 2017
In many ways, Pose has been a shining beacon of light for many members of the ballroom community. It really captures our story and what our community went through in the '80s, and unfortunately, what some of us still go through today. Ryan Murphy did an absolutely exquisite job of showing the world this small part of LGBT history. Since I'm a new member, I have yet to be appointed a role or title. You have to walk your fair share of balls, get your name out there in the scene, and put in the work to be appointed a position. I'm working on it.
Jose Disla Xtravaganza
Family Since 1984 (and Hector's biological cousin)
Ballroom is woven into the fabric of our lives, but it's not the sole reason why we exist. We all have regular lives outside of ballroom but the house is our support system. These days, there's more acceptance and laws to protect us, but when we first started, we didn't have anything. Some of us were kicked out at an adolescent age. We needed that family. The ball is the place where we let out hair down and exhibited our artistic talents, but the core is what we have with each other. Within our house, there is always a shoulder to cry on. You can feel the unity and love among us.
Manuel Xtravaganza
Family Since 2009
When I came out at 15, being an Xtravaganza was my goal! It was the house that everyone wanted to be in. I was a teenage runaway, I survived on the streets, and learned the hard way, but through the support of the house, I went back to school. After eight years, I received my master's degree in nursing becoming an Advanced Practice Nurse, Family Nurse Practitioner, and Pediatric Nurse Practitioner. I aim to give back by helping people and serving as a role model for gay teenagers. I aim to give kids that little push that can change their lives for the better.
Angelin Xtravaganza
Family Since 2007
When I was 15, I dressed in drag for Halloween. My best friend saw my potential and told me I needed to meet the House of Xtravaganza. I was like "what's that?" I didn't know where I was coming from or going to then. It's one thing to be rejected from general society and another thing to be rejected from your own people. The Xtravaganzas took me in and taught me the ways of life. They helped me develop the confidence to start my transition and become who I am today. They even gave me my name, Angie. I'm named after the founder of the house.
Sonia Xtravaganza
Family Since 1991
Coming from a broken home and a place of abandonment allowed me to form lifelong bonds with people who shared the same experience. The House of Xtravaganza has given me a valuable lesson on tenacity. They always advised me to allow my effeminate child to express themself. If a child gets the support and nurturing from their mother, chances are they will not grow up loathing themselves because they're different. My ball walking days are long gone, but when I walked my categories were Women's Face and Best-Dressed Woman. All titles I received were between 1992 and 1995.
Jungi Xtravaganza
Family Since 2007
Grandfather Hector Xtravaganza asked me to join the house when we were presenters at the Pill Awards, which honor artists in the LGBTQ community. Both my parents passed away by the time I was 20 and I had to raise my sister without them, so the idea of belonging to a larger family again meant the world to me. These days I'm less into the ballroom scene and all about my acting career, but I make it a point to come out to the balls when I can. I'm always at family events, Christmas parties, and summer picnics. My definition of family is love.
Chula/Exclusiva Xtravaganza
Family Since 1997
When I joined, I was living with my mom while attending high school. Luckily, I come from a very accepting family, but I had no guidance when it came to the "gay scene" — that's why I became an Xtravaganza. Now, after completing most of my life goals, I'm finally ready to settle down and get married. (Hopefully sooner than later!) In my opinion, Xtravaganza House values are loyalty, respect, and attendance. Being in the house, I've learned how to take on challenges, how to practice wellness, and how to cope with my emotions.
Monica Monroe Xtravaganza
Family Since 1988
The house has been a part of my life since I was 14 years old. They taught me that unity and respect go a long way and that anything's possible if you put your mind to it. Over the years, I have won the grand prize at the Pepper LaBeija Ball, grand prize at the House of Revlon Ball, and grand prize at the House of Latex Ball. I was also honored at the tenth annual Ballroom Awards Ball, that's where I received my legendary icon status, and more recently, I was awarded the Paris Dupree Award for lifetime achievement in the ballroom community.
Nomi Xtravaganza
Family Since 2000
When I first joined, I was introverted and shy. I had left my parents' home a few years before to live life on my own. I didn't know what to think at first, but I'm glad I call the House of Xtravaganza my family today. We are there for each other through joy and adversity. I've developed close bonds with members and the advice I have received has impacted my life forever. I started off in New York City as a dancer and bartender. Today I work for a children's entertainment and licensing company and I have been with my boyfriend for three years.
Karl Xtravaganza
House Archivist and Social and On-line Manager, Family Since 1987
As a gay white man, I am a bit outside of who stereotypically comes to mind when thinking of house demographics. My first ball I was captivated by the creativity, closeness, pride, and drive of the House of Xtravaganza members. We shared an immediate rapport so becoming a member was organic.
I try to share my experience navigating life's challenges to support my family — offering encouragement, a sympathetic ear, or a swift kick in the behind. Ten years ago I assumed responsibility for documenting the history of the house and today I manage our online and social-media presence. Occasionally I'll still get on a runway and walk a ball.
José Gutiérrez Xtravaganza
Current Father of the House, Family Since 1986
Today I'm the father of the house, but at one one point, I was the youngest member. The Xtravaganzas taught me: loyalty, love, support and that family is forever — if it's blood or not doesn't matter. Life is good today considering all the curves it's thrown my way. My work situation is a blessing. I still do what I love and that's teaching dance. As far as ballroom titles, I've won too many through the years to list. I don't compete much anymore, but still I have always known that I would remain a part of this family forever.
Grandfather Hector Xtravaganza
Founding Member, Family Since 1982
The universe sends you your family. They are sent to us. We don't pick them. We just love and nurture them. Although, it goes both ways, the children nurture us as well, just because we are elders doesn't mean we can't learn from the young.
This portrait was commissioned by Aperture magazine as part of a portfolio shot by Stefan Ruiz for its winter issue, and to celebrate its fall gala on October 30.
*A version of this article appears in the October 29, 2018, issue of New York Magazine. Subscribe Now!