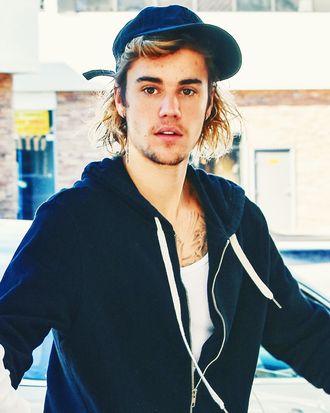 Photo: BG015/Bauer-Griffin/GC Images
As you may recall, last week, a picture of a grungy, Justin Bieber-looking individual eating a burrito sideways took the internet by storm. Here at The Cut, we spent a frankly alarming amount of time and energy looking into the matter, and determined that the person in the burrito picture was probably not Justin Bieber — but to be sure, we reached out to his manager, Scooter Braun, who never got back to us. Additionally, for the sake of journalism, I myself ate a burrito sideways, which was bad.
But now, we are vindicated (kind of; I still had to eat a burrito sideways), because, as we suspected, the man in the picture was not Justin Bieber but a Bieber look-alike. Specifically, a man named Brad Sousa, who was hired by a group called Yes Theory to engineer a viral story.
On Sunday, Yes Theory revealed in a YouTube video that they were behind the entire thing.
"We've never pulled off anything like this before, but engineering a viral story that has nothing to do with Yes Theory has been a challenge we've always wanted to do," they say in the video.
What is Yes Theory? According to their website, they are four guys who "believe that life can be as fulfilling and authentic as you wish so long as you're willing to seek discomfort," and they make videos in which they travel the world "setting challenges for ourselves and for strangers and getting out of our comfort zones along the way, all in order to grow."
For the Burritogate prank, Yes Theory found Sousa, who does look uncannily like Mr. Hailey Baldwin. The group flew Sousa to L.A., took a picture of him eating a burrito from the middle, like an animal, posted the picture to Reddit, and within hours the picture was dominating the news cycle.
So, the mystery of the Bieber doppelgänger has been solved, but one question remains: How does Justin Bieber eat his burritos? We have, once again, reached out to Braun for comment, and will update when we hear back.