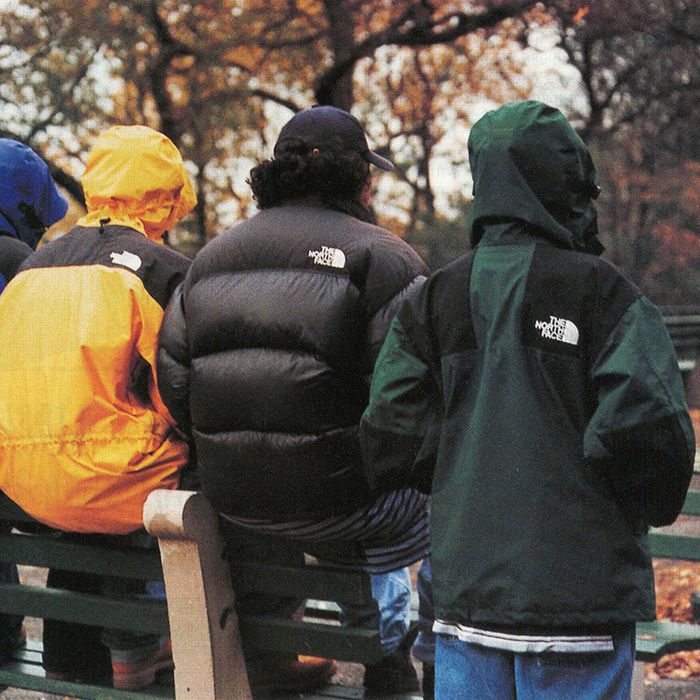 For 30 years, Ramon Herrera has been surrounded by New York City's finest jackets. Since 1988, he has worked as the Soft Goods Buyer at one of Manhattan's oldest outdoor equipment stores, Tent & Trails on Park Place. Ramon is a sommelier of jackets. When customers stop by, he presents his gear like fine bottles of wine, describing the complex flavors down to a cubic inch.
There is one brand in particular for which he, and many New Yorkers, have developed a refined taste: The North Face.
"The 1990s was the golden age of North Face," Ramon remembers. He went into his stock room and brings out a blue bubble jacket.
"This is the Nuptse Jacket," Ramon said. "In 1994, we had over 900 Nuptses in seven or eight different colors, and it was the most popular jacket for school kids. "I still have 20 of these jackets left from those days," he continued. "All the best colors are now gone."
Pravan Kuntmala, a 35-year-old photographer from Astoria, Queens, remembered how important his Nuptse was during his freshman year of high school. One day, on the train home from Brooklyn Tech, three guys approached Pravan with a question.
"What size you wear?"
Pravan had saved up all his money to buy that Nuptse at Paragon Sports in Union Square. He wasn't going to take it off — and he wasn't going to lose his North Face backpack, either.
The muggers made him pay for it.
"I had this super bloody face, and I remember this one drop of blood trickling down my face hit the "T" on The North Face logo," he said. "That's what worried me. Not my actual face itself."
Yet that robbery wasn't an anomaly. Pravan knew exactly where he was. "New York, especially in Queens and the Bronx, is the epicenter of North Face collecting," Pravan said.
The North Face's popularity in New York has never faded away. New Yorkers have always had a penchant for camping gear. But even as other outerwear brands like Canada Goose have stepped in, New Yorkers are still wearing jackets and backpacks with the iconic half-dome logo. The North Face has been making jackets for over half a century. But it was in the 1990s when the brand's jackets created its hardcore cult-following in urban areas like New York.
Fans of the brand attest that the company was at its summit (no pun intended) during that decade. The jackets released then are praised not just for their ingenious technical design or quality, but also for their flair.
"Rappers would rather wear The North Face than brands like Patagonia or Marmot because of the beautiful bright colors and designs they had back in those days," Ramon said. "The music just made it even bigger."
Sifting through rap music videos from the golden age of East Coast hip-hop proves Ramon's point. In Method Man's debut music video, two members of his entourage are wearing bright red and yellow North Face Steep Tech jackets. LL Cool J rocked a crowd in a fire-red North Face in his 1993 video for "How I'm Comin." Heather B left her house with a North Face beanie and a Forest Green Nuptse vest in her video for "If Headz Only Knew." And when the late Harlem rapper Big L went on his first, and only, tour in Europe, he relied on a trusty North Face parka to keep him warm.
Obviously, not every New Yorker in the '90s was a rapper, and others had their own reasons for wanting a North Face jacket. Bronx resident Joey Ones, one of the world's most devoted North Face collectors and founder of the "Gore-Tex Hoarders," remembered how the quality of the jackets impressed him as a teenager when he first delved into his obsession in 1993.
"I had Columbia jackets already and I wasn't too happy with it," he recalled. "We would go to Central Park in the rain and I would still be getting wet. I needed to get some better gear."
Jackets were so expensive back then that Joey had to convince his frugal father to buy him his first one. Fortunately, his dad worked by the World Trade Center on Liberty Street — just blocks away from Tent & Trails.
"I wanted a Mountain Light jacket so bad, I would literally leave school and walk from 90th and Central Park West to the World Trade Center," he said. "I did that to just to meet my dad so that we can go home together, go to Tent & Trails, and look at all the stuff."
Although Joey's dad thought it was ridiculous to spend $340 ($590 in 2018 dollars) for a jacket made for mountaineers and skiers, he eventually gave in.
"When I went on the block with that jacket — yellow and black, man — that Mountain Light was so sick," Joey said, a tremor in his voice.
Everyone his age wanted a North Face. But as teenagers, few had the money to get one.
"A lot of guys were boosting. I wasn't going to boost though," Joey said. "My father is West Indian. If I were to do some shit like that, he would have probably busted my ass."
Boosting, also called racking or shoplifting, became a well-established pastime among New York graffiti writers who have been stealing spray paint since the subway graffiti era of the 1970s. In the '90s, graffiti writers began shoplifting expensive clothing associated more with New York's preppy and upper-class residents.
"Chances are, if you look at a New York graffiti writer, they are either rocking North Face or Polo Ralph Lauren," Staten Island graffiti writer 9VOLT 5MH said.
9VOLT is too old to get in trouble for boosting today. But he remembered the crafty methods kids cooked up to boost jackets out of New York's biggest clothing stores — from bringing Big Gulps full of water into the fitting room to short-circuit the electric clothing alarms they called "screamers" to making Lizzy Bags — duffel bags lined with aluminum foil — to throw off the sensors. He remembered how kids used to wait for the cashiers to leave at Macy's so that they could quickly lift the register and cut the wire connected to a security tag remover, also known as a "Lizzy Gun."
"With the Lizzy Gun, you take two or three jackets, take it to the fitting room, take the Lizzys off with the gun," 9VOLT said. "You put it up the back, or put it on, and just walked out. You would head back to the rack to put the one jacket back, but you really took two."
At Tent & Trails, Ramon pointed to the door and said it must have broken five times from mobs of kids rushing into the store and grabbing jackets right off the walls. Ramon said he had to physically fight every day back then to protect his goods.
"We had to hire undercover cops to work in-store as security guards. We had three just because of the problems that we had," he said.
Many boosted North Face jackets ended up outfitting New Yorkers in less affluent areas outside of Manhattan, resold for discounted prices on the streets.
"It was a graffiti thing. Graffiti artists used to rack jackets and sell them for half the price," said Jay Has Many Faces, a Bronx collector and vintage North Face reseller whose old childhood bedroom has at least $20,000 worth of North Face goods inside.
"I purchased my first North Face off someone who stole it because we couldn't afford it back then. That was a market for white people, and my father's paycheck couldn't pay for it."
Bronx graffiti writer TAZE BTC remembered how The North Face outfitted all the graffiti writers in his Kingsbridge neighborhood during the heyday of New York street bombing. "Right there on 196th and Morris Avenue, there used to be 50, 60, sometimes 80 graffiti writers on that corner posted up with all the newest North Faces. Steep Techs, Mountain Jackets and all that," TAZE said.
North Faces weren't just for looks but became essential assets when racking graffiti supplies. Bronx graffiti writer INFA found out how to use his jacket to its fullest potential. In the backyard of his home in the Bronx, he threw on a Mountain Jacket, snapped in his powder skirt, tightened the shock cords on the waist and opened up the cuffs of his sleeve.
He picked up a can of spray paint and dropped it into his sleeve. It fell into his waist and stayed inside the jacket.
"You could grab eight or ten spray cans and markers by just throwing it in and walking out," INFA said. "They were guys that were bravado and would walk out with like 30 or 40 cans inside this jacket. Imagine doing that at five different places in one day."
Nowadays, The North Face is commonly associated with streetwear. Clothing brands like Supreme and Sacai have released North Face collaborations that are clearly inspired by the jackets worn by the likes of 1990s New York graffiti writers. Celebrity rappers continue to wear the brand today. Kanye West cosigned the commemorative 1992 Nuptse this year and has been seen wearing rare vintage North Face pieces.
Yet when it comes down to it, this gear was unintentionally made for New York CIty. The hardcore collectors of the brand say that wearing North Face is more than just fashion — it's a genuine New York subculture.
"One minute it's raining, then it's hot, then it's cold. Everybody knows that once it gets cold, concrete absorbs coldness," Joey Ones said. "Every time we go outside, we explore. We look at the train tracks, the walls and gates of this city. We represent The North Face."