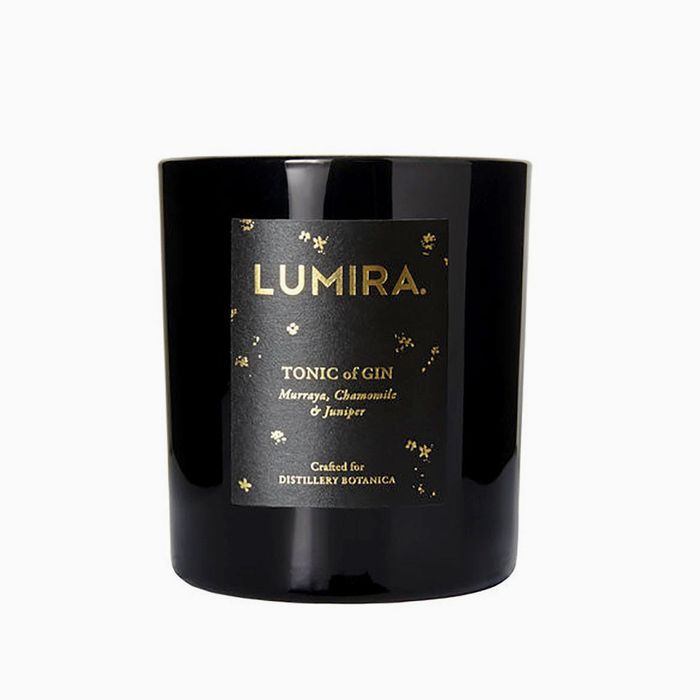 I love this candle.
Photo: Courtesy of Lumira
"It's nine o'clock on a Saturday, the regular crowd shuffles in. There's an old man sitting next to me, makin' love to his tonic and gin." It's odd to me that the phrasing of such a popular song ("Piano Man") is so immediately screwy. "Tonic and gin," rather than gin and tonic, to rhyme with "in." Yet we all sing it, as if Mr. Joel is saying just a normal thing. C'est la vie.
Anyway, the candle we're talking about today is called "Tonic of Gin," which is a whole other thing entirely. It's a collaboration between Distillery Botanica Gin and Lumira, and here's how Lumira describes it:
Distillery Botanica Gin and luxury lifestyle brand LUMIRA combine their love of botanicals and the finest ingredients by crafting a gin luxury scented candle, Tonic of Gin. Creating an enriching, sensory experience, the candle reflects the aroma of the award winning floral gin and is perfect for recreating an idyllic summer's day.




Notes

Top: Aromatic, Juniper Berries, Chamomile, Sage, Citrus

Mid: White Flowers, Murraya, Orange Blossom, Jasmine, Rose

Base: Woody, Orris, Sandalwood
An enriching, sensory experience that reflects the aroma of an award winning floral gin and is perfect for recreating an idyllic summer's day? Well, that sounds great!
… But is it?
Is the candle good?
YES!!!!!! I'm not sure if this happens to you, or how many kinds of candles you're smelling regularly, but every so often there will be a candle that forces me to let out a loud, dramatic sigh, due to how overwhelmingly pleasant its scent is. Cire Trudon's "Odalisque" causes me to do this regularly. This candle also does it. Oh my, it is so good; I love it so much.
The scent I am mostly getting is jasmine. Jasmine and orange blossom. I suppose its a bit botanical gin-y, but the drink it most reminds me of is jasmine tea. Luckily for me, I love both gin and jasmine tea.
How much does it cost, and how long will it last?
It costs $65 and it will last, according to Lumira, about 80 hours.
When should you burn this candle?
I'd love to burn this candle while taking a bath and alternating between a glass of Champagne and a cup of tea. I don't have a bath that I can take baths in at the moment, however, so instead I'll suggest burning it when you're sitting and having a cocktail with a friend, or when you're relaxing and getting your bearings in the earliest part of your morning.
Who should buy this candle?
Anyone who likes the scent of jasmine tea. And Billy Joel!