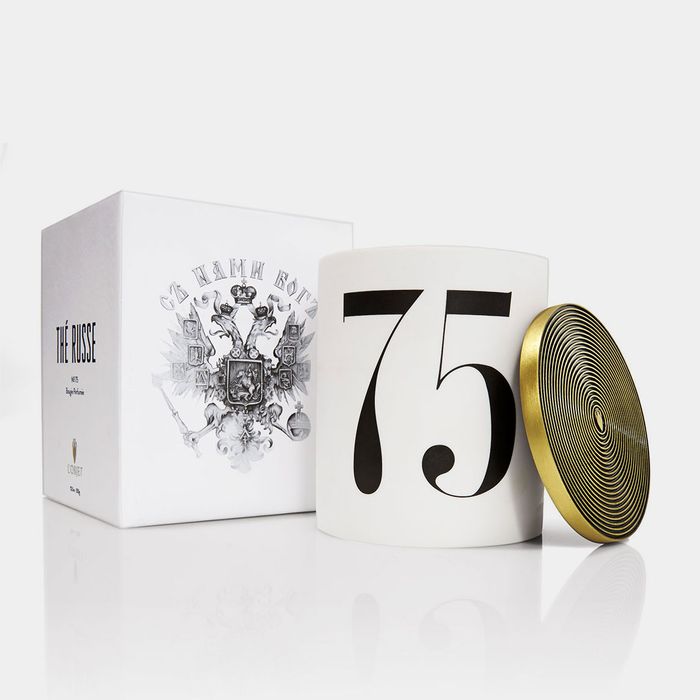 Photo: Courtesy of L'Objet
Is there anything better than deciding to stay in and do nothing simply because it is too cold outside? The answer is: Yes, of course there are many better things of greater consequence. But I will ask you at this moment to relax for one single second of your life and indulge in my rhetorical scene-setting. So, I'll ask again. Is there anything better than deciding to stay in and do nothing simply because it is too cold outside? No! No, of course there is not. Unless you're staying in and: lighting a candle (!).
Like all of the candles in L'Objet's "Parfums de Voyage" collection, the brand's "The Russe" candle comes with a little story that is meant to invoke the scent. This one follows a man's journey from Paris to St. Petersburg and I would love for you to read it, thank you:
It was cold in Paris that October day in 1975 when Philippe received a hand-written note from Mischa Barinov of St. Petersburg; an invitation to view a rare, privately held collection of antiquities. He departed by train that very evening.




Two days later, he arrived in the study of a mansion on the Griboyedov Canal. Settling into a Louis XIV bergere beside the fireplace, he was enveloped by the blended scents of ancient, leather-bound books, the crackling fire, and the steam of black tea rising from a spectacular samovar.




Mischa appeared in the doorway. "Thank you for coming. I think you will find it well worth your travels. But first, tea…" Then, in regard to Philippe's obvious obsession with the samovar, "Tombak bronze, circa 1775."




Scent: top notes: lemon zest and coriander seeds; middle notes: hay oil, beeswax absolute, and milk lactones; bottom notes: patchouli fraction, amber, and Russian leather.
Oh, to have the job of someone writing words to invoke a scent. Ah — I do! Life can surprise you with its beauty, as much as it can with its pain.
Anyway, lemon zest, coriander seed, whatever milk lactones is, Russian leather, etc.? Why, that combination sounds as good as Mischa appearing in the doorway and offering tea! But is it as good as Mischa appearing in the doorway and offering tea?
Let's see.
Is the candle good?
Yes! Yes it is, particularly because it is getting colder, and candles — I can say this now that summer is no longer listening — are better when it's colder. A nice scent added to a chilly breeze. A little flame "warming" up a cold morning, in a nonliteral sense. Come home from work, put on a big sweatshirt and thick socks, light a candle, pour a glass of red, why not, you deserve it. I love the cold months.
But yes, this candle is good. It truly does sort of smell like that weird little story; like the scent of the study of a mansion on, what's that?, oh yes, the Griboyedov Canal. It smells like leather, fire, and tea — the hay oil is what lends the tea element. And it smells like a man's cologne, but not in an obnoxious way that you hate, particularly at this moment in history. It's just a nice, warm smell.
Also I love L'Objet's porcelain containers. Weighty and smooth, with a big number on there, plus a pretty little brass candle hat or candle coaster, depending on how you're using it in the moment. Very satisfying.
How much does it cost, and how long will it last?
It costs $95, and supposedly it will last 80 to 90 hours.
When should you burn this candle?
You should burn this candle when it's below 40 degrees outside and you've decided to cancel a plan that you're sure the other person involved also wants to cancel because it is so cold and you are both so tired. Instead, now you both get to stay home. Yay. Light the candle, read the book you're reading, think some thoughts, take some breaths, be warm. That sounds pretty good.
Who should buy this candle?
Philippe, so he can remember his time with Mischa Barinov of St. Petersburg. Or you, if you want a heavy candle (both physically and olfactorily) for late autumn and deep winter.