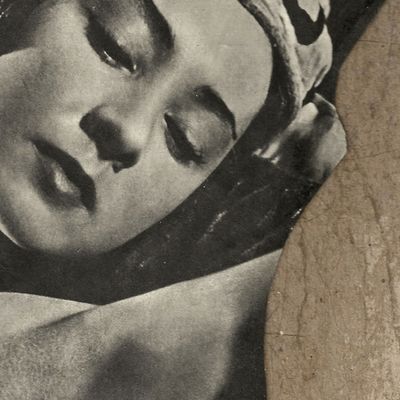 Photo-Illustration: James Gallagher
This week, a newly single woman trying on many different romantic possibilities: 31, sex educator, Bed-Stuy.
DAY ONE
6:30 a.m. My cat is petting my hair and when that doesn't work to get me up, he starts biting my shoulder. I have a ridiculous amount of paperwork to get done and I'm pretty anxious about getting to it.
9 a.m. I'm reading emails over coffee. I'm not a morning person and my productivity doesn't really kick in until 11. My co-worker distracts me with tales of her evening adventures. We lean on each other a lot since we both recently went through some harsh breakups.
3 p.m. I confirm my date with the Professor. He is an experienced Dom. Ordinarily I would be super into it, but we didn't really discuss what we like before our last sexual encounter, which left me a little shaken. But I'm giving him the benefit of the doubt since he seemed genuinely surprised by my discomfort when I voiced it.
The Norwegian was nervous about the Professor from the start — he'd asked me to let him know where I was going and when. The Norwegian is my favorite sexual partner. Our communication is on point, and he's very sweet. He's in a sexless open relationship and we are a perfect match since "serious" is not in our playbook.
6 p.m. The Professor is running late so I get a cocktail. I'm engrossed in a book when he arrives and slides his arm around me. Despite my iffiness about our encounter the other night, I'm instantly comfortable.
8 p.m. I glance at my phone and see I have a missed message and FaceTime from my ex.
We were together for ten years and broke up about six months ago. He wasn't always my boyfriend; at one point he was my girlfriend. A few years ago he had asked me if I would leave him if he was a boy instead of a girl. I said that I wouldn't care. While things were good between us for a few more years, I started to feel like all I was was his girlfriend, his fiancée, and would eventually become just his wife, nothing else. It felt like I was trying on personas that didn't actually have anything to do with who I was and how I wanted to live — instead, I was creating a world in which my entire purpose in life was to serve him. After a few months of barely speaking to each other despite sleeping in the same bed, I turned to him and said I needed to go back to just being my own instead of his. He agreed, and with just a few days to spare, we walked away from a fully planned wedding.
Anyway, he wanted to chat and asked me to call him back.
8:30 p.m. We are in the Professor's elevator and he is slapping my ass, which I'm prepared for. We move up to his roof-deck with some Scotch and make out underneath a wool blanket. It's one of the first cool evenings of the fall, and I am enjoying the breeze as he slides his hands over me. I want to be naked, so I ask if we can go back downstairs. There, he orders me to the bed. I do as I'm told.
9 p.m. I come but he doesn't. We move to the bathtub where I straddle him and come again. He brings me a vibrator and watches me get off again in the tub while he finishes his Scotch. He heads up to the roof for a cigarette as I sit down at his piano to play some scales. I haven't played in a few years and am fully enjoying it when he comes back. He thinks it's sexy I can play an instrument and immediately starts touching me. Fooling around while playing the piano … this is my dream.
Not much later, though, we start to argue: He mumbles something about how he put my pleasure first all night and now it's his turn. I must admit I feel a secret thrill when I come and a man doesn't. It feels like I'm a one-woman crusader, correcting the orgasm gap. I decide to call a Lyft so I can get home. I text the Norwegian telling him I'm safe and had a great night until the Professor turned into a douche.
DAY TWO
7:30 a.m. I wake to a text from the Professor. He apologizes profusely and says he is appalled at his own behavior. I ignore it since I'm still mad.
10:30 a.m. I spent my morning with patients, so I haven't had any time to goof off. I respond to the Professor. I tell him I'm no longer interested. Then I block his number and continue on with my day.
12 p.m. I'm feeling frisky and text the Norwegian. He says to come to his office for lunch. It's been a while since we've seen each other …
3 p.m. I finally have a moment to sneak away from the office. We attempt to see if I can blow him underneath his desk, but quickly realize that we are too visible … He's going to Norway to visit his folks, so we make a date to see each other before he goes.
6 p.m. I need a night off from my shenanigans, but that doesn't mean I'm not lonely. I am living on my own for the first time after living with my ex since we graduated college, and while I love most things about it, the loneliness can be a lot to handle. I turn on all the lights, turn on Parks and Recreation, and do my dishes.
7 p.m. I check my phone. There are messages from my ex, the Norwegian, and H. When we first started seeing each other, I felt like I was falling in love with H — his text immediately makes me smile. He's as ridiculous and goofy as I am, and his wit matches mine. The only place we didn't seem to be matched was in bed. It bums me out that that's the reason we're not together.
8 p.m. I FaceTime my ex. We chat for a bit and decide that we should see each other soon. He misses the cat and I miss him. The love is still there but we don't know how healthy the romantic relationship is. We know we want to be in each other's lives, we just can't figure out how.
DAY THREE
11 a.m. I'm in a staff meeting. I'm a health and sexuality educator and I love it. Really, my job means I get to talk about sex all day with people who think that sex is off limits to them. Everyone deserves the right to a healthy and pleasurable sex life and if I can help just a few more folks get there, I'm happy.
1 p.m. I text N. We have plans later to see a movie and I can't wait. It's been a while since we've seen each other … she is one of those people in my life to whom I can bring my whole self and still feel 100 percent loved. We agree to meet at the theater.
4 p.m. N is going to be late. I tell her I'll leave her ticket at the front desk.
9 p.m. N missed most of the movie and caught the most depressing part. Sigh.
10 p.m. N and I stop at a taco place. We start discussing my love of funny women, but N seems a bit distracted. She starts to tell me about her day and her misgivings at work and the stress she's feeling about picking a direction in life. We spend the rest of our meal discussing potential paths in life.
11:30 p.m. We are on the train back downtown. N is going to get off first and I'm continuing on into Brooklyn. We're joking around with each other, laughing so hard we seemed to have cleared out the car.
DAY FOUR
9 a.m. I ignore the cat all morning. I have the day off and need some chill time.
1 p.m I go into my kitchen to start some cooking — that always makes me feel comforted and productive.
3 p.m. Still feeling pretty antsy so I FaceTime my ex. He answers without his shirt on and I linger a little too long looking at his chest and arms. He's got the sexiest physique that I've ever seen and I can't help but wish he was over here with his arms around me. I love having my head on his chest and feeling his heartbeat.
8 p.m. Getting into bed to watch Parks and Recreation. I need to disconnect from real people for a bit and Leslie Knope is the perfect woman to focus on.
DAY FIVE
7 a.m. Up early and decide to use the time to work. I have a bunch of writing to do and have to review some applications for a board I sit on. I'm often surprised at the number of things I'm able to fit into my week, but I think my productivity has a lot to do with not being in a relationship right now. All the energy I used to put toward that has been freed up.
3 p.m. I text the Norwegian. After a day at my desk, I really want a distraction. I let him know I'm going to be free in the morning if he wants to come over and wake me up. He says yes, and I'm instantly excited to see him.
9 p.m. I'm in bed and texting H. We have been going back and forth a bit this evening about some music I discovered on Spotify. We share a lot of random articles and snippets of music. I feel a sense of accomplishment when he likes what I send.
DAY SIX
7 a.m. The Norwegian is running to my apartment from his — about six miles. I find this incredibly sexy and cannot wait for him to get here.
8 a.m. The Norwegian and I are already naked.
1 p.m. I'm chatting with my co-worker about my morning. She laughs, saying that I must be a good lay if a man's willing to run between Manhattan and Brooklyn that early in the morning.
6 p.m. I'm in therapy and discussing my current lack of connection with sexual partners and my lingering connections with H and my ex. I don't connect with people on that level very often and when I do, I cling.
7 p.m. I call my dad on my walk home. He and I are close. When I was living at home my friends would always laugh at the end of the night when I would inevitably get up from the bar, say I needed some dad time and abruptly leave, often forgetting to settle my bill. I'd grab a burrito for each of us and march home to find him on the couch watching Family Guy.
Since moving out, I call him during my walks home from therapy. I tell him about a recent promotion and he sounds proud. We switch topics to talk about my ex, and discuss what I'm planning to do. I'm not certain what I want and tell him that I don't think my ex knows either. I reassure him I'm happy, since I think that's what he's getting at and he says it sounds like I'm exploring myself in a way that I've never done. I'm glad he gets it.
DAY SEVEN
8 a.m. I'm late. I grab my phone, some jeans, and skip every piece of my usual morning routine to get out of the house as quickly as possible. It puts me in a grumpy mood when I can't take my time in the morning.
9 a.m. I'm still on the train and there are delays. Ugh.
2 p.m. Work has been a shitshow. Too many people have shown up needing immediate transfers to the ER. The transfer to the ER in and of itself is not a huge amount of work but the paperwork that follows is. I hate paperwork — it's not why I got into this field.
3 p.m. I have a lull and check my messages. I have a ton. Some from my best friends from home in a group chat, a number from another group chat with my friends from school, and a few from one of my sisters.
9 p.m. Home. In bed. It's been a long day, and I could use some moments of peace, right now. Leslie Knope, as I fall asleep trying not to think too much about the various romantic interests in my life right now, is the perfect remedy.
Want to submit a sex diary? Email sexdiaries@nymag.com and tell us a little about yourself.