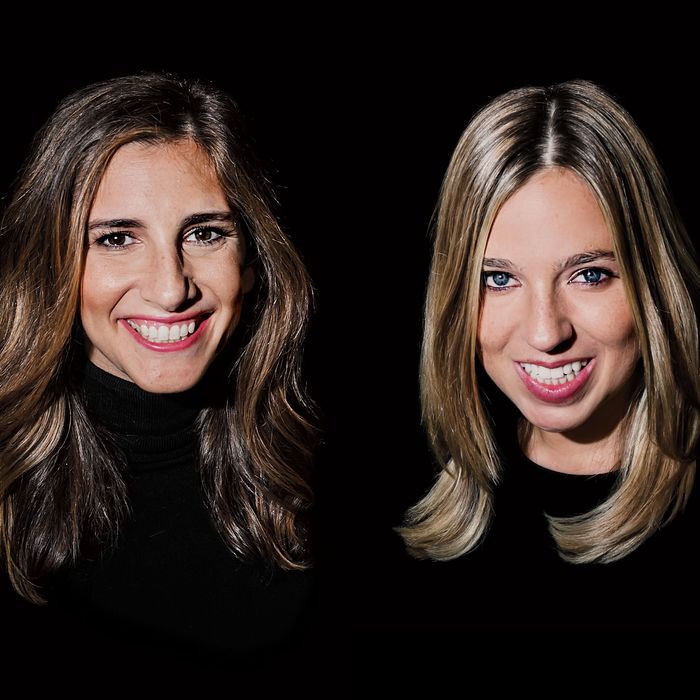 The Skimm co-founders Carly Zakin (left) and Danielle Weisberg (right).
Photo: Dina Litovsky
In early September, the whole staff of the Skimm, a current-events newsletter aimed at millennial women, gathered on gray couches for an all-hands meeting. Carly Zakin and Danielle Weisberg, the Skimm's CEOs and founders, were dressed in the TV-ready sheaths they'd put on for a Today show appearance that morning to promote their No Excuses voter­mobilization campaign — rings and bracelets and greenroom curls all aglint. "Eye of the Tiger" was playing on the company sound system. "We accidentally wore red and blue to show our bipartisanship," joked Zakin, clutching a sheet of talking points. In the back, a staffer lifted up an iPhone to take a photo, as if the bosses were celebrities. Both are 32. Weisberg, who was in GOP-outreach ­crimson paired with snakeskin heels, has blonde hair, blue eyes, and a big, orthodonist-advertising smile. Zakin, wearing Democratic navy blue, with black grommets around a slit, has brown hair and brown eyes and a competing bright-white grin.
The all-hands meeting proceeded like a Harvard Business Review case study in managing millennials. Zakin and Weisberg traded turns with sororal ease (pledge leaders, not sisters), announcing new hires — the group spontaneously cheered for the exciting news that they would soon be getting their first data engineer — and "very lovely Skimmversaries" for people who were celebrating a year, or two or three, of working at the company. Managers (from the finance group, which they called Team Sunshine, and Cash Money, the ad-sales team) then fulsomely praised their employees for everyone to hear: "Alex is a true unicorn and has built up our RP and advertiser practice from the ground up as largely a one-woman show. I just know how hard you work, how much you care about Cash Money and also the brand!" Zakin and Weisberg led the crowd in singing "Happy Birthday" to a Rachel, popped a bottle of Champagne to celebrate the No Excuses launch, and introduced, to cheers, K.J., the employee leading the campaign. There was a PowerPoint, full of stats on how few female millennials actually vote and concluding with a promotional video featuring a whiplash-inducing assemblage of Tyra Banks, Marco Rubio, Issa Rae, Madeleine Albright, Ted Cruz, Kirsten Gillibrand, and Newt Gingrich, seated happily in the Skimm's offices.
By any measure, the Skimm, founded in 2012, is an insane success. The newsletter is a Frankensteining of clear, sober-minded news aggregation with a tone imitating the way young women supposedly talk to one another. It has grown by more than 100 percent since Donald Trump took office and has 7 million subscribers, twice as many as the New York Times. (The Times' Morning Briefing news roundup has 1.6 million.) But the Skimm's founders don't consider the news business to be their competition. Like everyone these days, what they are selling is an immersive community built around "story­telling." The catchphrase the founders like to use is that the Skimm is "all about making it easier to live smarter."
In its comprehensive breadth and mix, the Skimm recalls the kind of briefing sheet TV-morning news show hosts and producers might get from lower-level staffers — talking points, in other words, for the cord-cutting generation, most of whom don't watch the Today show. Other daily-news digests have grown out of internal emails too, most notably ABC News' the Note. But while that brand (its brethren include Playbook and Brian Stelter's newsletter) seeks to give the reader the sense that she has insider knowledge, that she knows more details than her friends might, the Skimm instead aims to get the reader up to speed on the basics and to cut through the noise of social media. One recent Skimm opened with a quote of the day from Keira Knightley about why she won't let her daughter watch The Little Mermaid and moved on to update readers on the latest happenings in Northern Ireland, the Brexit mishegoss, the Jamal Khashoggi murder, the Mueller investigation, the growing federal deficit, declining college preparedness among ACT takers, a salmonella outbreak, and a large lottery jackpot.
The spirit of the newsletter's sui generis tone is the key to its success: banter-y, faux casual, rapid. The email is written in a cascading question and answer format that draws in readers by relating events on the world stage to a more knowable universe, one of ClassPass reservations and bachelorette parties and office drama. The effect can be extremely jarring.
"What to say to your co-worker who drank too much at happy hour … You're cut off. Yesterday, President Trump cut pay raises for about 2 million federal employees," goes one recent entry, along with, "What to say when you're asked how fast you change into comfy clothes after work … In an instant. Yesterday, India's gov banned instant divorce"; "The EU is mad at the UK's plan to break up with it. Here's what happened: back in 2016, the UK voted to say, 'it's not me, it's EU.' But it turns out breakups are hard, especially if you want to stay friends with (trade) benefits."
The company's founders insist that this voice is conversational, meant to mimic that of your "smartest friend," the one who "tells it to you like it is." This might be true, if your smartest friend were Christiane Amanpour being interviewed by Lauren Conrad. But the tone is effective. Its writers don't presume that readers come in with a deep knowledge of Myanmar or the Federal Reserve; patiently adding this context is a big part of what the Skimm does. And while the tone sends a signal of inconsequentiality, it also introduces actual facts about the world, many of them of the "eat your vegetables" variety. The Kardashians get more clicks than Syria, but the Skimm's editorial team doesn't pick what goes in based on traffic, nor does it pander to "women's interest." (Four-fifths of the audience is female, with nearly 90 percent having graduated from college.) Members of the team choose what they deem to be the most important stories of the day. Rather, the gendering happens in the margins — the newsletter is branded with a dark silhouette of a Breakfast at Tiffany's copycat in a double row of white pearls and a topknot, holding a teal e-reader just so — and looking like a cousin of the Skinnygirl Margarita avatar. And via that (divisive) tone.
Media people, as a class, enjoy looking down on the Skimm — particularly those who work for publications where a knowing attitude is paramount. Jezebel has characterized its style as a "signature 'of course none of us actually care, but here's how to seem less dumb.'" Slate called it the "Ivanka Trump of newsletters": "The Skimm treats its readers like they've never read an article, looked at a map, or accidentally seen a CNN segment in their dentists' waiting rooms." Bad for the cause of women taking themselves seriously and being taken seriously, in other words. The founders are unfazed. "We're not creating products for people consuming news all day long, or that are for people who are journalists or political junkies," says Weisberg.
It's also not that much of an outlier, as inclined as its critics may be to regard the Skimm as some unique degradation. Many more people now get their view of the world not through the original reporting source but some kind of "value added" digest, newsletter or otherwise. Bryan Curtis, the editor-at-large of the Ringer, who writes about the press, says that the tone of the newsletter — like that of Twitter — is best understood as post–Daily Show, which almost everything else is now too: "Serious news item plus knowing summary plus pop-culture reference. That's the grammar we now process news in." Sites like Vox — which proudly caters to wonks in bone-dry prose — also do patient, from-the-beginning explainers. In other words, the objections to the Skimm are more aesthetic than political. A devoted Skimm reader, after all, comes away with a clear understanding of actual voting issues, even if she requires levity to get through the ever-more-grim news. Consider another daily newsletter, Axios AM, which treats politics — a "serious" ­subject — from a corrosive, nearly policy-free perspective, as if it truly were a sport. Axios is criticized for its coziness with advertisers but rarely for its tone; it has the protective armor of self-seriousness. By contrast, in an era when many young men seem to be taking the Reddit­conspiracy express train to Alt-Right Town, the Skimm's loyal, growing readership looks suddenly, surprisingly useful for the functioning of democracy.
The Skimm's offices, in the Flatiron District, were designed by a committee: Rather than hire a professional design team, the founders asked everyone at the company for input. The result is a place done up in the highly recognizable style that someday will be known as Millennial Kitsch. There is neutral-toned catalogue-store mid-century-modern furniture. Flavored seltzer and wine are everywhere, with cold brew on tap in the kitchen. The phone booths and conference rooms — of which there are lots, because it is of course an open-plan space — are named after characters and catchphrases from Law & Order: Dun Dun 1, for instance. The whole thing is painted a teal-ish shade of blue that Sherwin-­Williams mixed specifically for the company to match the newsletter's logo. Books sent to the offices by publishers for consideration are arranged for a bright rainbow effect. There are analytics charts on one wall, "press moments" on another (including a framed Shonda Rhimes tweet), and a big display of the company's values: "We are humble," "We wear shower shoes at the gym."
Zakin and Weisberg like to talk about an imaginary composite character they've created called the Skimm Girl, who seems to be some combination of their own taste preferences, those of their friends, and what they've gleaned from analytics. "I think that the world has changed more than she has changed in the last six years," says Zakin. When the brand launched, the Skimm Girl loved SoulCycle and J.Crew and was drinking a jalapeño margarita. Now she cares for Club Monaco and Zara Home — she has recently ditched her roommates to live in a small space on her own — and Bumble. This summer, she was drinking Palomas and eagerly anticipating the return of This Is Us and How to Get Away With Murder. "For sure a fitness brand, too," says Weisberg. "I've been hearing a lot about Peloton lately." Zakin turns and says softly, correctingly, "Yeah, but that's expensive." The Skimm Girl, both agree, has an entrepreneurial spirit. "I think she might not order the pumpkin-spice latte, but she likes her avocado toast and knows that she is living a real cliché at this moment," says Zakin, "but also has a self-awareness that can be like, Yeah, this is kind of embarrassing right now, but also I'm going to go rally and get 100k people to vote." (Both women are extraordinarily adept at returning to their talking points.)
That archetype may sound like an advertiser's fantasy, despite the generally grim economic outlook for this generation. That revelation does not seem to have hit the Skimm Girl yet, but there is something occasionally oppressive about the way people under 35 seem to truly love the brands that target them, like a generational case of Stockholm syndrome for a cohort that has already been done dirty by capitalism. The women of this age group in particular seem to be extraordinarily loyal to just the kind of company the Skimm is — one founded by women who are very similar to the customers they're targeting: hypercompetent, hitting their marks with grace, project-managing life. These companies either take a traditionally feminine preoccupation — makeup, dating — and give it an undergirding of feminism, as in the case of Glossier and Bumble, two companies that make it about what the woman wants, not the male gaze. Or they take a supposedly masculine, capital-S Serious thing — a co-working space, the news — and redecorate it for women.
Is this all a subversion of a world that remains dominated by men, or simply a symptom? There's nothing especially gendered about straight-news prose, after all. But there is, in this moment, what seems like an urgent need for women to carve out products for them, by them. After all, we aren't that far into an era when women's spending isn't an ornamental demonstration of a man's relative economic power but rather (mostly) of her own. It makes a certain amount of sense that women would want new products that reflect this shift — that make an entire aesthetic proposition out of being a young woman in charge, concerned equally with the cataclysmic world outside and with her self-presentation. Someone who sees significance in who profits from what she buys. It may rub many feminists the wrong way, but it is a version of feminism — and a marketing strategy, since the two have, somehow, frequently become inextricable — that is about displaying power through purchasing and brand loyalty. And in the case of the Skimm, it's also about bending something traditionally voice-of-God — the news, as was given to us by Walter Cronkite and Dan Rather and the many tie-wearing editors of daily newspapers, and more recently the "brilliant boys" of blogging — into the kind of text-chat lingua franca that wouldn't even get a typed-out lol but rather one of those iOS prefab HaHa! buttons.
Zakin and Weisberg are invariably referred to inside the Skimm as Carly and Danielle, as if sometime near the beginning of their partnership they decided that the most equitable way was to go in first-name alphabetical order. They met while studying abroad in Italy (Weisberg was a Tufts student, Zakin was at UPenn) and reconnected when both were working in research and production at NBC News; they began rooming together in Manhattan. They were both the kind of obsessive newshounds those jobs suggest; their friends were not. And so the pair decided to start a newsletter that would break down the news cycle in a clear, chummy way. At first, they wrote it all themselves. (This is no longer the case; the Times recently hired a former Skimm writer.) They sought celebrity endorsements: Kotb met with Zakin in response to her cold email, then, several days later, plugged them on air. The site got so much traffic that the server crashed. They flew to L.A., and managed to get invited to the season premiere of America's Next Top Model, where they wanted to schmooze Tyra Banks. They showed up wearing backpacks and Skimm T-shirts and wrote the newsletter from the corner of the club. "I think we were the only people asking for Wi-Fi," says Zakin.
The pair live a block apart, share the same taste in books ("I've read everything that has The Girl Who … in the title," says Zakin, "and now I'm moving on to The Woman Who …"), and recently vacationed together along with their significant others. Outside the office, they "sleep," they say in unison, then crack up in delight at their mind-meld. "This is like When Harry Met Sally … ," says Carly, or maybe Danielle, pointing to the couch where they are being interviewed about their relationship a few weeks after the launch of No Excuses. This time they are casual, Zakin in No Excuses–branded leggings — there is an event for the campaign that night. Both have an almost-matching pale-pink manicure, Zakin's ever so slightly lighter.
"One of my favorite stories is that when we first started the Skimm, my friends said to me, 'Danielle must be so funny, thank God you found her as a partner.' Her friends and family said the same thing about me." Weisberg jumps in: "Neither of us is funny." Zakin gets up to grab a pamplemousse LaCroix.
Six years into its existence, the Skimm is now its own universe. In addition to the main product, the site features guides for its readers to live more informed lives: The Skimm's Guide to Wine Openers, to Making Your Desk Less Sad, to the Iran Nuclear Deal. A podcast, hosted by Zakin and Weisberg, features guests like Sallie Krawcheck. There are "Sip 'n Skimm"s — Hoda Kotb drank tequila cocktails with Weisberg and Zakin while talking about Matt Lauer's firing; Paul Ryan had Miller Lite in a Skimm beer koozie while explaining the upside of Donald Trump's tax bill. (The Skimm can get just about any big name it wants thanks to a combination of friendly interviewing and a large audience.)
Newsletters are now big business, competitive with websites — and to some publishers, they look like a better bet. In the industry parlance, they meet readers where they are — their in-boxes — rather than having to compete for terrain in the thick, steamy jungle of the 2018 internet. Many legacy publications, including the Times, have rapidly expanded their offerings in the past handful of years, perhaps spurred in part by watching the Skimm. Successful start-ups like Axios build their business around newsletters. The Skimm has around 75 employees and is growing rapidly; it has moved offices twice in the past two years. In addition to those high subscription numbers, the Skimm offers advertisers something else they like: a clear market segment to understand and target. This was apparent from the beginning, although the founders initially declined to accept advertising of any kind while they placed what Zakin has described as "a long bet on loyalty" — the actual product the company is now selling for advertisers. Now the Skimm regularly gets ad buys from both women-centric brands (Estée Lauder, Madewell) and general-interest megabrands hoping to make inroads with young women: Starbucks, Target, Netflix, ESPN, Dunkin' Donuts, American Express, Goldman Sachs, TurboTax. Sometimes this comes in the newsletter itself, and sometimes it's a more elaborate brand partnership, like a Katie Couric–hosted web series — sponsored by Pantene, Olay, and Secret — featuring women like Eva Chen and Ina Garten talking about their daily routines.
This summer, the Skimm reportedly sought a $100 million valuation, up from its previous one of $55 million. For the first time, in this most recent raise (a Series C round, for $12 million), the founders mostly targeted women and individual investors, after turning down a potential sale. (The Skimm's previous investors include 21st Century Fox, Goldman Sachs, and the New York Times, along with the CEO of Juice Press.) The result was like a Pinterest vision board come to life: a group that includes Sara Blakely, the billionaire founder of Spanx; Shonda Rhimes; Tyra Banks; and Willow Bay, dean of the USC Annenberg School and spouse of Disney CEO Bob Iger. (Mariska Hargitay, of Law & Order fame, participated in an earlier round.) Google's venture-capital fund also bought a piece.
The investors appear to offer strategic advantages: The Times lends journalistic credibility to a start-up in the news business. The Google fund tends to give its companies help with data and analytics. And the powerful cultural cachet of the individual investors would come in handy if the Skimm goes further into "lifestyle." Which would make sense: The C round was meant to give it capital to build out the additional revenue streams the company has been experimenting with beyond advertising: product recommendations (that come with affiliate links that give the referrer a small cut of the sale), selling holiday gift boxes. The No Excuses campaign includes the first foray into merch (women-made, with sales to be donated, at least for now, to a nonprofit), but it's the kind of thing that might give the company useful data on just what its audience is willing to pay for. And since 2016, there has been a paid app (even though, in the early days, the founders told everyone they refused to ever do an app) meant to sync with calendars to alert readers about upcoming and cultural events.
Bay had never made an individual media investment before; she'd heard about the Skimm from her students, however — "That was their preferred way of getting news" — and became interested. Betsy Morgan, a media executive and co-founder of Magnet Companies, who has advised the Skimm since its early days, says that she was interested because it was clear from the beginning that while millennials would need their own version of the newscast, no one had yet figured out how to translate it for them. "It's so boring, mainstream news," she says. "It amazes me. I think because big news outlets have to go through so many filters and have more at stake. The mainstream news doesn't even know how to copy what Carly and Danielle did."
Jordan Rodman, a 27-year-old freelance publicist whose clients include Dave Eggers and Nathan Englander, first started paying attention to the Skimm when she was at Knopf, trying to get publicity for a book of short stories. When she scored a mention in the Skimm, she watched the book's Amazon rankings go from something in the hundred-thousands to single digits in under an hour. Rodman decided to subscribe, on top of the Times' daily newsletter she was already getting. At first she wasn't sure about the Skimm's tone. But then she realized its sense of humor reminded her of her group chat (titled in her phone as "Where my yentas at?"). "I felt like I was part of something. Every morning on the subway, I could see other women my age reading it, coming from Brooklyn and laughing to ourselves." She liked the simplicity of the wording and "feeling extra professional in the morning, like I could say two sentences about anything … but no more than three sentences."
Rodman isn't an official Skimm'bassador — a reader who has gotten a certain number of people to sign up for the service. Katie Dahlander, 25, who works in corporate finance in Austin, has been reading the Skimm since 2014, when a sorority sister at Texas A&M suggested she sign up. Since she became a Skimm'bassador — last year, when the news started to obsess her — she's signed up 55 people. ("I haven't told that many people yet because I feel like it's not humble.") Dahlander now reads the Wall Street Journal every day in print and subscribes to FiveThirty­Eight's newsletter. But she began to read the Skimm, she says, because "I wasn't really sure how to be in the bigger world once I graduated. I was looking for ways to gain confidence." She loves when it gives her a quick primer on sports, she says, which is especially useful for office chat. She talks with her cubicle mate about what they'd read that day, like "Saudi Arabia, the crazy story that happened to the guy over there." After all, not everybody gets to work in an office where it doesn't matter to your career if you don't care about football — or has to work somewhere where you need to pronounce Khashoggi out loud.
Weisberg and Zakin think a lot about what their company's success means. "For our sixth birthday, we did an all-hands," says Zakin —there was a Champagne toast, of course, and everyone wore party hats and they rang a big bell — "and we had some of our team pull some stats together to take a moment to reflect on what we'd done. The stats were more jarring than we expected. We are in the .05 percent of start-ups that are founded by women thus far. You can hate our tone, you can love our tone, but the story of the Skimm matters."
A thoughtful, stylish woman I know in her 40s said to me that she hopes the Skimm continues to be dominant — and that they start to subtly elevate the way they write, just a hair at a time, changing it so slowly that no one even realizes it's changing. "Imagine what that could do," she said, "if we started talking to women not in same the way that we've always thought that we had to in order to get their attention."
*A version of this article appears in the October 29, 2018, issue of New York Magazine. Subscribe Now!