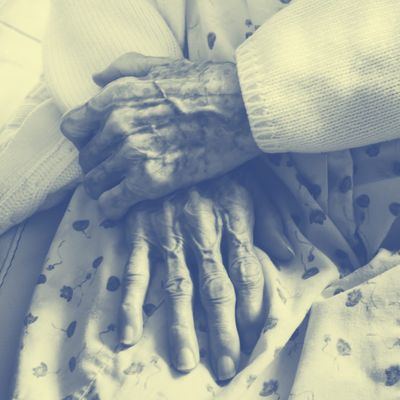 Photo: Elizabeth Fernandez/Getty Images
After appointing a minister for loneliness (really!) in January, the British government has taken an additional step toward treating loneliness as a public-health issue, publishing a report on proposed national policy which aims to refer patients experiencing loneliness to community support and services by 2023. Prime minister Theresa May calls loneliness "one of the greatest public-health challenges of our time."
The strategy comes amid reports from British general practitioners that they're seeing between one and five patients daily who suffer from loneliness, which is "linked to a range of damaging health impacts, like heart disease, strokes and Alzheimer's disease." Especially vulnerable are older people — around 200,000 of whom say they haven't had a conversation with a friend or family member in over a month. And studies have shown that people with stronger social connections have 50 percent higher survival rates in a given time period over those with weaker social connections, legitimizing loneliness as a physical as well as mental health risk.
Among those steps to be taken by the British government are additional research, and a plan to develop tailored interventions for "trigger points" like the death of a spouse or the loss of a job. This process, called "social prescribing," aims to connect people in need with social and community activities such as "cookery classes, walking clubs, and art groups, reducing demand on the NHS and improving patients' quality of life," according to the press release. Loneliness won't be left in the hands of medical officials alone, either — even the national postal service is getting involved, in a program in which postal workers will check up on lonely people as part of their delivery rounds.
Thus far the British government has committed 20 million pounds to the anti-loneliness effort, with nearly two million more dedicated to developing more community spaces. Still, critics have noted the irony inherent in the program, coming on the heels of government cuts to public library funding, early education funding, and other socials services. While it seems apparent that loneliness does constitute a public-health issue, it's less clear whether the British government has found the best way to address it.