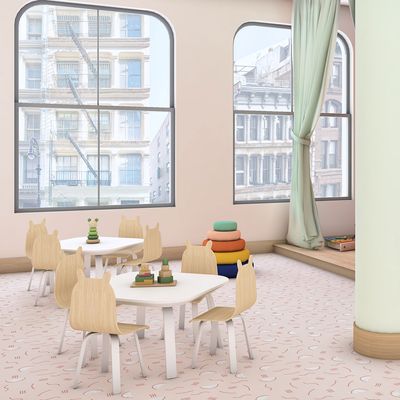 The Wing's child-care facilities.
Photo: Courtesy of The Wing
The Wing, the women's co-working and networking space with outposts in multiple cities, is expanding to offer on-site short-term babysitting and children's programming services for its members, the company announced on Tuesday. The program will launch this winter at the Wing's Soho location.
The services range from two-hour babysitting sessions to weekly kids' art, movement, and music classes. The programs, under the umbrella title of "The Little Wing," will also include weekend open-play options (in which kids can play under the supervision of a parent), as well as monthly programs in which member parents can network. The prices for these services have not yet been made available.
In a statement, the Wing's co-founder and COO Lauren Kassan said, "By offering a solution to our members who are parents, we want to help contribute to a world where there is no perceived motherhood penalty. One of the greatest barriers to working as a parent is lack of flexible work schedules and access to affordable child care and with the opening of the Little Wing, we hope to serve as a solution to both of those issues."
The cost of child care is a major issue in the United States. The advocacy group Child Care Aware says that child care remains both unaffordable and inaccessible for many families across the country. CNN also reports couples in the U.S. spend 25.6 percent of their income on child care, while single parents spend up to 52.7 percent of their income. Yet the costs of child care vary heavily from state to state: in New York, it costs an average of $14,144 annually, while in Washington, D.C., child care can cost an average of $22,631 per year, according to a report by the Economic Policy Institute.
While the Wing hasn't yet announced the exact costs of its new services, the company has stressed that it aims to be affordable. (The Wing's all-access membership pass currently costs $2,700 a year, though a scholarship program was recently announced.) Additionally, as the babysitting programs are only offered in two-hour sessions, these services will not replace a need for full-time child care. Still, the Wing's new offerings will definitely come in handy for members looking for short-term help.