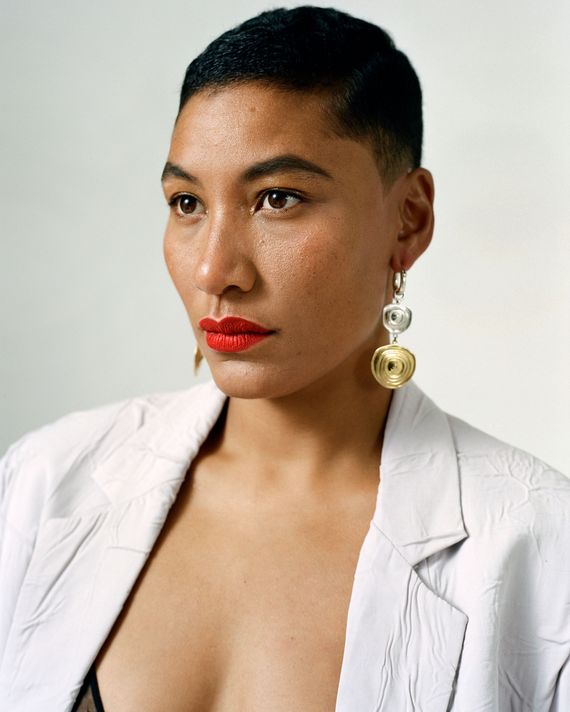 Naima Ramos-Chapman will tackle any topic. Her latest two short films, And Nothing Happened and Piu Piu, both examine the reality of living after a sexual assault. She's also a writer-director for Random Acts of Flyness, the Afro-surrealist show that addresses white supremacy and brutality.
Ramos-Chapman started making films after interviewing her now-partner Terence Nance for Saint Heron, the creative agency founded by Solange Knowles. They met, and after Ramos-Chapman talked about lack of complex female characters in film, Nance encouraged her to start making her own. They've been life- and business-partners ever since. We spoke with Ramos-Chapman about Cersei Lannister, levitation, and horseshoe crabs.
What is your most-used emoji?
The prayer hands. Although I feel like they're not so much prayer, as much as they are a self-love high-five.
What is your favorite holiday?
I don't have one. They're all a bit contrived.
If you could spend three months anywhere, where would it be?
I really want to go to Haiti. I feel very drawn to the place.
What superpower would you have and why?
I think it would be to levitate six inches off the ground. Just enough to just glide through and get to places quickly.
What's the best album ever made?
Dang. Stevie Wonder's Innervisions.
Who do you think is cool?
Shaniqwa — can I say that? Other than her, my partner Terence Nance.
Go-to karaoke song?
Tina Turner's "Proud Mary," because you scream more than you sing and anyone can do it.
What fictional character would you want to hang out with?
Cersei Lannister from Game of Thrones. Everyone hates her but I feel like I empathize with her desire to destroy and wreak havoc because she doesn't have a voice as a woman and has been used as a pawn by her father and her husband. I have a lot of compassion for female characters that are written in a way that everyone hates. I'm just like Y'all aren't looking hard enough. She has a reason to be this way.
If you could be a magazine, what magazine would you be?
New Yorker.
If you could speak to animals, which animals would you want to talk to?Horseshoe crab. They're the closest thing to a dinosaur that we have. They're very mysterious and they look like they can survive anything.
Jeans or sweats?
Jeans.
What's something your social-media followers don't know about you?
I am a strong firm believer in crying a lot over any little thing because you've got to get it out and feel the pain. But on social media you don't love necessarily showing that.
What was the last website you looked at?
My kickstarter page for my short film that I'm trying to fund.
If you could be outfitted by one designer for the rest of your life, who would it be?
Honestly, I live in thrift stores.
What do you eat for breakfast?
I have not been eating breakfast recently, but avocado toast done right is amazing.
If you could only eat three things for the rest of your life, what would they be?
Green plantains, papaya, and Hot Cheetos.
If you were a color, what would it be?
Black because it has all the colors.
Naima wears a 3.1 Phillip Lim suit, Prada shoes, and Ellery earrings.