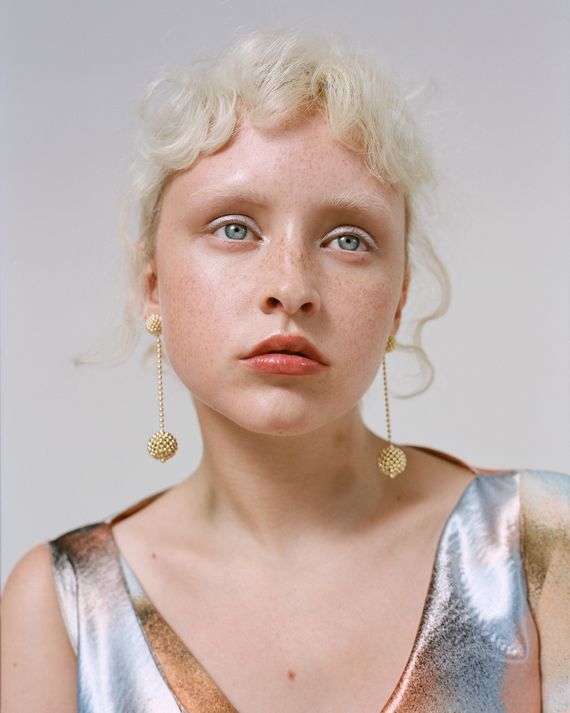 Ava Ferguson.
Photo: Shaniqwa Jarvis
Model Ava Ferguson is the kind of chameleon who would look equally at home in a horror movie, a period drama, and an episode of Girls. The FIT student moved to New York a few days after graduating from high school and stumbled into modeling through friends and photographers who asked her to shoot with them. Eventually, she was signed by No Agency New York on Instagram. We spoke with her about Halloween, ducks, and David Bowie.
What is your most-used emoji?
It's the one when the tongue is out, it's blinking, and it's to the side.
What is your favorite holiday?
Halloween. My mom is super into horror and she loves scaring the shit out of people and I'd always be something really creepy. So I'd stand on the front porch and scare people. I loved it.
If you could spend three months anywhere, where would it be?
I've never been to Germany and I don't know why but I'd really like to go there.
What superpower would you have and why?
Teleportation.
What's the best album ever made?
I really like The Rise and Fall of Ziggy Stardust.
Who do you think is cool?
Honestly my parents. They're just super open-minded and go with the flow.
Go-to karaoke song?
"Careless Whisper" by George Michael.
What fictional character would you want to hang out with?
The whole cast of It's Always Sunny in Philadelphia.
If you could be a magazine, what magazine would you be?
i-D.
If you could speak to animals, which animals would you want to talk to?
Cows, because I want to know what they're feeling. I'm a vegan, so I wonder.
Jeans or sweats?
Jeans.
What's something your social-media followers don't know about you?
I used to raise ducks when I lived in Tennessee. We'd have pet ducks because we lived on a lake and when they were grown we'd release them.
What was the last website you looked at?
Ticketfly.com.
If you could be outfitted by one designer for the rest of your life, who would it be?
Maryam Nassir Zadeh.
What do you eat for breakfast?
Cereal.
If you could only eat three things for the rest of your life, what would they be?
Tofu and rice, mangoes, and hummus with tortilla chips.
If you were a color, what would it be?
Blue.
Ava wears silk dress by Sies Marjan, gold earrings by Lagos.