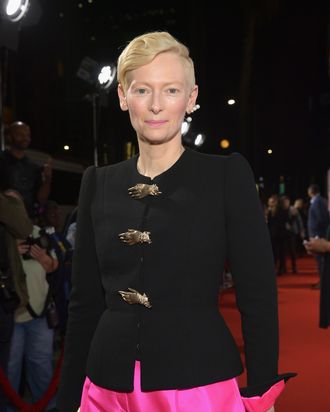 Tilda Swinton at the Amazon premiere of Suspiria.
Photo: Emma McIntyre/Getty Images
Everything Tilda Swinton does is incredible, from her execution of unforgettable looks, to her dedication to each of the roles she takes on as an actress. Her latest creative endeavor is no exception.
Entertainment Weekly reports that Swinton directed a music video for an opera performance of one of George Frideric Handel's compositions. That's cool, but the most amazing part about it is that the video is just shots of Tilda's three dogs running around a beach on the coast of Scotland.
In some frames, you can see the outline of the person behind the camera. But apart from that, the video is just a picturesque edit of her dogs running through water, jumping in the air, and prancing across the sand. Sometimes the dogs have their tongues hanging out as they run, and sometimes they move in perfect unison, directed by Tilda from off-screen.
Tilda co-directed the video with Sandro Kopp for multimedia company Visionaire's Glass Handel project. The video will be part of an installation that will debut at New York City's Cathedral of Saint John the Divine in late November.