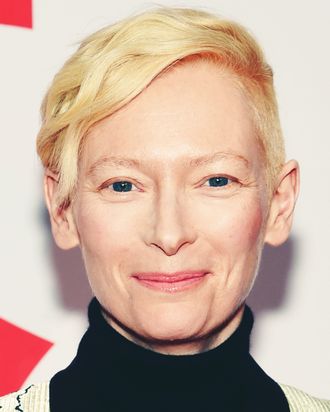 Tilda Swinton.
Photo: Jamie McCarthy/WireImage/Getty Images
Tilda Swinton had two roles in Luca Guadagnino's Suspiria. She is credited as playing Madame Blanc, and today it was confirmed that she also played the part of Lutz Ebersdorf, the 82-year-old man who played Dr. Josef Klemperer in the film.
Swinton and Guadagnino concocted an elaborate game plan for Swinton's Ebersdorf. Swinton wrote an entire IMDb page for him, and while filming scenes with Dr. Klemperer, Guadagnino only referred to Swinton as "Lutz." But perhaps the most intriguing detail in their dedication to the creation of Ebersdorf was the genitalia Swinton requested.
"She did have us make a penis and balls," Oscar-winning makeup artist Mark Coulier told the New York Times. "She had this nice, weighty set of genitalia so that she could feel it dangling between her legs, and she managed to get it out on set on a couple of occasions."
Understandably, when the hard work of their ruse was discovered, both Swinton and Guadagnino were bummed. Swinton had envisioned killing off the fictional Lutz Ebersdorf (and his balls) in the end credits of the film — leaving everyone to believe that a real man (and his balls) lived and died during the production of Suspiria.
While Ebersdorf died when Swinton finished the film, his genitalia remains with us, though no one is sure exactly where. "Probably in a box somewhere!" Coulier said to the Times. "I should try and find it, and put it on a plaque on the wall of my workshop."