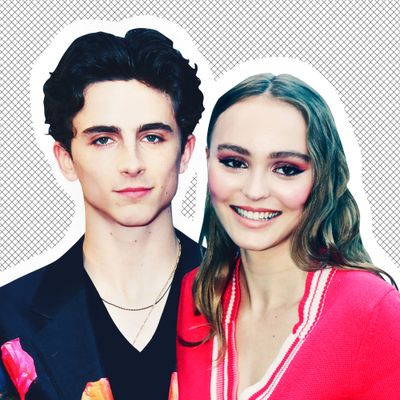 Timothee Chalamet and Lily Rose Depp.
Photo: Getty Images
Lily-Rose Depp, 19 and Timothée Chalamet, 22, have been hanging around lower Manhattan for the last few weeks, and dedicated fans have snapped pictures of the two as they wandered around the city. It was unclear if they were just hanging out as co-workers (they star in Netflix's upcoming movie The King), or if something more romantic was going on.
A night of fried chicken and kissing cleared things up. Over the weekend, Depp and Chalamet were spotted at the popular Lower East Side fried chicken spot Blue Ribbon Chicken, where they shared some food and some smooches. They later walked in the rain, adding a cinematic element to an already perfect date.
They've previously been seen on other ideal dates, like walking through Central Park and getting coffee in the East Village — but this is the first time they've been spotted kissing in public. An observant onlooker told E! News that "they stopped on a street corner and shared another passionate kiss."
"They huddled together in the rain but loved being outside and were laughing and smiling the entire time," the unnamed eyewitness continued. "They seemed very into each other."
They are a celebrity couple that makes sense. She is a model teen with nice skin, and he is a charming young actor with (usually) very good hair. Just one question for Lily-Rose: Did you start liking Timo when his hair was bad during the shooting of The King or after he grew it out?