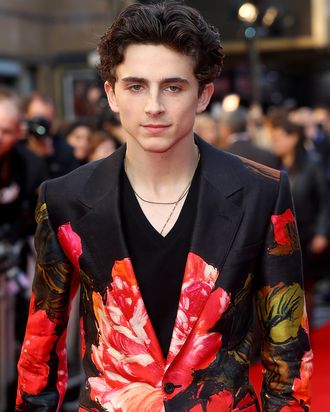 Timothée Chalamet.
Photo: Tim P. Whitby/Tim P. Whitby/Getty Images for BFI
Timothée Chalamet, the expert floral suit wearing, floppy hair having, 2018 cinema darling continues to create content that caters directly to our hearts.
This time, it's not an emotionally charged independent film; it's an Instagram post. On Saturday, Timothée shared a blurred, poorly lit photo of Saoirse Ronan and Greta Gerwig, with the caption "littlewomen. (Rehearsal pic couple weeks ago :)"
Timothée is set to star alongside Ronan, Meryl Streep, Emma Watson, and Florence Pugh in an adaptation of Little Women written by Gerwig. The film is set to release sometime in 2019. Timothée will play Laurie Laurence, the brooding young and wealthy neighbor of the March women.
Let's hope his haircut for this film won't look anything like this bowl cut we had to endure during early September. Although we do endorse Greta writing in scene where he wears all red.