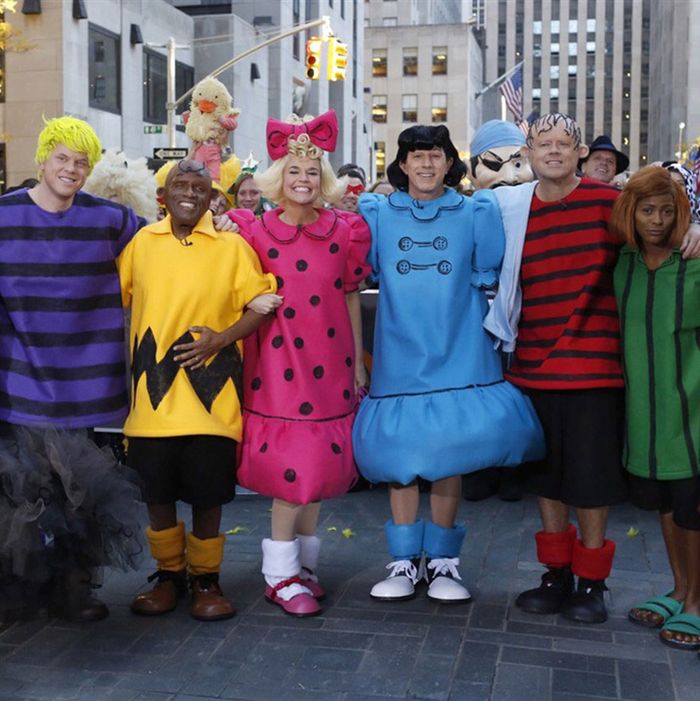 Help.
Photo: Samantha Okazaki/TODAY
Today is Halloween. All Hallows' Eve. Even Hallowe'en, according to Wikipedia. Because I'm a childless adult and it's a weekday, there's not much I'm doing to celebrate the holiday. I'll go to work as usual, leave work as usual, eventually go to sleep, and spend approximately four to 16 hours in between being tormented by the haunting, visceral memory of the Today show cast dressed as Peanuts characters in 2015.
While the morning show goes all-out for Halloween every year, their thematic getups three years ago were truly transcendent, imbuing Charles Schulz's beloved childhood characters with an uncanny and vaguely sinister air. I wouldn't say I Think About This a Lot, but I Do Think About This Sometimes, Especially on Halloween. And now, reader, you will have to think about it too.
First up, we have Matt Lauer [tugs collar] as Lucy.
Kathie Lee Gifford and Hoda Kotb as Snoopy and Woodstock look like furries, but at a cutting-edge furry club in Berlin. An honor befitting the reliably bonkers fourth hour of the Today show.
The costumes that involve bald caps with clay (???) hair are what take these from slightly bizarro to full Lynchian nightmare fuel, indelibly searing the looks into the darkest recesses of my brain. Take Carson Daly's Linus, completely vacant behind the eyes, probably reliving the TRL glory days as a coping mechanism.
And Al Roker's Charlie Brown.
And, most exquisite of all, Meredith Vieira in a fully deranged Pig-Pen costume — which is absolutely someone's fetish, somewhere.
Boo!