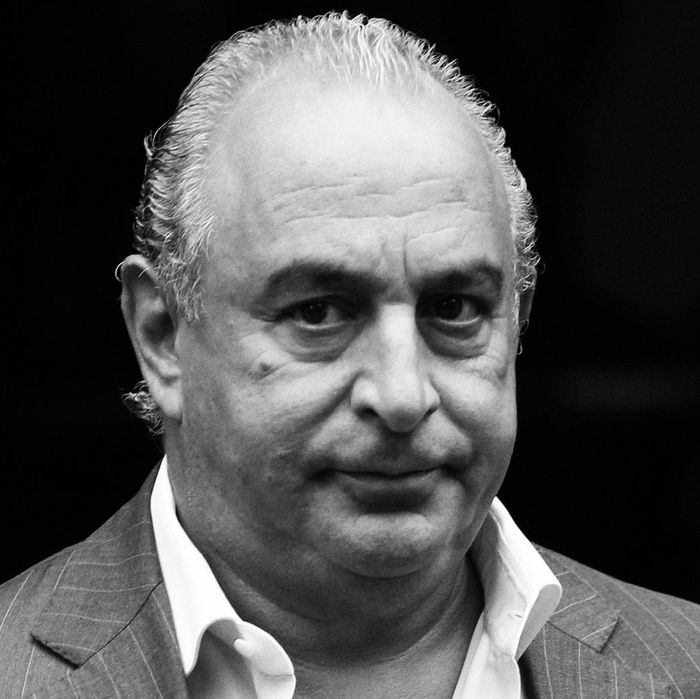 Sir Philip Green.
Photo: Neil Mockford/FilmMagic/Getty Images
Sir Philip Green, the chairman of the conglomerate that owns Topshop, has been named as the man at the center of Britain's newest high-profile #MeToo story. The reveal comes only one day after the Court of Appeals in the U.K. issued a gag order preventing the Telegraph from naming Green in their reporting.
Lord Peter Hain, a member of Parliament, named Green in the House of Lords today, saying he felt it was his "duty under parliamentary privilege to name Philip Green as the individual in question given that the media have been subject to an injunction preventing publication of the full details of this story which is clearly in the public interest." He also said the allegations were of a "serious and repeated" nature and he had them heard from someone "intimately involved in the case."
The Telegraph has spent the past eight months investigating Green's alleged bullying, racial abuse, and sexual harassment of employees. On Tuesday, the paper was barred from naming details of the NDAs signed by the victims, naming Green, or naming the companies he worked for. He is reportedly being represented by the firm that also worked with Cristiano Ronaldo (who had a woman sign a non-disclosure agreement in exchange for $375,000 after they had sex) and Lance Armstrong (who sued people who accused him of doping). The Telegraph instead wrote a story about how the court was prioritizing legal contracts over public interest and freedom of speech, and pointed out that the paper had not signed any such legal contracts with the accused businessman or his companies. (The businessman was identified in the ruling as "ABC.")
Additionally, a woman identified as a "well-known socialite" wrote an op-ed for the Telegraph, saying she believed she was groped by the same (then) unnamed businessman while she was waitressing. She wrote:
Like Harvey Weinstein, this wasn't a man you went up against. And had it not been such a large number of women, the Hollywood movie mogul might never have been brought down. He would still be doing what had probably become the norm to him over decades.




Because with all the legal protection those kinds of men can afford — with the fortress of injunctions and NDAs they can build around themselves — they can feel safe to carry on as they please, can't they? And carry on doing far worse things than what happened to me
No word yet on what happens next for Green. We'll update this story as more information becomes available.