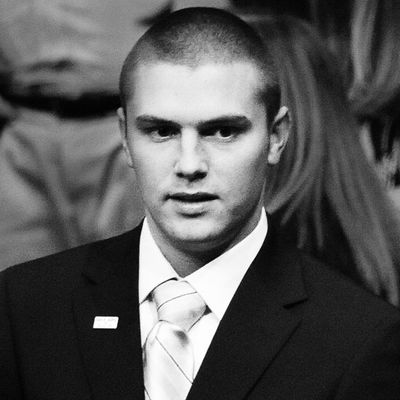 Track Palin.
Photo: EMMANUEL DUNAND/AFP/Getty Images
Track Palin, the 29-year-old son of former Alaska governor and 2008 Republican vice-presidential candidate Sarah Palin, was arrested this weekend on his third domestic-violence charge in less than three years, Alaska's KTVA reports.
State troopers were called to Palin's home in Wasilla, Alaska, at 10:30 p.m. on Friday night, after he reportedly assaulted an "acquaintance" in his house. "When the acquaintance attempted to call authorities, he prevented her by taking away her phone," troopers wrote in an online dispatch. "While being placed under arrest, Palin physically resisted troopers."
Palin was charged with fourth-degree domestic-violence assault, interfering with the report of a domestic-violence crime, resisting arrest, and disorderly conduct.
In January 2016, Palin was arrested on charges of domestic violence after his girlfriend at the time said he punched her in the face, kicked her, and threatened to shoot himself with an AR-15 assault rifle while he was intoxicated. Then in December 2017, Palin was arrested again for attacking his father, Todd Palin. His mother told police at the time that her son was "freaking out" because of a medication he was on, and suggested that the assault was the result of PTSD from Track's time in Iraq in 2008.
Palin is currently being held without bail at the Mat-Su Pretrial Facility, before the case is tried in Alaska's Veterans Court.