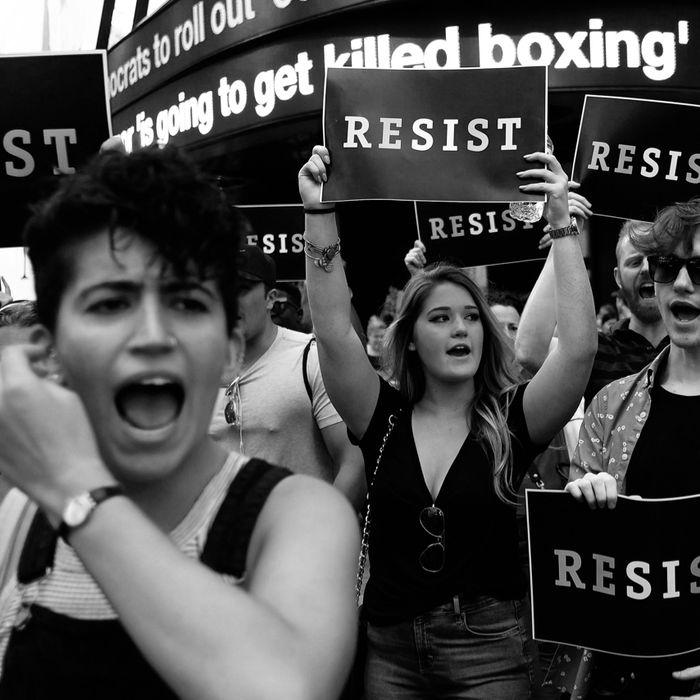 Protesters in Times Square shouted slogans against President Trump last July.
Photo: JEWEL SAMAD/AFP/Getty Images
According to a report by the New York Times, the Trump administration is again looking at ways to attack the rights of transgender people in the United States. A memo released by the Department of Health and Human Services showed an effort to narrow the definition of gender to male or female, and for that assignation to be unchangeable from birth.
"Sex means a person's status as male or female based on immutable biological traits identifiable by or before birth," read the memo. "The sex listed on a person's birth certificate, as originally issued, shall constitute definitive proof of a person's sex unless rebutted by reliable genetic evidence."
During the Obama administration, civil rights protections were expanded to better include transgender people. Under the Trump administration, those protections are being undone systematically. From attempts to ban trans people from serving in the military, and remove questions about gender identity from the 2020 Census, to rolling back protections related to health care and housing, Trump's policies regarding transgender Americans has repeatedly been called cruel.
The director of the Office for Civil Rights at the Department of Health and Human Services, Roger Severino, was formally the head of the DeVos Center for Religion and Civil Society at the Heritage Foundation, the Times reports. He called the Obama era expansion for the definitions of sex and gender to be "radical gender ideology."
According to the Times, a new definition will likely be presented to the Justice Department by the end of this year. If successful, the narrower definition would strip an estimated 1.4 million people of a legal recognition of their gender identity. This would result in loss of rights ranging from housing to healthcare to education.
The National Center for Transgender Equality called the proposal "an attempt to put restraints on the lives of 2 million people, effectively abandoning our right to equal access to health care, to housing, to education, or to fair treatment under the law."
Members of the transgender community have expressed fear and outrage at the proposal, and are also urging allies to rally in support of trans people and against the continued marginalization and dehumanization of trans people.