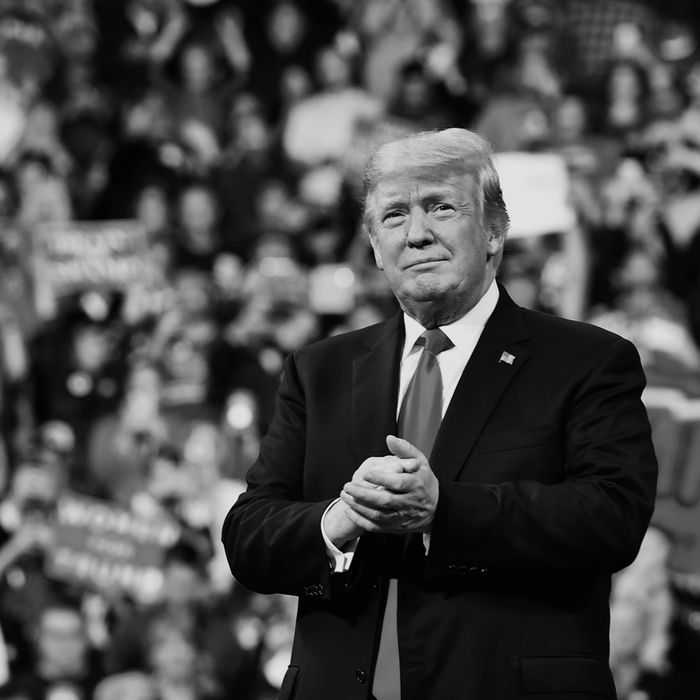 Trump at a campaign rally.
Photo: MANDEL NGAN/AFP/Getty Images
During President Donald Trump's Cedar Rapids, Iowa, rally — where he was campaigning for House Republican Rod Blum — attendees began a frenzied "lock her up" chant at the mention of California Senator Dianne Feinstein's name.
"How about Senator Feinstein," he asked. "That's another beauty." The crowd responded with a long, loud, "Boo." He followed up with, "Did you leak the documents?" Then mocked her, eliciting laughter and cheers from the crowd. The rally then erupted with chants of, "Lock her up! Lock her up!"
Senator Feinstein was the first senator to know about Christine Blasey Ford's allegation against Supreme Court Justice Brett Kavanaugh, and at Ford's request, kept the letter of disclosure confidential for two months leading up to the Senate Judiciary hearings.
In the same speech he repeated the statement that anti-Kavanaugh protesters were paid, doubling down on a tweet from last week in which he asserted that George Soros was funding an insincere effort to protest against a man accused of multiple allegations of sexual assault.
He later accused the media of refusing to show that his Iowa rally had a very large crowd.