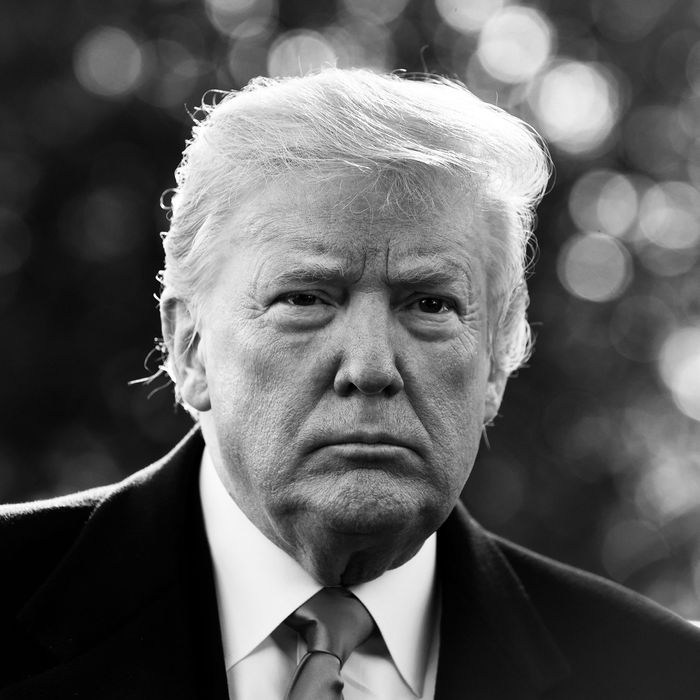 Donald Trump.
Photo: Olivier Douliery/Getty Images
Donald Trump's major campaign promise has been to "Make America Great Again," to bring our country back to a time when political correctness hadn't run amok, to make it possible for Americans everywhere to … call each other handsome?
The latter proposal emerged on Thursday morning, when he spoke to conservative group Turning Point USA's Young Black Leadership Summit at the White House. The speech began with addressing the arrest of a suspect believed to have sent bombs to Barack Obama, Hillary Clinton, CNN, and others; shouting out Kanye West, Candace Owens, and Ben Carson; and asking the crowd if they knew what lacrosse is. And then he got to the compliments.
"I can just look at these incredible beautiful and handsome faces, and today you're not allowed to use those terms because they'll say 'Oh you' — but you know what, I'll use it anyway," Trump said.
"Beautiful," he continued, gesturing at the crowd. "Handsome."
"We have to bring that back into the world of being okay, right?" Trump added. "We're going to bring that back."
This came a week after Trump referred to Ted Cruz as "Beautiful Ted."
Trump followed that up by reminding the crowd that jealousy's a disease, bitch. "Remember, there's a word called jealous and you have a lot of people that are very jealous of you," the president told them. "It's an unfortunate thing, probably will be with us for a while. But that's a word that we have to understand because it's used against us very much. The word jealous, jealousy. "