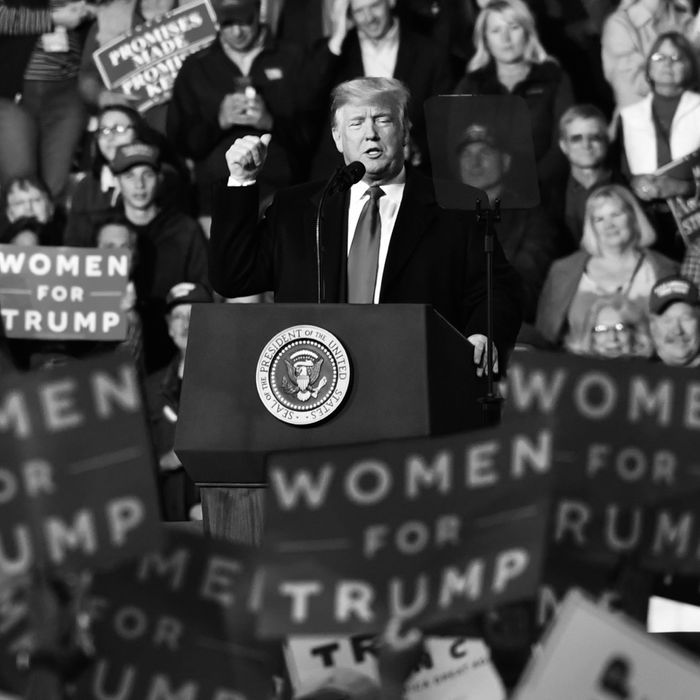 Donald Trump.
Photo: NICHOLAS KAMM/AFP/Getty Images
In the middle of a cross-country campaign tour, President Trump spoke at a rally in Montana, where he was throwing his weight behind Republican senate candidate Matt Rosendale. Rosendale is running against incumbent Democrat Jon Tester, who Trump frequently referred to as a member of the Democratic mob.
In his effort to support the Republican candidate, Trump outlined the four issues he believes will define the midterm elections, which will be held on November 6. He said that "Kavanaugh, the caravan, law and order, and common sense" will be what determine the outcome of over 400 different state races.
Throughout the night, he claimed that Senator Dianne Feinstein was responsible for "leaking" the letter that Christine Blasey Ford wrote to her alleging that Supreme Court justice Brett Kavanaugh sexually assaulted her in high school. Trump yelled, "She leaked! She leaked!" about Senator Feinstein to the crowd. At a previous rally, Trump laughed as the crowd chanted, "Lock her up!" about Senator Feinstein.
The caravan Trump was referring to is the 1,500- and 2,000-person march making its way from Honduras in an effort to reach the United States. Many of the people are migrants, but some are participating in the journey as an act of protest of against Trump's immigration policies. Trump demanded during the rally that a wall be built immediately to prevent these migrants from entering the country, and blamed the lack of a wall on Democrats, particularly Senator Maxine Waters and Senator Nancy Pelosi.
He called the Democrats a "mob" that is soft on crime. In the same speech, he praised Greg Gianforte, the local Montana lawmaker who body-slammed a reporter last year. He said that the Republicans were going to end crime.
Trump's beloved Supreme Court pick, Brett Kavanaugh, was accused by three women of sexual misconduct and assault, and his former campaign manager Paul Manafort is currently sitting in jail, not even allowed to wear suits to his upcoming hearings related to 18 charges of tax and bank fraud.