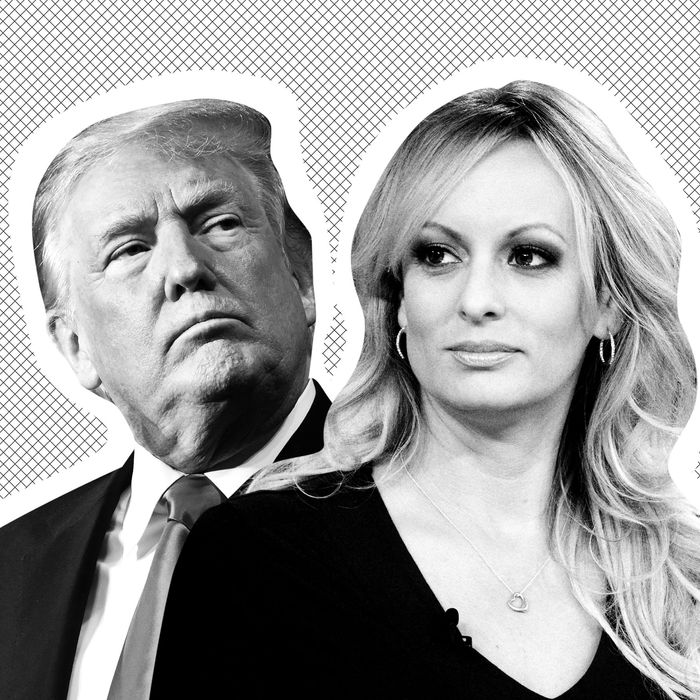 Donald Trump and Stormy Daniels.
Photo: Getty Images
In what was presumably not a reference to her horse-girl identity, the extremely normal, totally respectable president of the USA called adult-film actress and director Stormy Daniels "Horseface" in a gloating tweet about her legal efforts against him. Just typical presidential behavior!
On Monday evening, a federal judge dismissed Daniels's defamation lawsuit against Trump over his tweet from April, in which he called a sketch of a man who allegedly threatened Daniels, after she first considered speaking out about her alleged affair with Trump, a "total con job." As one would expect, Trump couldn't help but delight in his assumed triumph over the woman with whom he allegedly had sexual relations, and on Tuesday morning, he tweeted out the news with a sexist dig.
"Great, now I can go after Horseface and her 3rd rate lawyer in the Great State of Texas," Trump tweeted about Daniels and her lawyer, Michael Avenatti; continuing, "She knows nothing about me, a total con!"
Avenatti was quick to slam the tweet, calling the president a "disgusting misogynist and an embarrassment to the United States." Half an hour later, Daniels also addressed Trump's tweet, pointing out his "incompetence, hatred of women and lack of self control on Twitter … and perhaps a penchant for bestiality."
"Game on, Tiny," she tweeted.
As Daniels recently told the Cut, it's "fun" to her when people are mean on Twitter — and responding to her trolls is "great sport."
"That's how I entertain myself on flights now," she said. "Who's being mean to me today? It's actually disappointing, because mostly they're nice now."