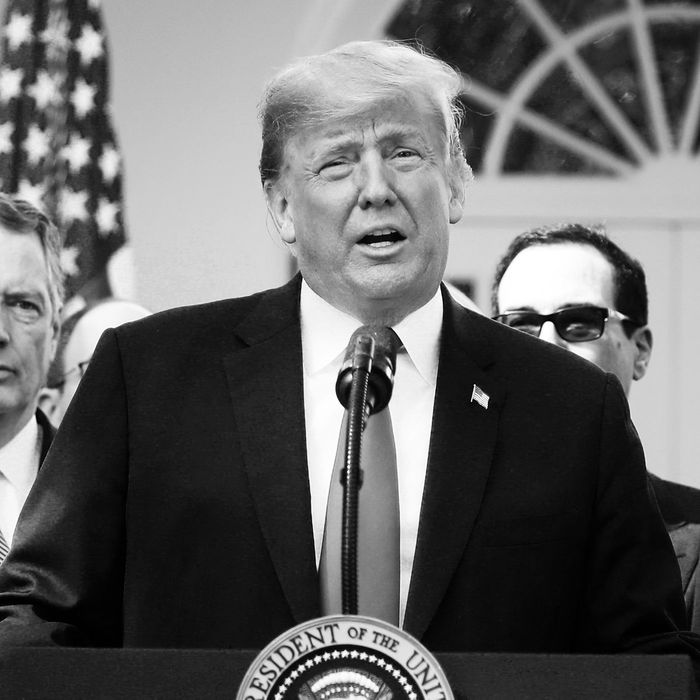 Photo: Bloomberg/Bloomberg via Getty Images
President Trump on Monday announced his administration's new NAFTA replacement deal — the U.S.-Mexico-Canada Agreement, or USMCA. It was a beautiful day, so beautiful, in fact, that the president started by saying he refused to call Washington, D.C., the "swamp." He took advantage of the last vestiges of warm summer weather by insulting female reporters, and going on a bizarre rant about beer.
At one point in the event, after pointing to ABC's Cecilia Vega, Trump said, "She's shocked that I picked her. She's like in a state of shock."
"I'm not, thank you Mr. President," Vega replied, which the president apparently misheard as, "I'm not thinking, Mr. President."
"That's okay," Trump said, "I know you're not thinking. You never do."
His comment elicited gasps from the audience, and Vega herself seemed confused, asking, "I'm sorry?"
"No, go ahead."
The president's snarky aside was well-received by Treasury Secretary Steve Mnuchin, who chuckled delightedly behind his darkened transition lenses.
This is, of course, not the first time President Trump has shown his flagrant contempt for journalists. He has referred to "FAKE NEWS media" like the New York Times, CNN, NBC, ABC, and CBS as the "enemy of the American people" and "Our Country's biggest enemy."
Trump went on to scold another female journalist, CNN's Kaitlan Collins, when she tried to ask about the FBI investigation into Supreme Court nominee and alleged abuser Brett Kavanaugh.
"Don't do that, that's not nice," he said. Collins continued, asking whether the FBI's investigation would include Kavanaugh's third accuser, Julie Swetnik, but the president talked over her and turned to another reporter.
Collins also asked whether Trump believed Kavanaugh was lying about his drinking, to which the president replied: "I can honestly say I've never had a beer in my life. One of my only good traits. I don't drink. Can you imagine if I had, what a mess I be? I'd be the world's worst."
Indeed, as a reminder, his press conferences have all been sober.
What a beautiful day.