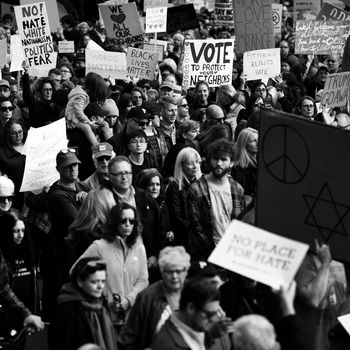 Protesters in Pittsburgh.
Photo: BRENDAN SMIALOWSKI/AFP/Getty Images
President Trump visited Pittsburgh and the Tree of Life Synagogue on Tuesday, three days after a single shooter killed 11 people during morning prayers. He was accompanied by First Lady Melania Trump, as well as his daughter and son-in-law, Ivanka Trump and Jared Kushner. Many top politicians declined to visit the synagogue with Trump, including Paul Ryan, Nancy Pelosi, and Chuck Schumer. Many community leaders in Pittsburgh also refused to be seen with the president.
Instead, Trump was met by hundreds of protesters, who held signs like "More love, less orange" and "Trump go away!" Some in the group were sitting shiva, "as part of the grieving process for the 11 victims of the mass shooting," one protester told a Buzzfeed reporter. "We want to respect the Jewish tradition of mourning,"
At one point, protesters who heard Trump's motorcade in the distance collectively turned their backs on the president, and kneeled, according to KDKA 4. There were two seperate rallies that eventually met and converged into one larger rally. Both rallies were organized in under 24 hours, and CNN reported that as many as 2,000 people were present.
Reporters on the scene described a somber crowd. One group carried signs that read, "President Trump, you are not fully welcomed in Pittsburgh until you fully denounce white supremacy."
At one point, protesters sang the Mi Shebeirach, the Jewish prayer of healing, as they stood arm in arm. They also said the Mourner's Kaddish for those killed on Saturday.