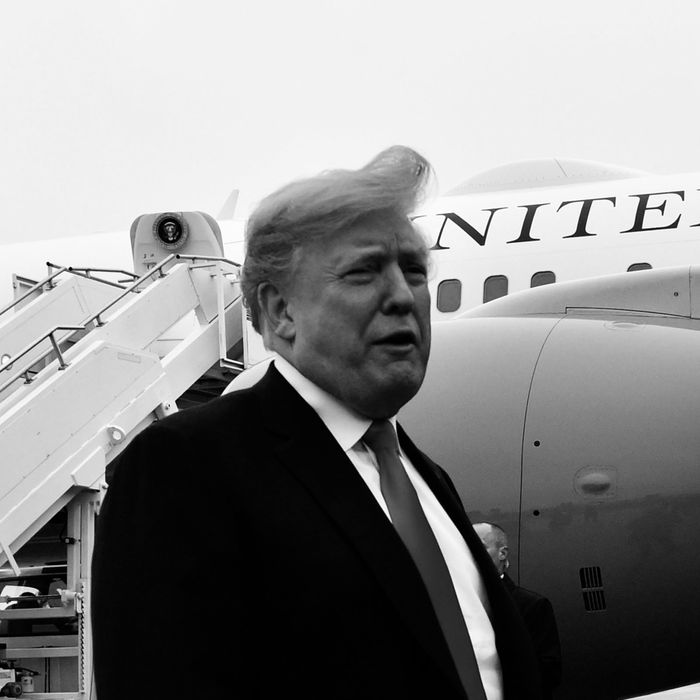 Donald Trump.
Photo: NICHOLAS KAMM/AFP/Getty Images
Brett Kavanaugh's confirmation to the Supreme Court was a victory for President Trump. His nominee was voted in by a Republican majority senate, despite three women coming forward with allegations of sexual misconduct and assault. But, as is custom with Trump, the win itself was not enough.
The president took to Twitter to brag about the small crowd size of the protests – just one day after saying that the protesters were paid agitators sent by George Soros. "The crowd in front of the U.S. Supreme Court is tiny, looks like about 200 people (& most are onlookers)," Trump wrote.
"That wouldn't even fill the first couple of rows of our Kansas Rally, or any of our Rallies for that matter," he continued, unable to resist comparative measurements. "The Fake News Media tries to make it look sooo big, & it's not!"
The U.S. Capitol Police told the Cut that "a total of 164 individuals were arrested" and that 150 of those protesters were arrested on "the on the Rotunda Steps on the East Front of the U.S. Capitol." While there are not any official numbers released on the actual number of protesters who gathered at various government buildings in Washington D.C., the sheer number of people arrested suggests that in addition to Trump's estimate being irrelevant, it is also incorrect.