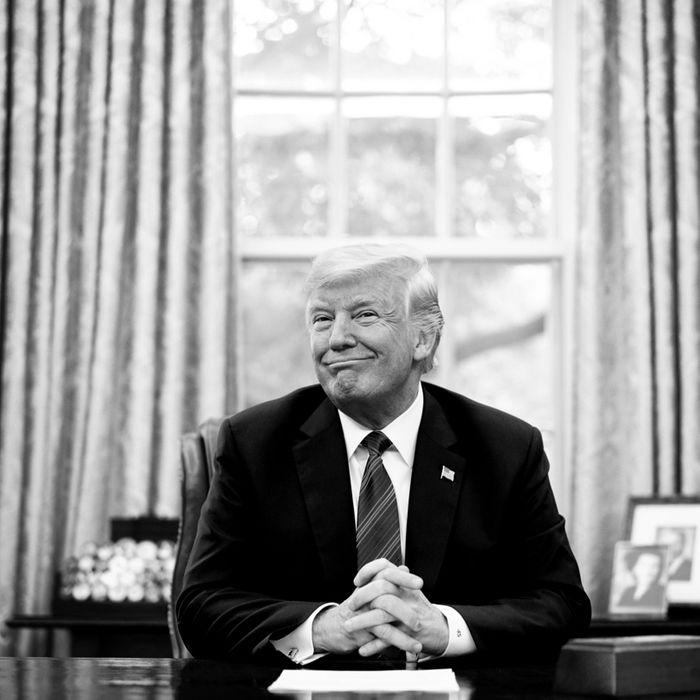 Donald Trump.
Photo: MANDEL NGAN/AFP/Getty Images
Donald Trump is apparently still not prioritizing the protection of classified information in his day-to-day duties as president. The New York Times published a report on Wednesday evening detailing the president's cell phone usage, which high-ranking American intelligence officers consider to be a threat to national security. According to multiple anonymous current and former White House officials, President Trump will not give up his personal iPhone — which has not been encrypted by the the NSA and is as vulnerable to hacking as any other cell phone.
Trump, who led chants of "lock her up" about Hillary Clinton following revelations about her use of a private email server, has been told repeatedly that his conversations on his personal phone are being monitored by foreign governments. According to the CIA and the NSA, Trump's phone calls with old friends are being listened in on by the Chinese and Russian governments. Officials in China are reportedly using the information they are gathering from these conversations to identify people who could be used to sway the president's opinion.
On top of all this, Trump's unsecured personal iPhone is not even being closely looked after: It was reportedly left on a golf cart at his golf course in New Jersey last year, causing "a scramble" to find it. So, if foreign governments are having a hard time hacking his phone, maybe they can just follow him around and try to pick it up off the grass next time he's out working on his backswing.
To the dismay of American security officials, Trump has refused to change his habits. His reported reasoning? He can't keep all of his contacts in a phone that has been made secure by the NSA. He reportedly won't even swap out his two other government iPhones every 30 days, which would make the devices more secure, citing inconvenience.