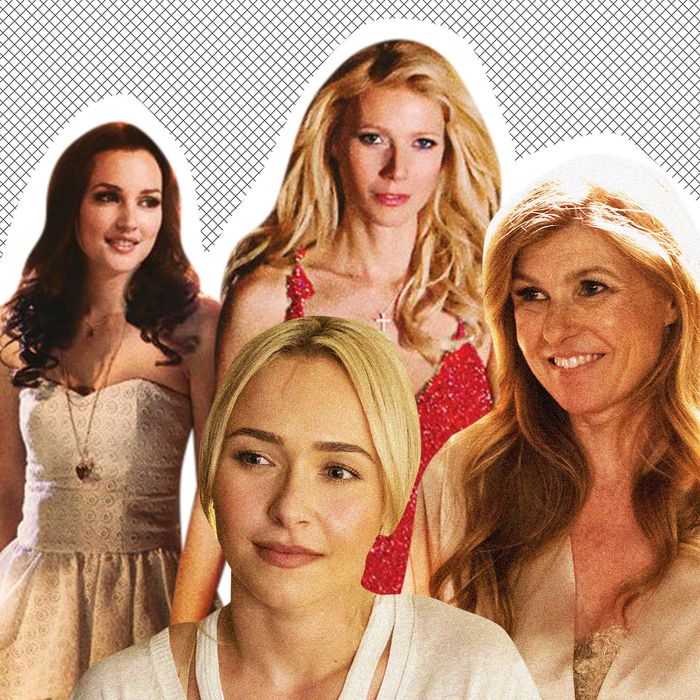 Photo: CMT, Sony Pictures
You know that feeling when you eat a big, delicious meal, go to bed feeling full and happy, and then you wake up the next morning hungrier than you've ever been in your whole entire life? That's how I felt after watching A Star Is Born, which I saw opening night after booking tickets weeks in advance. I needed more: more than the 1937, 1954, and 1976 versions. More cowboy hats. And more deep, raspy voices singing about heartbreak and going off the deep end.
For some reason, various people have told me to watch Nashville in the last few months. Sure, I said. I never found the time, though, and mostly forgot about it. (The show premiered in 2012, so a lot of people have.) But in the weeks after seeing A Star Is Born, I heard a whisper in the wind. Connie Britton, it said. Connie. Britton.
Connie Britton is a star if there ever was one. A Southern girl herself (she grew up in Virginia; her Instagram bio is "Hey y'all"), Britton has played two of the best female Honky Tonk characters on television: Tami Taylor, the fierce wife of Coach Taylor on Friday Night Lights, and Rayna Jaymes, a classic country music star on Nashville.
On Nashville, Rayna Jaymes's time in the spotlight is compromised by Juliette Barnes, a much-younger, pop-ier country sensation played by Hayden Panettiere. Britton says lines like, "I don't want to change my sound!" And Panettiere is all like, "Maybe it's time to let the old ways die!" Ultimately, though, they decide they're better together and join forces to write true country-pop bops. Sound familiar? With six seasons at 20-something episodes each — all of which have plenty of musical performances by actors with surprisingly good voices — Nashville is the perfect way to extend your A Star Is Born thirst by over 100 hours.
The relationship between Rayna Jaymes and Juliette Barnes on Nashville is the girl-on-girl Yoda-Young-Skywalker relationship I (almost) wish A Star Is Born was. Unlike Jackson, Rayna actually gives good advice and becomes a mentor figure for Juliette. I'm not saying Nashville is better than A Star Is Born. But I am saying that it's everything good about A Star Is Born multiplied tenfold. There are cowboy hats and fedoras; alcoholics and stints in rehab; and people falling in love with each other while singing songs in bars. Rayna Jaymes's hair is also just as nice as Jackson Maine's, and her skin just as sun-kissed.
It's all you could ever want, really — or so you'd think. But after watching 20 episodes over the span of about two weeks and looking up the soundtrack, I still needed more.
Like a cowboy-boot-pill-smashing kind of addict, I started asking around town if anyone had any more Star Is Born fixes. I listened to Mason Ramsey, the 11-year-old Walmart yodeler, and "Ticks," my personal favorite country single by Brad Paisley. I saved the entirety of Joanne to the one playlist I have on Spotify, which is titled "Good." I was desperate! But then I found Country Strong, a film from 2011 starring Gwyneth Paltrow and Leighton Meester.
Let me say that again: Gwyneth Paltrow and Leighton Meester play female country music stars … in a movie! Where they sing! Like Ally Campana, Juliette Barnes, and Leighton Meester's character, Chiles Stanton, I am young and naive, so I had no idea this movie existed until now. But I'll be damned! Country Strong is just like A Star Is Born, only Gwyneth plays the aging alcoholic whose life is ruined by her manager. Also, instead of one star being born, there are two: a deep-voiced Beau Hutton (Garrett Hedlund), who just wants to play classic country music to locals in dive bars, and Chiles Stanton, a former pageant queen chasing the spotlight.
The best thing about Country Strong, though, is that it takes the plot of A Star Is Born and turns it into a three-way love-triangle where Bradley Cooper is in the middle with no drinking problem and perfect hearing.
Need I say more? You're welcome.