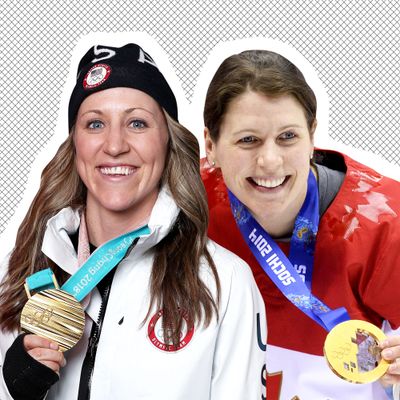 Meghan Duggan, Gillian Apps.
Photo: Getty Images
Though they're each other's biggest rivals on the ice, two Olympic hockey gold medalists — Meghan Duggan of Team U.S.A. and Gillian Apps, formerly of Canada's team — were married on Saturday.
Their ceremony, which took place in Pownal, Maine, was attended by family, friends, and teammates. Several U.S. Olympians, including Kacey Bellamy, Brianna Decker, and Erika Lawler, were bridesmaids.
In the 2010 and 2014 Olympics, Apps and Duggan faced off as captains; while Apps has since retired, Duggan remains captain of the U.S. team. (Canada won both times — not that Apps is holding it against her now-wife.) Between them, they have four gold medals, with Apps taking home three and Duggan one. The couple has been counting down to the wedding on social media since the Winter Olympics.
Two teams both alike in dignity … a pair of star-crossed lovers take their vows.