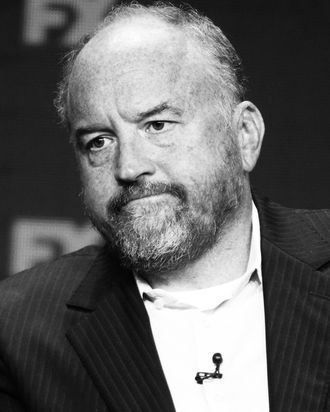 Louis C.K.
Photo: Frederick M. Brown/Getty Images
Louis C.K. has made yet another return to the famed stage of the Comedy Cellar, merely months after he was accused of sexual misconduct (including masturbating in front of several women). Per the New York Times, his 20-minute set — which did not address the allegations — was met with "wild applause" and "a warm send-off when he left."
But some were uncomfortable with the act, particularly the jokes he made about his daughter, according to HuffPost. Two women reportedly walked out.
After Louis C.K.'s August 26 set — the first since he was accused — was met with considerable backlash, the club added a disclaimer to its tickets: "Swim at your own risk," alongside an icon of a swimming figure. "We never know who is going to pop in. If an unannounced appearance is not your cup of tea, you are free to leave (unobtrusively please) no questions asked, your check on the house." The disclaimer has also been posted on a sign inside the club.
One woman, Jamie Boyle, contacted the club before Louis C.K.'s return in late August, wanting assurance he would not show up before buying a ticket. The Comedy Cellar sent a reply email saying he would not be back for many months, even as a surprise appearance. "I am appalled that Louis came back again so soon," she told the Times.
At the show she saw, Louis C.K. was not present, but the comedian Godfrey launched into a long defense of him, and ridiculed Boyle when she walked out, she said. Others in the room were supposedly delighted.
Judging by this recently released audio clip from The Hollywood Reporter, it seems like the crowd was quite into Louis C.K.'s latest set, too.