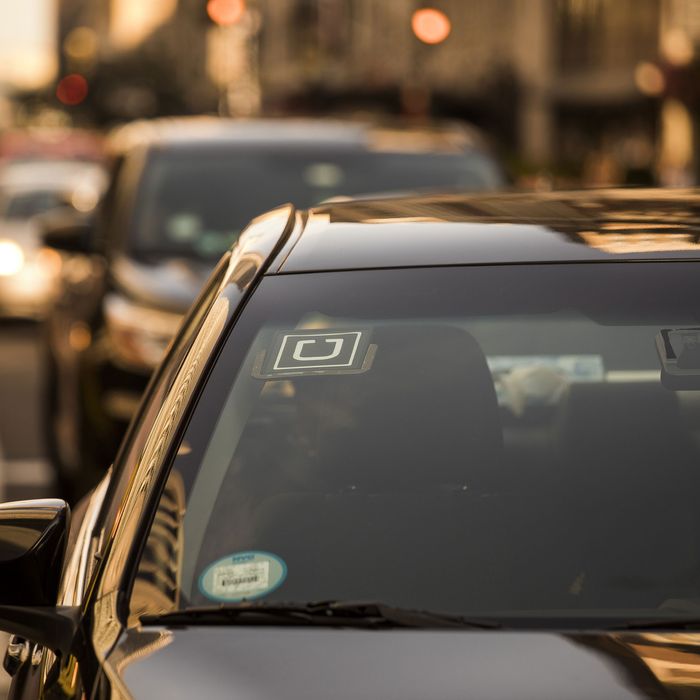 Photo: Bloomberg/Bloomberg via Getty Images
At about 11:30 p.m. on February 21, Uber driver Harbir Parmar, 24, picked up a woman in Manhattan to drive her to the suburb of White Plains. What happened next is the nightmare scenario so many passengers fear when they get into a car alone at night.
According to the New York Times, prosecutors say the woman fell asleep in the backseat of Parmar's Toyota Highlander, and woke up when she realized the car had stopped, and that Parmar was in the backseat with her with his hand under her shirt, groping her breast. She grabbed for her phone, but Parmar yanked it away from her. Eventually, he got back into the front seat, and started driving again, but they were no longer on the way to White Plains. Parmar dropped her by the side of Interstate 95, near New Haven. When he drove away, she wrote down his license plate number, and then walked to a nearby convenience store to call a cab to take her back to White Plains. Later, she was charged $1,047 for a trip from Manhattan to Massachusetts — according to the complaint Parmar changed the destination of her ride while she was asleep.
Parmar was arrested on Tuesday, and charged with wire fraud and kidnapping, a charge which carries with it a potential life sentence. He does not face any charges related to the alleged groping. New York City's Taxi and Limousine Commission also suspended Parmar's T.L.C. license, which he has held since 2015.
Uber told the Times in a statement that they had "fully cooperated" with law enforcement's investigation into the incident, and that, following the alleged attack, Parmar was blocked from the app, and the woman was refunded the total of her fraudulent fare.
Law enforcement reportedly interviewed Parmar back in July. It is unclear why so much time passed between the alleged attack, officials' interview, and Parmar's arrest.
This attack has reignited a conversation about how Uber and other ride-sharing apps vet their drivers. Last November, two women sued Uber after they said they were raped by drivers, and demanded the company implement stricter background checks.
"What's been reported is horrible and something no person should go through," the company wrote in response to the allegations against Parmar. "As soon as we became aware, we immediately removed this individual's access to the platform."