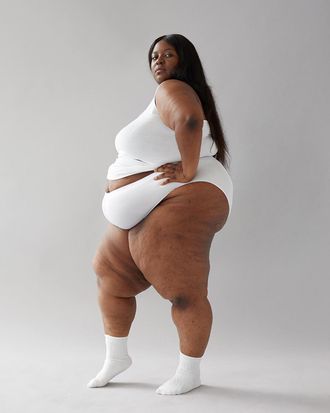 La'Shaunae Steward.
Photo: Ronan Mckenzie/@universalstandard/Instagram
The most exciting collection of the moment consists of simple cotton basics. Universal Standard is releasing a collection that runs from size 00 to size 40. The Foundation is a seven-piece capsule of cotton layering pieces including turtlenecks and T-shirts. Despite the fact that it hasn't even launched yet, it has already made a big impact. That's partially because of one of the ad images of model and body-positivity activist La'Shaunae Steward.
Steward said on Instagram that the campaign image, which shows her from the side in a tank top, bra, and socks, was "the most powerful photo [I] have ever seen of myself." And commenters agreed. @Cherubmermaid wrote on Universal Standard's post, "I started tearing up when I first saw this photo as i have a very similar shape and size to lushawnay . Ive never seen a clothing brand have anyone model that is my size . This is the start of something awesome and i appreciate that y'all are a part of it . ❤ [sic]"
Universal Standard's current collection is available in size 6–32. So while they've been delivering quality, stylish plus-size clothing for a while, this is still a big step. The already-coveted Foundation collection isn't out yet, but you can get on the wait list here.