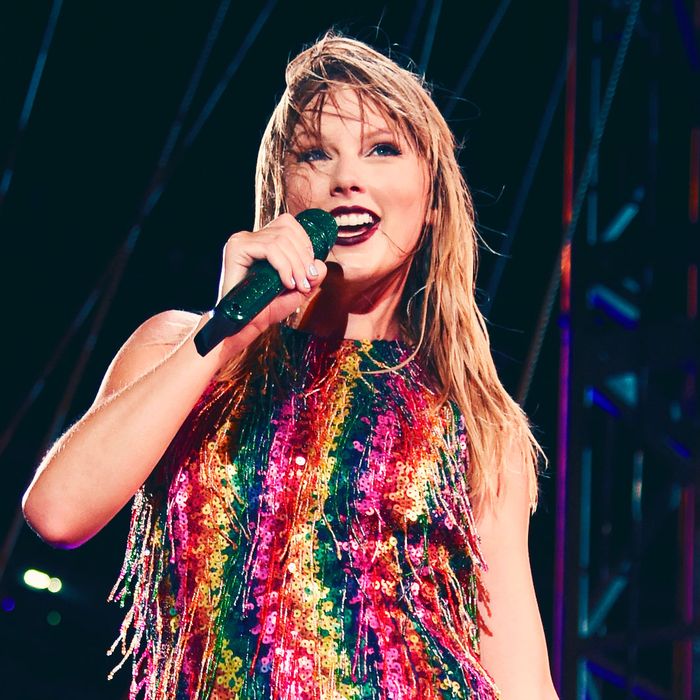 Taylor Swift.
Photo: Kevin Mazur/TAS18/Getty Images
After Taylor Swift posted a rare politically charged Instagram post on Sunday, in which she urged her fans to vote in this year's upcoming midterm elections, Vote.org has reportedly seen an unprecedented spike in new voter registrations.
"We are up to 65,000 registrations in a single 24-hour period since T. Swift's post," Kamari Guthrie, director of communications for Vote.org, told BuzzFeed News. That's more than the number of registrations from the entire month of August, which was 56,669, and more than a third of the 190,178 that registered throughout September.
In the post, Swift expressed support for two Democratic candidates running in her home state of Tennessee, writing, "Running for Senate in the state of Tennessee is a woman named Marsha Blackburn. As much as I have in the past and would like to continue voting for women in office, I cannot support Marsha Blackburn. Her voting record in Congress appalls and terrifies me." She then cited Blackburn's history of voting against gay rights and the Violence Against Women Act, adding, "These are not MY Tennessee values."
In Tennessee, there has been a particularly large spike in voter registrations, Guthrie said. Nearly half of this month's registrations — 2,144 of 5,183 — came within the last 36 hours. That's already over twice the number of the state's new voter registrations from September, which was 2,811, and August, which saw only 951.
According to Guthrie, the Vote.org site has also seen a jump in the number of visitors since Sunday's post, at 155,940 unique users — second only to the number on National Voter Registration Day. The site's average number of daily users is 14,078. "Thank God for Taylor Swift," Guthrie said.
Some others weren't too keen on Swift's newfound political stance. The president, who has historically been a fan of the singer, told reporters on Monday that he likes her music, but "about 25 percent less now."
The haters gonna hate, hate, hate, hate, hate.