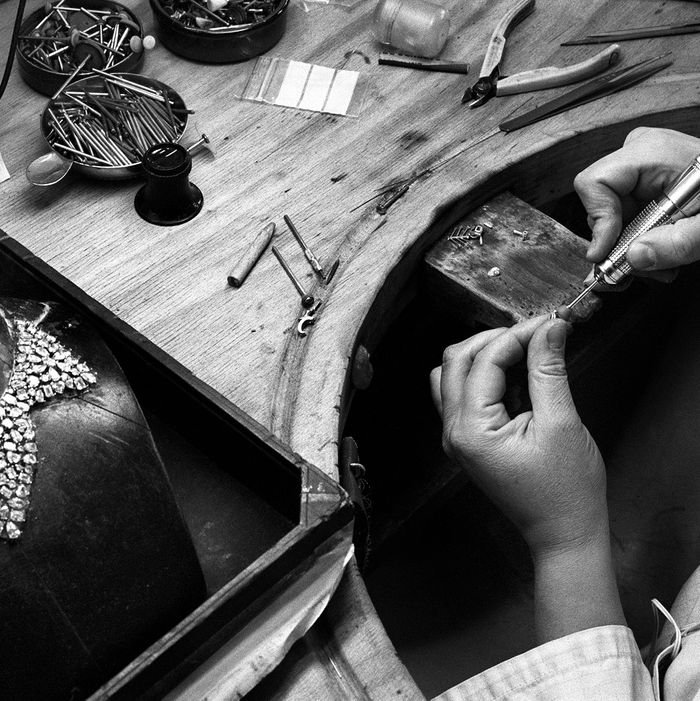 Photo: Courtesy of Van Cleef & Arpels
Scroll through Instagram enough and you'll find yourself overwhelmed with the urge to adopt new hobbies. Pottery? Sure! Kitschy needlepoint? Sounds easy enough! Jewelry-making? Fun! If that last activity is right up your alley, then you're in luck — Van Cleef & Arpels is bringing their school of jewelry arts to New York City. Called L'Ecole, the program begins on October 25 and features classes for kids and adults alike plus free exhibits, talks and much more.
The school has three overarching themes with varying levels of instruction by professionals. "Savoir-Faire" lets you wear a jeweler's coat and try your hand at manipulating materials and tools. That means you can actually set jewels or learn how to paint lacquer on pieces. For history buffs, the brand is offering a series called "Art History of Jewelry," which will cover everything from gold during the renaissance times to amulets to the birth of jewelry. And should you be curious about gemology, there will be a series of classes for that as well. Classes are capped at 12 students and will run two to four hours. Prices range $125 to $250.
The L'Ecole will also have programs for the kids, including making your own treasure chest and gem education classes for $15. And if you prefer something free, check out the three exhibitions. Daniel Brush: Cuffs and Necks will include 117 chokers and 72 bangles by the American artist, marking the first time these pieces will be on view in New York City. The Fabulous Destiny of Tavernier's Diamonds: From the Great Mogul to the Sun King features replicas of 20 diamonds previously owned by Louis XIV that were mostly lost to the world. They've been recreated through research in partnership with the Muséum National d'Histoire Naturelle in Paris. Through the Eyes of a Connoisseur displays 40 pieces from a private collector ranging from the 19th century until the 1960s.
On top of all of these programs there will also be daily talks and much more. To see the entire schedule and sign up for classes, head over here.
L'ÉCOLE, School of Jewelry Arts will run from October 25 through November 9 at 2 East 63rd Street.