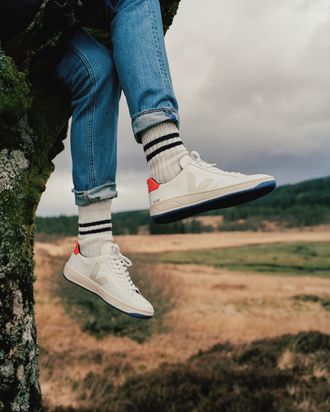 Sneakers have taken over. You know it, I know it, the New York Times knows it. The Balenciaga Triple S is as ubiquitous among the fashion set as Manolo Blahnik stilettos were in the era of Sex and the City. Fashion has gotten more casual, more shocking, and more comfortable. However, there is the issue of the ugliness.
On the one hand, ugly can be fun, because it signifies that you're willing to play around with fashion and don't take yourself too seriously. The best ugly is practiced by designers who do it with a wink, like Demna Gvasalia or Miuccia Prada. But on the other hand, ugly is hard to pull off. You have to be willing to look a little bit dumb in public, which is a lot easier if you're someone who usually looks amazing in public, like a model or a celebrity — or someone who likes the group identity that comes with an extreme personal aesthetic, like a hypebeast.
But what if you just want to look cool and normal, like Meghan Markle (a celebrity who is beloved for dressing like a regular person)? Allow me to make a case for Vejas: the sneakers that make you feel like you, too, have put a lot of thought into your shoes, but are not competing in the sphere of obscure Nike drops.
Now, I love Veja. I love them for their transparency, ethical production, and concern for the environment (see: the salaries for workers in their Brazilian factories published on their website). I'm joined in my love by the Duchess of Sussex, Thom Yorke of Radiohead, and half of the Brooklyn-bound L train.
Veja only makes 19 styles, and their variations are generally pretty subtle. There's an all-white leather pair that looks like something Phoebe Philo would wear; there are chunkier v-10s that are kind of ugly, but in a cute way; and there are the retro v-12s, which have the same '70s appeal that you'd find in the Nike Cortez.
Sartorially, they're similar to Stan Smiths and New Balances, in that they go with anything and appeal to almost everyone. But Stan Smiths have reached oversaturation and New Balance was milkshake-ducked, leaving a void in the "I just want a cute pair of sneakers" category. And while Stan Smiths essentially started off as an ad — Stan Smith became the spokesperson for the shoe style after Robert Haillet retired in 1971 — Veja's appeal comes in part from the fact that they've never paid for advertising, either in print or on influencers. Nothing is more appealing than knowing that you know.
As for politics, few brands are as ethical — or as transparent about what they're doing — as Vejas. Sure, it's a pair of white sneakers, but since you're asking, it's a pair of white sneakers made from Amazonian wild rubber and accented with tilapia leather and mesh from recycled fishnets. The company pays 0.5 euro per kilo of organic cotton (about twice as much as market price) and their farmers are organized.
More and more brands are starting to see eco-friendliness and ethical production as marketing tools, but Veja's interest runs deep. It's not a perfect company, but it's a slow-moving, gentle beast with staying power. Co-founder Sebastien Kopp calls the brand's philosophy "grandpa management" — a counter-balance to the fashion world's obsession with speed.
Because of this approach, Veja can only make a limited number of sneakers at any one time. Still, I wouldn't be shocked if they're ubiquitous in a couple months. When Meghan Markle wore Vejas this week, she was bringing together several messy priorities and preferences in fashion right now. One of the most famous women in the world wearing a small-batch, ethically made, carefully considered sneaker that's about to become big — is there anything more 2018 than that?
Shop the Story
If you buy something through our links, New York may earn an affiliate commission.