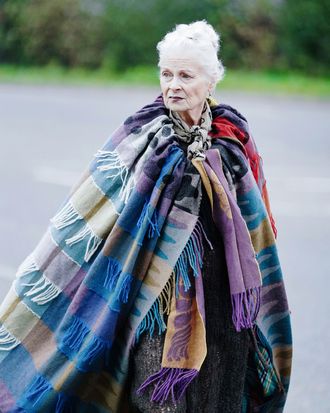 Vivienne Westwood.
Photo: Ki Price/Getty Images
Dame Vivienne Westwood is trying a new tactic to bring attention to her anti-fracking cause. The designer showed up at a protest yesterday in England and was filmed while dancing to ABBA's classic "Dancing Queen."
Westwood, clad in a green dress, plaid cape, and a piece of paper hanging from a necklace that read "Too fast to live, too young to die," can still get down. She was at the protest in Lancashire, England, with her son, Joe Corré. They were standing against Cuadrilla Resources' fracking policies at the company's building.
Westwood has gone to great lengths in the past couple of years to bring attention to her favorite environmental cause. She wrote a rap in 2016 that was released on SoundCloud (sadly, it's not live anymore). Most brazenly, in 2014 Westwood and Corré tried to deliver a package of asbestos to then–prime minister David Cameron, to send the message that fracking could be "the next asbestos." Cameron never received the package. Now, Westwood is cleverly using ABBA to draw the attention of the Mamma Mia! Here We Go Again–obsessed masses and prove that she's a better dancer than the current prime minister. Hit 'em where it hurts, Vivienne!