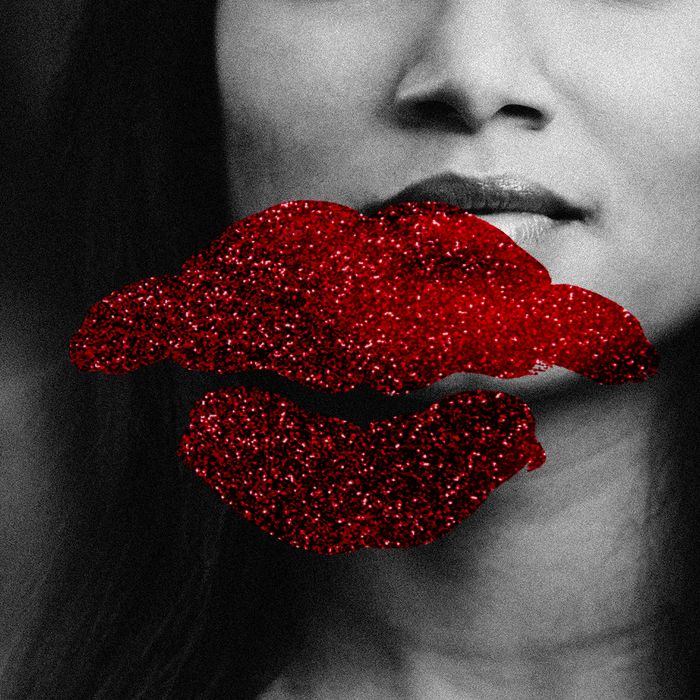 Photo: Photo Illustration by Stevie Remsberg/Photo Getty
Glitter lips are totally over-the-top (in a good way). You've seen them on the runway at shows like Jeremy Scott and Fendi and on Instagram, where they provide some of the most mesmerizing makeup videos. If you're itching to try it on your own (but don't actually want itchy lips), here are some of our best tips on how to nail the look.
Prep
Glitter isn't known for its moisturizing properties. Your lips are going to be dry, but make sure they aren't cracked too. Your look will last longer if you make sure your lips are properly prepared beforehand and won't feel the urge to constantly lick your lips (although Rihanna did prove a glittery tongue could be a good look).
You can try one of these conditioning lip scrubs or masks, or if you really wanna go all out, a hydrating overnight lip pack. Make sure they're flake-free but not oily before you start applying glitter. If they're looking a little too slick, lightly pat them down with a tissue after conditioning.
Apply the Base
Are you worried the glitter won't stick to your lips? Don't worry. People send glitter bombs to their enemies for a reason: It's not only fabulous but it effortlessly goes everywhere, like Derek Blasberg.
Legendary makeup artist Pat McGrath's Lust004 kit, a limited-edition product starter pack to glitter lips included a lipstick to use as a base. You can do the same and apply loose glitter over any color lipstick. Shinier and glossier lipsticks obviously will adhere a little better. If you want a clear base, don't use glue. Sure, Elmer's Glue is cheap but aren't you getting a little old to be eating paste? Try an approved face adhesive — such as clear lip gloss, eyelash glue, M.A.C Mixing Medium, or Ben Nye Glitter Glue. These won't tear off your skin.
Get Shiny
Then, use your finger or a brush to tap glitter onto your lips. The tinier the flakes of glitter, the more subtle the shine. Also, you'll probably want to do this over your sink to minimize the glitter fall-out. You might be tempted to get glitter from your local craft supply but beware — they often contain glass or plastic bits that can tear your lips up. (The Reddit urban legend of the woman purportedly lost an eye due to glitter appears to be true). Go for some fine glitter produced by a a makeup company. Makeup artists particularly like the loose glitter options from M.A.C and Make Up For Ever.
Make It Last
Congratulations! You now have glitter lips. Spritz them with a couple pumps of setting spray to help make them last.
Say Good-bye
The easiest way to try and remove glitter from your lips? Beyoncé's makeup artist has a surprisingly simple tip: Scotch tape. Sure, you can try washing glitter with water but glitter sees water as a fun plaything rather than a sign that it's last call for a sparkly lip. Stick the tape onto your lips and repeat. You can use that as a first line of defense before going all-in on your favorite makeup remover. Don't forget to give lips some extra TLC after all that glitter and tape action with plenty of lip balm.