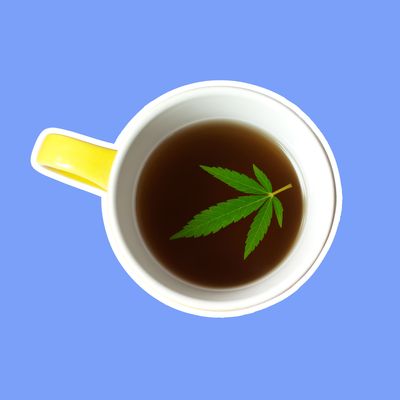 Photo: Elena Chauvin/Getty Images/iStockphoto
A few weeks ago, in a bike shop–slash–coffee shop in Williamsburg, Brooklyn, I saw a little sign for a new product on offer: a CBD lavender latte. I didn't get one, in part because it was 80 degrees outside, and also because my experiences with CBD are somewhat mixed. I have some gummy fruit candy that puts me straight to sleep, and I found using an oil dropper on my tongue too disgusting-tasting to be worth whatever marginal benefits it may have given me. But I knew other anxious people have had good experiences with CBD, and I like coffee, so I was interested — though I did wonder if coffee (a stimulant) and CBD (a cannabinoid thought to have relaxing properties) might just cancel each other out.
To explain what CBD in coffee might do (and how coffee shops get away with selling it), I spoke to Esther Blessing, a psychiatrist at NYU Langone who studies the use of CBD in treating PTSD, among other things, and Robert Carson, a pediatric neurologist at Vanderbilt University who studies the use of CBD in treating kids with epilepsy.
What do we know CBD can do?
Currently, the only official, FDA-approved use of CBD is as a component in a drug named Epidiolex, which will be used to treat severe forms of epilepsy in children and adults, and which will be, Carson hopes, available to patients by the end of the year. Carson says he developed an interest in CBD because parents of kids with epilepsy came to him having read about CBD's potential benefits on the internet. "There's lots of data now that I think really supports that CBD helps for epilepsy," particularly in reducing the frequency of seizures, he says. Anecdotally, he noticed that the same parents reported another potential benefit associated with CBD: reduced anxiety. "I got the sense that some children did get benefits in terms of anxiety, and I think that's where I wonder if for example CBD in coffee could potentially be helpful," he says.
What do we think CBD might be able to do?
In most cases (and in all cases in which the coffee shop doesn't want to risk being sued), coffee shops can't advertise CBD as doing much of anything, one way or another. While clinical trials attempt to determine an effective dose for a particular condition, says Esther, the growing "wellness empire" is free to leave the effects to your imagination. "People who are selling CBD don't even have to make specific claims. The relationship between the actual amount of CBD and the effect doesn't have to be very specific, because there is no specific effect that they're talking about," says Blessing. "So if I have a CBD latte, I might feel a little relaxed, or a little less neurotic, or who knows."
Carson, too, speculates that CBD might be able to reduce some of the jitteriness associated with caffeine intake, thus complementing it rather than canceling it out. "I can't say I've spent much time in New York, but when I was thinking about talking to you, I got this vision in my head of a stereotypical taxi driver drinking a huge cup of coffee and being really alert but irritable," he says. "And now if you add in a little CBD, they're really alert but maybe a little more calm, and not as apt to honk the horn. I think that's a potential area where there could be something good that comes from adding CBD to the coffee."
But it's not just that coffee shops don't have to be specific about what CBD in a latte is supposed to do, and thus don't — legally, they can't. "Once anyone, outside of the one FDA-approved medication, says 'Hey, if you drink this, it'll cure your anxiety, or your seizures, the FDA is going to come knocking at that point,'" says Carson. When shops offer CBD-infused products, then, they are relying on the customer — and perhaps the placebo effect — to fill in the blanks.
"Even in trials of epilepsy, the placebo effect for some drugs is huge," says Carson. "And if I have a cup of coffee that has CBD in it, and I happen to be a little more calm that day, all is good for everybody involved. But how much of that is actually due to the effect of the CBD on the brain I think remains to be seen."
There is certainly substantial anecdotal evidence that CBD can help treat anxiety, but the scientific evidence remains very limited, says Blessing. "Probably the best evidence comes from studies on anxiety giving speeches, comparing normal subjects, and those with social anxiety disorder," she says. "The doses that were found to reduce anxiety when someone's giving a public speech experimentally were[approximately] 300 mg."
How much CBD is needed to produce these effects?
The amount of CBD needed to produce significant effects varies by condition, according to both Blessing and Carson. "In clinical trials for schizophrenia they would give 800 milligrams," says Blessing. "In our clinical trial to treat PTSD, we are giving 600 mg per day." In the clinical trial for Epidiolex, Carson says, the clinicians administered 10 milligrams per kilogram the subject weighed — meaning a person who weighs 50 kilograms (or 110 pounds) would be given 500 milligrams of CBD.
How much CBD is in most CBD lattes?
While the CBD latte dosage varies from coffee shop to coffee shop, the range seems to fall between two to 15 drops, or approximately 20 to 30 milligrams, says Blessing. That's a lot less than what's been shown to work in clinical trials for various conditions, which makes Blessing skeptical that a CBD latte could produce any noticeable effect. "There's no evidence whatsoever that a small amount of CBD is actually doing anything at all," she says. "An analogy I give sometimes is, you wouldn't take 2 mg of ibuprofen. It doesn't do anything."
Is there any reason I shouldn't drink a CBD latte?
Though a CBD latte might not do much for you — at least not beyond what caffeine and the placebo effect combined can do, which isn't nothing — it's also probably harmless in most cases, says Carson, and may even have positive benefits we aren't yet aware of. "I suspect there's probably some antioxidant benefit to CBD like there is with coffee," says Carson. "There's tons of good things in coffee that we still don't fully understand, and I think the marijuana plant is much the same way."
That said, both Blessing and Carson warn that CBD should still be considered a drug, which means it can interact with other drugs. "CBD does interact with drugs that people are taking," says Blessing. "So if you're taking an opioid cough suppressant, or you're taking serotonin-based medicine, like an SSRI, you can have strong drug interactions." While most coffee shops are likely using doses too low to cause such interactions, Blessing says it's something to be aware of. "If a coffee shop happened to have a way of making a product with a lot of CBD in it, then that could really interact with the medication this person is taking, and the effects they think are due to CBD could partly be due to that medication interaction," she says.
Carson echoes these concerns. "I would be shocked if anyone taking moderate amounts of CBD in their coffee would have any adverse effects from the CBD itself, but I could foresee interactions with other medications that could potentially be harmful."
Both Blessing and Carson think it's likely there will soon be evidence of CBD's health benefits — at least for higher doses. But when it comes to lattes, all we know for sure is that adding CBD means you might be able to charge customers a few more bucks for it.