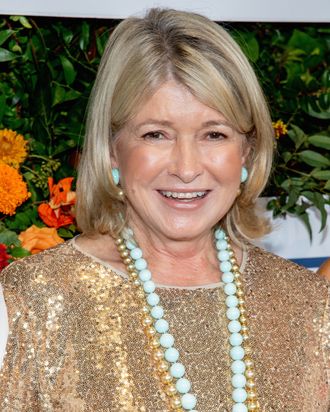 Martha Stewart.
Photo: www.RoyRochlin.com/Getty Images
Martha Stewart, goddess of all things involving hearth and home, has provided the public with the most thrilling of Halloween experiences. Across five Instagram posts, Martha reveals the riveting process of her putting on a costume, without even once hinting at what she's supposed to be. The mystery builds as the queen of QVC puts on contacts, eyeliner, and even a wig.
"Step number one in transitioning from the ordinary into the surreal!!!!!!!!!!!" she writes in the caption of the first photo, where she is wearing bright bright blue contacts, free of any other makeup.
For "Step two!" Martha has on a full face of makeup, with gold eyeshadow, heavy eyeliner, glossy lips, and deep bronzer. She still hasn't told us who she is dressing up as, but commenters have begun to guess: "Death Becomes Her??" one Instagram user asks.
Martha keeps the mystery alive for step three, which doesn't seem to be too much different from step two, unless step three is to be extra sultry. The guesses keep rolling in, but we're no closer to knowing. The top guess on this post is a White Walker from Game of Thrones.
In the post she titles, "Last step," Martha is sporting a new bleach-blonde wig with bangs and beaded braids. Still no consensus on what her costume is, and she has decided to hold off on telling us. Is she dressed up as Bo Derek? Will there be a bikini? Is she blonde Cleopatra? Princess Kida from the Disney animated feature Atlantis?
But wait! She's not done. She follows up with an additional selfie. "Last step wig and beads and bangs!!! Happy Halloween! Off to pre board meeting to scare the guys !" she writes. Still no clue. Most commenters at this point have guessed Bo Derek, but others have suggested Betsy Johnson and Tara Reid.
This posted will be updated as more information becomes available.