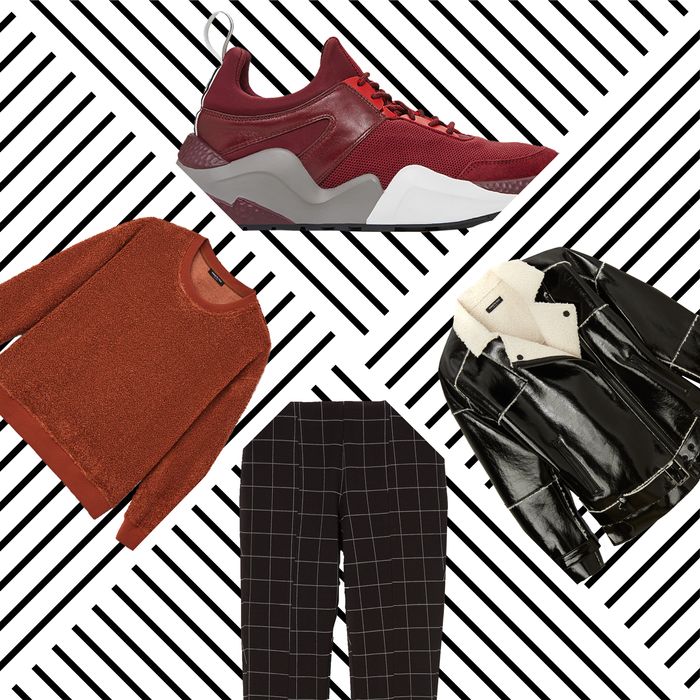 Photo: Courtesy of Kenneth Cole
Around the '80s, the image of a working woman charging purposefully down some crowded midtown sidewalk became emblazoned in the public consciousness. There might have been shoulder pads, a scrunchie, a brick-like cellphone at her ear. But there was almost surely (and most conspicuously) a pair of no-nonsense "tennis shoes" on her feet — a foil to her boardroom skirt suit. (After all, she had business to handle.) Today, women still need to get it done, and functional footwear is still key. But the suit-and-shoulder-pads uniform has thankfully given way to clothes that are as practical to wear as they are stylish. To inspire your feel-good work look, we asked three professional women how they dress their best for tackling a typical day, featuring comfortable, stylish pieces from Kenneth Cole.
Abby Adesanya
Founder of Novella, a writing club and storytelling salon for women, and brand marketing professional
Because I work in the fashion/media industry fulltime, my work style is very downtown, and I always have to be on top of new trends. But I love to throw in a callback to my personality by adding in streetwear elements. This jacket and sneaker are a perfect combo of fashionable pieces that echo what's filling my social feeds and going down runways at the moment. Put together with the leather skirt and the rose-gold hoops, this look emanates my sleek-with-an-edge style, and is reflective of the ever-changing industry I'm in.
2. A-Line Seamed Leather Mini Skirt With D-Ring, $249; 3. Rose Gold Hoop Earrings - 3", $35; 4. Glossy Belted Jacket W Shearling Lining, $299
Alisha Ramos
Founder and CEO of Girls' Night In, "a newsletter for women who'd rather stay in tonight"
I definitely dress for comfort more than anything else. These days it's out of necessity — I run around the city a lot, hopping from meeting to meeting, and so I do a lot of walking. I love these white sneakers because they're a comfortable staple, but the embroidered detailing gives them a bit more personality and playfulness. Since most of my meetings are business-related, it's important for me to balance comfort with style and polish. I love being able to "dress up" an outfit like this with a more refined accessory, like this rose-gold watch.
2. Window Stripe Pants in Perfect Ponte, $69; 3. Rose Gold-Tone Transparent Round Stone Watch, $165; 4. Pullover Shearling Sweatshirt, $79
Indya Brown
Fashion partnerships editor at the Cut
My days range wildly from being packed with market appointments, to eight hours on set, to a straightforward day at the office. There are times when I have to unexpectedly run out for a meeting or attend an after-work event, so I like to be prepared for anything. These pumps are a conversation-starter for meeting new people, but they're also a reasonable height to take on the cobblestone streets near our offices. I also get cold at the slightest hint of air conditioning or wind, so this chunky sweater-jacket is perfect. And, its sportiness is a nice contrast to the ladylike heels.
2. Double Hoop Silver Tone Earring, $22; 3. The Little Black Pant in Perfect Ponte, $69; 4. Supersoft Zip Bomber Sweater (This style is no longer available, but here's another cozy topper we like.)
This is paid content produced for an advertiser by New York Stories. The editorial staff of The Cut did not play a role in its creation.