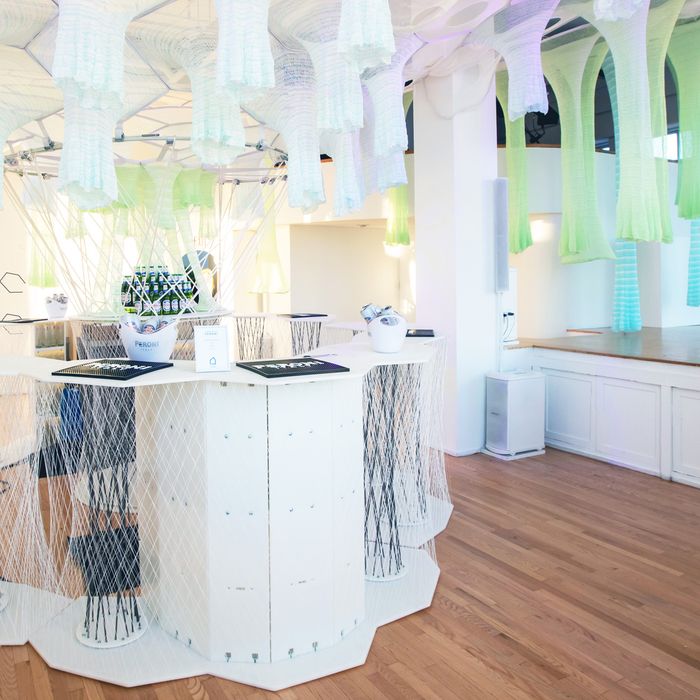 A snapshot from House of Peroni 2018 -
Photo: Chris Eckert
If there was ever a world where beer and high-concept art would get along just fine, it's House of Peroni — the pop-up installation helmed by Italian beer brand Peroni Nastro Azzurro that, for its third-year U.S. run, is tapping forward-thinking artists and innovators to dream up the ultimate hub of creative happenings.
Originating as a platform for design- and style-savvy leaders while celebrating Peroni's mission to give beer a stylish edge, House of Peroni 2018 will feature a round-up of events across art and culture curated by Art Production Fund, a nonprofit that presents public art around the world.
Among this year's heavy-hitters: artist and architectural designer Jenny Sabin, who, as the event's official collaborator, will serve up one of her signature, sweeping, eco-friendly installations. For Peroni, it'll be Luster, an immersive space illustrating the "shift towards a brighter, sustainable and more cooperative future that's being forged through collaboration across disciplines," according to the brand. And with a complex makeup of textiles, photoluminescent materials, and solar fibers, we're thinking it's a see-it-to-truly-get-it kind of creation.
Pretty to look at, yes, but Luster will also be fully functional, doubling as an exploratory full-service bar and lounge decked out with high-top tables and seating.
And exclusively in collaboration with Peroni's New York pop-up, Maayan Zilberman is slated to showcase her Glass Garden Lost & Found: Of Healing and Knowledge concept. Inspired by the world's oldest botanical garden in Italy, this wonderland will be a collection of living and sugar-carved plants.
The pop-up will kick off with a private event on October 18, and will open its doors to the public via tickets from October 19 to October 20 at 463 West Street in the West Village. The pop-up will continue its tour through Los Angeles, Miami, and Washington, D.C. all November, and feature interactive programming from local artists. A few on the roster: fashion illustrator Jeanette Getrost, visual artist Michelle Weinberg, and multidisciplinary artist Lu Zhang. If you're looking to refresh your creative brain (or for an excuse to touch fancy art), this is it.
This is paid content produced for an advertiser by New York Stories. The editorial staff of The Cut did not play a role in its creation.