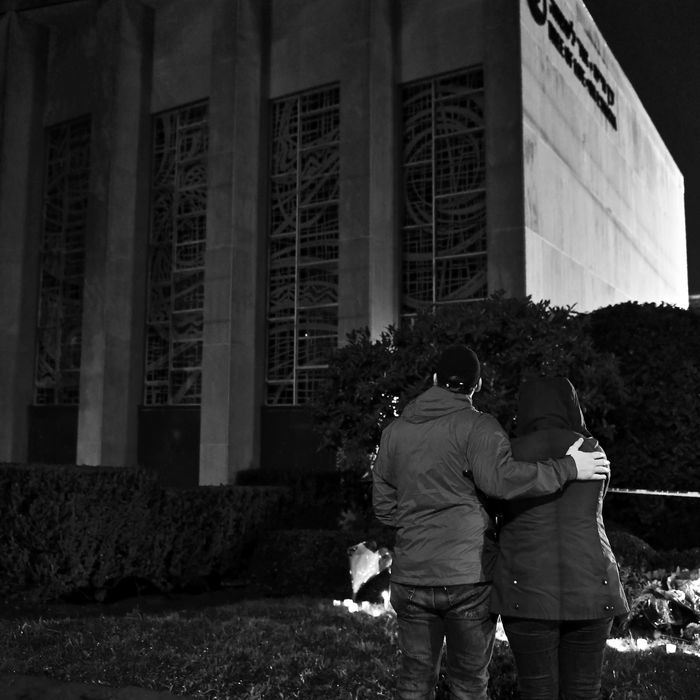 Tree of Life Synagogue in Pittsburgh, Pennsylvania.
Photo: BRENDAN SMIALOWSKI/AFP/Getty Images
A single gunman killed 11 elderly Jewish people on Saturday morning when he walked into Tree of Life synagogue in Pittsburgh during Shabbat prayers, yelled "all Jews must die" and began shooting. Two brothers, a married couple, and a 97-year-old woman who survived the Holocaust were among the victims. Six additional people were shot.
It was the third targeted attack to take place in a single week: bombs were delivered to the homes of outspoken Trump critics, sent by a Trump supporter from Florida, and a man with ties to white supremacist groups shot and killed two black men in a Kroger after unsuccessfully trying to enter a black church.
A verified GoFundMe for Tree of Life Synagogue has been established, and the proceeds will go to "help the congregation with the physical damages to the building, as well as the survivors and the victims' families."
The killer Robert Bowers, 46, was active on Gab, a messaging platform where his bio read "Jews are the children of Satan." Just before the shooting occurred he wrote: "I can't sit by and watch my people get slaughtered. Screw your optics, I'm going in."
In other messages he posted online, Bowers also referenced Hebrew Immigrant Aid Society, HIAS, an organization that first started to help Jewish refugees, but has since expanded its work to protect and welcome all refugees. The mission of the organization is to "bring the lessons of HIAS' history and Jewish ethics and experience to our commitment to serve refugees and other displaced persons of concern around the world."
HIAS is also accepting donations, and the organization includes other ways to give, including planning fund-raisers for the organization.
This post will continue to be updated as more information becomes available.