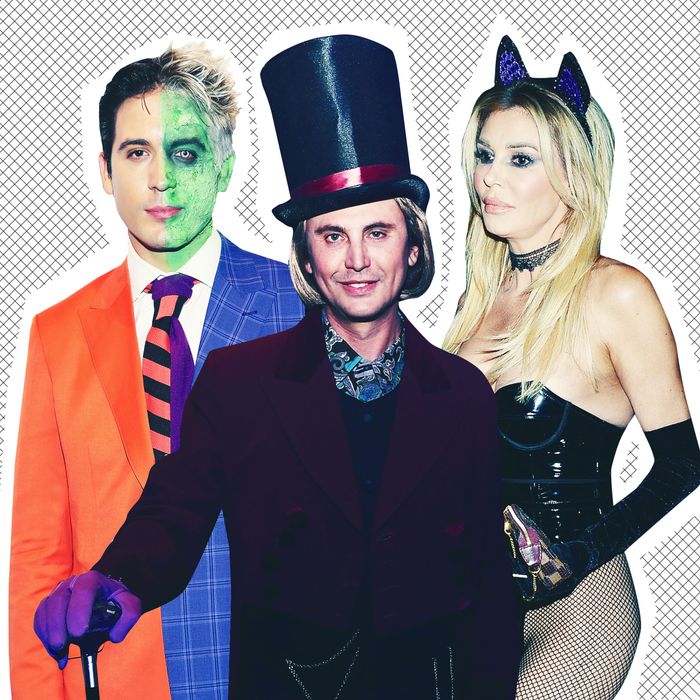 G-Eazy, Jonathan Cheban, Brandi Glanville.
Photo: Getty Images
Celebrities: They're just like us, in that when surrounded by excessive amounts of alcohol and other intoxicants, friends of friends (of friends), and the crushing pressure to Have Fun at holiday parties, they also often find themselves miserable — or, say, accused of punching someone.
Halloween weekend, right up there with New Year's Eve, is the ideal time to spiral into rage or depression or a drunken stupor. Sometimes, your costume makes you the star of the party; more often than not, you spend the whole night trying to get the guy dressed up as Tyler Durden to stop hitting on you. And, it turns out that not even immense wealth or celebdom can shield you from having a Bad Night. Below, here are the celebrities who are contenders for having had the worst Halloween weekend.
Was it Jonathan Cheban?
Costume: Willy Wonka
Party location: Meatpacking club Red Rabbit
Reason for distress: Lame party and/or general malaise
According to one of the "spies" of "Page Six," the Foodgod was acting like a total "diva" all night, and was apparently "pouting."
"Ignoring everyone," the spy said of Cheban. "Then he stormed off from his table and stood at the bar service area for a half-hour."
But Cheban's representatives dispute the characterization.
"Foodgod stayed over his two-hour commitment, took pics with a hundred people and mingled around the club before he flew out just a few hours later for the Catch Las Vegas opening," a rep told "Page Six." "Let's just say the club's commitment was not settled during his appearance, but was ultimately resolved."
Was it G-Eazy?
Costume: Batman villain "Two-Face"
Party location: Marquee Nightclub
Reason for distress: Recent breakup leading to tragic (alleged) couple-less couple's costume
Last week, Halsey hinted that she had split with her on-again, off-again boyfriend G-Eazy, which this weekend appears to have confirmed: On Friday evening, the pop singer showed up as Poison Ivy from Batman at a Gotham-themed party in Los Angeles; the next night, at Marquee Nightclub in New York City, G-Easy showed up as Batman villain "Two-Face." Regardless of whether this was originally planned as a couple's costumes (which, I'm sorry, it totally was), why would G-Eazy still wear the costume, a day after his ex did? Why???
Per a "New York clubgoer" who spoke with "Page Six," "G-Eazy seemed more mellow than usual." The clubgoer also described the rapper as "melancholy."
Was it Brandi Glanville?
Costume: Sexy cat?
Party location: Casamigos Halloween Party
Reason for distress: Accused of getting in fight with a "James Bond"
It wouldn't be a debauched holiday weekend without a physical altercation! Or an alleged one.
On Friday night, an actor named Kobie Randolph (also known as DJ K-LUV) accused Real Housewives of Beverly Hills star Brandi Glanville and one of his exes of attacking him with "12 uppercuts like I'm in a boxing match," leaving him with a busted lip. Though Glanville claims she broke up the fight, Randolph says they came after him because he was "dressed as the black James Bond."
TMZ reports that Randolph filed a police report for battery, but no arrests have been made. On Saturday, Glanville denied the accusations on Twitter, saying, "I didn't hit anyone or see a fight at all!! I don't know 'DJKLUV' end of story @TMZ."
The verdict …
Though Foodgod was miserable for a few hours of the night, it seems like he enjoyed himself after hopping to his party in Las Vegas. And Glanville, while facing assault allegations, definitely had a good time, regardless of whether or not she split open that guy's lip. Therefore, the person who had the most miserable, bleakest Halloween weekend is G-Eazy — hands down. The concept of wearing a thematically consistent Batman villain costume the day after your ex is just very depressing!