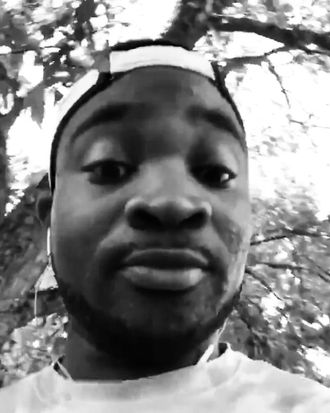 Corey Lewis.
Photo: Courtesy of Corey Lewis.
A white woman called the cops on a black man, whom she reportedly harassed and followed after she saw him babysitting two white children at a Georgia Walmart over the weekend. The incident has ignited a conversation around "babysitting while black."
Corey Lewis, a youth mentor who captured the ordeal on Facebook Live, told officers that he and the 10-year-old girl and 6-year-old boy went to the Cobb County Walmart to grab dinner at the Subway inside, after which he decided to fill up his gas tank at the supermarket. While standing in the parking lot, the offending woman reportedly approached them, and asked to speak to the girl to learn how she knew Lewis, he told officers. Then, she allegedly called the cops and proceeded to follow Lewis and the kids all the way home, where the Cobb County officer showed up.
In a Facebook Live posted on Sunday, Lewis told the camera that "it's crazy" that in 2018, "this is what I've got to deal with."
"All because I got two kids in the backseat who do not look like me, this lady took it upon herself to say that she's going to take my plate down and call the police," he said.
The parents of the children, David Parker and Dana Mango, also condemned the woman's actions. They said they didn't believe the woman was genuinely trying to protect their children, as they were never in danger.
"I said, 'Are you saying that because there's an African-American male driving my two white kids, that he was stopped and pulled over and questioned,' and he said, 'I'm sorry ma'am, that's exactly what I'm saying,'" Mango told CBS46.
Barber coined a new term for this specific type of racism, "B-W-B which I guess is the new thing, babysitting while black," which inspired a Twitter hashtag, where people shared their own stories, condemned the incident, and stood in solidarity with Lewis.