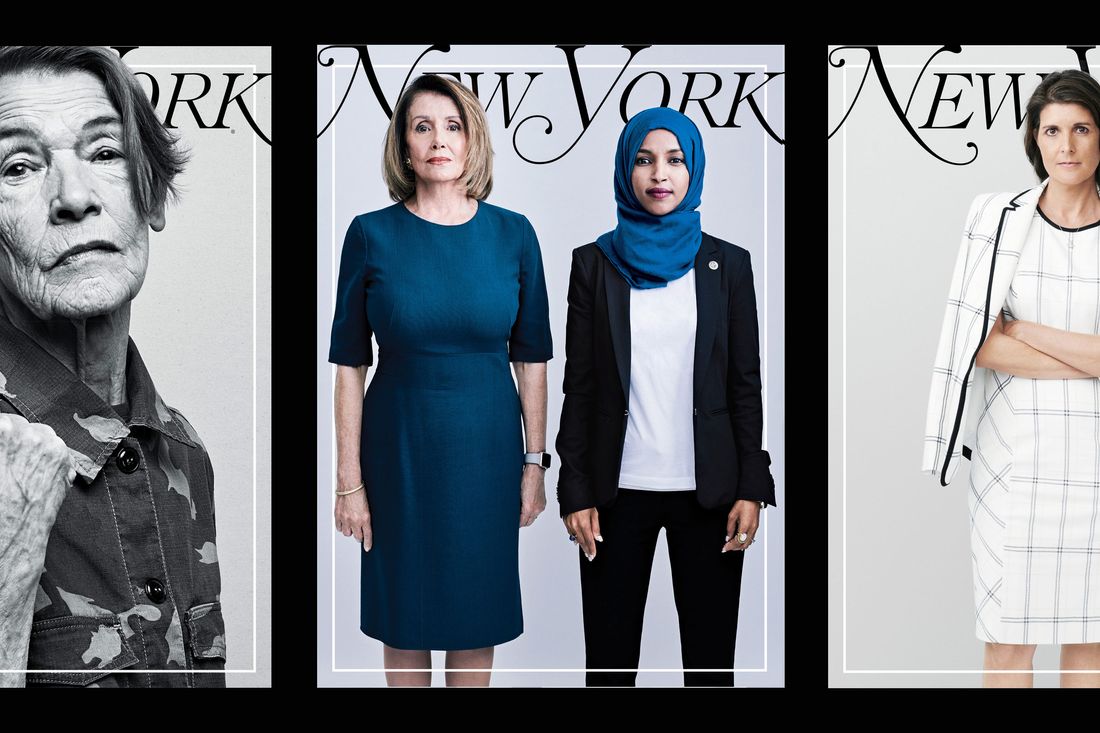 Women and Power isn't a series about women's empowerment. It's a series about women and their relationship to power — how they get it, how they lose it, how they wield it, what they sacrifice for it, and, ultimately, what they hope power will help them achieve. It's divided into four chapters that will be published on the Cut throughout the week. Click here to read more about the project and the women who participated.
Anna Wintour Sees Progress Where Glenda Jackson Sees the Same Old Garbage
By Lisa Miller
Anna Wintour
Job: Editor of Vogue, artistic director of Condé Nast
Fund-raiser: For Hillary Clinton in 2016
Will Never Be Seen: Wearing all-black
Glenda Jackson
Job: Tony-winning actor
Once: Was a British MP
Currently: Rehearsing for King Lear on Broadway (she plays Lear)
Lisa Miller: Both of you have reputations as being formidable characters.
Glenda Jackson: I don't understand that. People always say, "She's frightening." I've never known anybody who's ever been frightened of me. I mean, if I am, I don't do it deliberately. What is the virtue of making people afraid of you?
Anna Wintour: People tend to cast people in clichés.
What is the difference between the power of an ingénue and the power of a woman in her maturity who has experience?
GJ: Charitable way of putting it. Thank you.
AW: The young women working in our world are very independent. And what I see as being a big difference is that there's no longer such a clear path forward. They want to try a lot of different things. When someone's coming in to resign, they're not leaving to go to another job; they're all going to a start-up. They have had an idea, and they want to do it. I don't remember that when I was younger, do you?
GJ: Oh, no. There was nothing like that for us. Still, one of the basic things that is so bizarre is that women are expected to have absolutely no capacity for doing anything other than to be able to raise kids, have a family, balance a household budget, all that kind of stuff.
AW: I do think that's changed. I like to think that's changed.
GJ: I don't think it's fundamentally changed.
AW: Look at all the opportunities as an actor today. There's just so many more choices.
GJ: No.
AW: Really?
GJ: No.
AW: When you think about Netflix or HBO …
GJ: Yes, there may be different mediums, but there is still a preponderance of series where women are adjuncts. They're not driving dramatic energy. That's certainly true in theater, however much people might pretend it's changed.
AW: Is that why you were so drawn to Three Tall Women?
GJ: Yes. There are usually only one, or maybe two, decent women's parts in anything. But the issue of power is — I mean, look at Theresa May and Angela Merkel. It's taken an awfully long time for political parties to make the changes that were necessary so that women became prospective candidates. And the criticism that is leveled at Theresa May is just unspeakable.
Do you think it's gendered?
GJ: Absolutely.
AW: Well, they go after Boris Johnson a lot, too.
GJ: No. I mean, that's a perfect example.
AW: You don't think he gets a fair amount of criticism?
GJ: No, I bloody don't. I'd be very happy to see far more criticism of him. He gets away with murder.
Do you miss being an MP?
GJ: Not at all. I miss my constituents. But I don't miss Parliament.
Do you feel that there's liberty in maturity?
AW: I'd like to think there's a little bit of wisdom. But I sometimes miss that sense of "anything can happen."
GJ: And the energy that comes from taking a risk.
AW: Yes. How exciting that is. And less fear of failure maybe. There's just a "can-do" sense.
GJ: I do think women have found their voices.
AW: I really do believe that. Sometimes they may be highly intelligent, articulate voices. Sometimes they can be highly annoying. But at least they're speaking, and I think that's wonderful.
Why Was This Woman Trying to Chain Herself to Alicia Glen?
Job: New York's deputy mayor for housing and economic development
Oversees: More than 20 city agencies, including NYCHA and Parks & Recreation
Only: Has had one female boss her whole career
One of the biggest battles we had when we got here was whether we could build housing in Brooklyn Bridge Park and whether it was affordable housing, not just luxury housing. I'm chair of the board of Brooklyn Bridge Park, and within the first couple of months of getting this job, I go to my first board meeting and it's all in the ether that we're going to build housing in the park. It's a U-shaped table and I'm on the end because I'm the chair, and I suddenly feel this crazy thing going on under the table. It's this woman activist who was trying to handcuff herself to me in protest of the fact that I'm announcing that I'm going to solicit proposals to build housing. And I'm like, What the fuck is happening here?
That's when it dawned on me: This is no joke. People are playing for keeps. There were, like, cops at a Brooklyn Bridge Park Corporation meeting. These are supposed to be nice people talking about are we going to have a film festival, when are we planting the tulips.
The flip side of having power is that people get riled up, and this made me even more determined that I was going to make sure these buildings got built. All the people who are never going to have the chance to live in this park are not here, but the people who live in the most beautiful housing in all of New York City can somehow find the time to come to my meeting and try to chain themselves to me? It was three and a half years of negotiations.
What is power? I don't know what Kierkegaard would say or anybody else. If you're Serena Williams, power is having a million aces, but in my line of work, the exercise of power is getting something to happen that otherwise wouldn't have happened. — As told to Anna Silman
Nancy Pelosi Still Thinks She's the Right Person for the Job. Have at Her.
By Rebecca Traister
Job: House minority leader
Raised: Over a half-billion dollars for Democrats since 2006
Once: Was a guest on VH1's RuPaul's Drag Race All Stars
"I just think this is really generational," Nancy Pelosi says, gesturing fulsomely toward Minnesota state representative Ilhan Omar, who is poised to become the first Somali-American member of Congress. "I'm in this dress," Pelosi continues, glancing down at her deep-green tailored shift, "and she's in this adorable suit." Omar is wearing zebra-print sneakers, a black pantsuit over a T-shirt reading BARRIERS WERE MEANT TO BE BROKEN, and a radiant-blue hijab. The two are about to sit down for their first lengthy one-on-one meeting, and Pelosi is correct: There's a lot about the encounter that feels generational.
One generation is represented by the Democratic leader of the House, 78, who ascended to the Speakership in 2006. The next is embodied by Omar, a leftist Democrat, part of this season's surge of young women, and young women of color, running for office. While Omar has declined to say whether she'll support Pelosi's continued leadership, with the party moving swiftly in Omar's direction — as far as identity and policy — there are rumblings in the ranks that the almost octogenarian white multimillionaire represents the party's past, not future. In other words, it's time for Pelosi to go.
But it's not as simple as that. First, the Bay Area Democrat's politics have long fallen to the left of her centrist-leaning party's, and second, her job as leader isn't ideological. It's logistical and managerial, and when it comes to herding legislative cats, she has been undeniably great at it. Since 2006, when she engineered the Democrats' take-back-the-House campaign, she has kept her often wayward caucus together through the bailout and health-care fights of the Obama administration. And being in the minority, she's been more successful corralling votes than her counterpart, the retiring Paul Ryan: Pelosi cut deals with Trump to raise the debt ceiling and fund the government.
What's more, the dump-Pelosi campaigns began practically as soon as she became leader, suggesting that the concern may be less about her effectiveness than about who she is: female, unapologetic about her power, and so far unwilling to relinquish it, a trait that sets her apart from just about none of her older male peers in D.C. When she was asked, in 2010, by a jejune Luke Russert whether she might resign given the advanced age of party leadership, Pelosi crisply eviscerated him for posing the "offensive" question: Had Russert ever asked Mitch McConnell the same? Plus, she said, she'd come to Congress only after her youngest child was a high-school senior, whereas the guys had arrived at 30 — shouldn't that buy her some extra years? Her goal, Pelosi concluded, was to bring women in "at an earlier age, so their seniority would start to count sooner."
Well, they're here! And some of Pelosi's missteps with the most progressive wing of her party are getting plenty of notice. Last fall, immigration advocates slammed her for rolling over on DACA. In June, Pelosi got into trouble when she rebuked Maxine Waters for encouraging people to confront Trump officials in public. And more recently, she was accused of undercutting the party's increasingly bold economic agenda by promising to reinstate a rule requiring that new spending be offset with budget cuts and tax hikes. The bottom line is that while Pelosi is entering this session of Congress confident that her party will be back in the majority, she also has a fresh target on her back.
"I didn't have the faintest interest in running for office ever," Pelosi swears about her girlhood as the daughter of Tommy D'Alesandro, a former congressman and mayor of Baltimore. This is a Pelosi trademark — insisting that she's always been ambition-free — a tic that can't help but recall an earlier time, when a girl might not have been able to fathom following her father into public life and also when the woman she grew into couldn't have fathomed admitting it if she had. Her mother, who had six children and volunteered and organized, was her bellwether, she says. "In my family, it was clear my oldest brother, Tommy, was being groomed." Tommy indeed followed in their father's footsteps, becoming mayor of Baltimore in the late 1960s. "He was the most beautiful, lovely, unselfish person in politics I ever met," his sister says. "Never criticized anybody. Always said, 'They have to say what they have to say. Don't take it personally.' "
But if Tommy III learned some of his political equanimity from Big Tommy, his sister was also listening. One of her remarkable moves as Democratic leader — a tactic only someone extremely comfortable in her own power could pull off — has been to maintain that she doesn't mind a bit when Democratic candidates slag her on the campaign trail. In September, Time reported that nearly 60 House hopefuls had vowed not to back Pelosi if elected, and many interpreted the victory of Conor Lamb in Pennsylvania — who'd aggressively distanced himself from Pelosi — as a sign of true revolt. But Pelosi, as ever, remains sanguine. "Just win, baby" is her Al Davis approach.
Her parents encouraged her, she says, only to be herself — they didn't push her to marry, even. But she did, young, to San Franciscan Paul Pelosi, a real-estate investor and venture capitalist; the couple had five children in six years, putting to rest her thoughts of going to law school.
Although she tells me that she "read insatiably about leadership" in college — and jokes now, with not a little satisfaction, that "I always wanted to go to law school, and now I make laws" — Pelosi says she didn't suffer even a touch of the problem that has no name during two decades of mothering. In fact, she says, she has a fantasy business called Forever Infant; she'd help new parents get through the first year: "This was my forte. I'm a mom."
A mom, that is, who was savvy about politicking even before it paid. Prior to moving to San Francisco, the Pelosis lived in New York, where she was part of what she calls "a stroller brigade." "You couldn't do politics in apartment buildings," Pelosi says, "but if you went trick-or-treating with your babies, you could slip a pamphlet under the door." In San Francisco, she opened her family's home to political fund-raisers and landed a spot on the library commission. It was unpaid but gave her "a vote," she says, and "when you have a vote, people treat you differently." This was her first official role, and she went on to game out the 1976 Maryland presidential primary for Jerry Brown, who, after he won the state, credited Pelosi as the "architect" of his victory. I ask if she liked the recognition. "No, I liked that we won."
When friends urged her to run for the seat of an ailing San Francisco congresswoman, she asked her daughter Alexandra, then a high-school senior, if she'd mind. "Get a life," Alexandra responded. And so she did. Arriving in the House of Representatives in the summer of 1987, Nancy Pelosi was one of only 24 women. Fast-forward 20 years, and she'd become the most powerful female politician in the country. "Sad to say," she says immediately when I describe her this way. "I thought we'd have a president and I could go home. That was the plan."
She doesn't have a president, but she does have that crop of new women, some of whom confess to her that they're not sure they can handle a fraction of the ugliness she's had to absorb. She doesn't offer false reassurance: "It's like you're a tree, and they're peeling the bark right off you. You have to be prepared for it."
Pelosi is, without exaggeration, one of the toughest people I've ever met. As I listen to her, it occurs to me that perhaps she's sticking with the job of party boss not just because she's good at it but because she's waiting for the person who's good enough to take her. "It isn't for me to say, 'This is who I'd like next,' " Pelosi says slyly as I push her about the rising generation's challenge to her power. "It's up to them to decide." In 2016, then–Maryland representative Chris Van Hollen considered trying to bump her off. "He would've been a great Speaker," Pelosi gushes now. "But I wasn't standing in his way. Other people senior to him came down on him." Yes, I say, but that's presumably because you applied pressure.
She's tired of pussyfooting around this: "None of us is indispensable. I feel I'm the best person for the job. I have a big following in the country. It's what I tell other people: Show your following. You have to have intellectual, political, and financial resources to win elections if you're gonna be the leader."
So she concludes, "See, I like the fray. And that's really unfortunate for people who come after me, because I really like the fray." She smiles. "Make my day."
Hanya Yanagihara Let Herself Fall Into That Trap
Job: Editor-in-Chief, T Magazine
Her Novel: A Little Life was shortlisted for the Man Booker Prize 
Claims: Not to have cried since 1995
I always tell young women when they're negotiating a salary just not to say anything. When your future employer makes the offer, you should state your counter, and they'll say, "Well, we really can't do that." And depending on where the negotiation is at that point, you'll say either, "My drop dead is blank," or you just don't say anything at all. It's very hard to do — it took me years to learn. But people are very uncomfortable with silence, and whoever breaks the silence first loses. It's good to go in knowing exactly what you're willing to compromise on and then be quiet, because I think women start to babble, and they start saying, "I'm really sorry, but I really would like this amount." You never have to apologize for asking for more money. You never have to explain why.
I had a number of jobs when I was young where I let myself get cast as the workhorse. In magazines, there's always workhorses and show ponies, and I never minded being a workhorse. But I was aware that in a couple jobs I had, things would just be piling up, and I'd take them, both because I enjoyed the work but also because I think I thought that my utility was being hardworking. But hardworking is one of those loaded terms people use about Asians when they're trying to say that we're not sparkling enough or creative enough. And I do think there were a couple of jobs in which I let myself fall into that trap. Because I knew that was how they were seeing me, and I knew I could fulfill it. In the end, it didn't do me any favors. — As told to Anna Silman
Jenny Holzer Made Good Things Out of Horror
By Amanda Fortini
Job: Artist
Soon: The trucks with animated billboards she made after Parkland will make an appearance in L.A. in November. 
"Truism": "Dying should be as easy as falling off a log."
ABUSE OF POWER COMES AS NO SURPRISE.
Jenny Holzer, the 68-year-old Conceptual artist who, in the late 1970s, began papering lower Manhattan with posters bearing "Truisms" she'd written — aphoristic sayings like ABSOLUTE SUBMISSION CAN BE A FORM OF FREEDOM and AMBIVALENCE CAN RUIN YOUR LIFE — has become an idol for our online era. On Twitter, various Holzer bots tweet out her maxims, which read as if they anticipated the medium. (Holzer has nothing to do with the accounts but says she appreciates their humor.) On Instagram, where she appears as a hashtag more than 38,000 times, you can see her words as they appear in the world: on benches, movie marquees, LED panels, light projections.
In real life — which is where Holzer, who does not use social media, prefers to exist — she gave permission last fall for We Are Not Surprised, a #MeToo offshoot, to use her "Truism" ABUSE OF POWER COMES AS NO SURPRISE in an open letter, signed by 9,500 non-male artists, writers, and curators, condemning entrenched sexism in the art world. In January, Lorde appended one of Holzer's "Inflammatory Essays," the more aggressive screeds she wrote after the "Truisms," to the flaming-red dress she wore to the Grammys.
It's easy to account for Holzer's contemporary appeal. We're a culture swimming in indiscriminate words — text messages, news feeds, words on screens, words on billboards — and her old-school maxims slyly lay language bare in all its guises: as cliché, harangue, manipulation, seduction, survival tactic, discomfiting bringer of truth. At a time when hashtags and slogans and memes have never had more power to go viral, her art co-opts the authoritative language of advertising, internet culture, and self-help and asks us to question the power it has to define us.
[Read the Full Interview With Holzer Here]
­
Drew Gilpin Faust, the First Female Harvard President, Was Nicknamed 'Chainsaw Drew'
By Amanda Fortini
Job: Harvard University President Emeritus
Led: A $9.3 billion fund-raising campaign
Her Book: This Republic of Suffering: Death and the American Civil War was a National Book Award finalist 
Civil war scholar Drew Gilpin Faust retired in June after 11 years as the president of Harvard University, the first woman ever to hold the position. She had followed Lawrence H. Summers, who was forced out for saying that "intrinsic" gender differences accounted for the lack of women in science.
Faust generated what might be considered the opposite kind of controversy: She was too PC, her critics griped — during her time, the number of tenured female faculty rose by 47 percent.
On banning Harvard's single-gender clubs, including the exclusive all-male "final clubs":
Starting with the class of 2021, any student who belongs to one of these clubs can't be a leader in student groups or varsity sports, nor receive endorsements for fellowships. "When you have powerful organizations that line women up on the streets and decide whether they're attractive enough to be admitted … that doesn't seem to me an ­equitable treatment of women in the Harvard community," Faust says drily.
On growing up with three brothers in pre-civil-rights-era Virginia:
"It's a man's world, Sweetie," Faust's mother used to say. Meanwhile, her brothers were exempt from training in "manners, curtsying, no ballet lessons." What did she learn? "Being a man meant assuming power and exercising authority, not hiding from it."
On her nickname, "Chainsaw Drew":
When Radcliffe went from being a college to a center for scholars, Faust, as its dean, was in charge of eliminating about a quarter of the staff. She did it on one day, so as not to have to "spend time in the maw of unraveling."
On impostor syndrome:
"For 11 years, I wandered around the Harvard campus, saying to myself, several times a day: Am I really the president of Harvard?"
[Read the Full Interview With Faust Here]
Andrea Mitchell Cried When She Found Out How Little She Was Being Paid
By Lisa Miller
Job: Chief foreign-affairs correspondent, NBC news; anchor, Andrea Mitchell Reports
Once: Was thrown out of a photo-op for trying to question media-avoiding secretary of State Rex Tillerson 
Andrea Mitchell was 35 when she began covering the Reagan White House for NBC News. Now, at 71, she's still on the front lines.
Women often say we're wired or taught to be pleasing. But isn't not being pleasing part of your job?
I find that I have an instinctive urge to ask the tough question. And then immediately afterward, I want to apologize, to say, "I'm so sorry. I didn't mean to be obnoxious."
The other piece of it is that, having been raised to please, we are vulnerable. We're vulnerable to sexual predators, we're vulnerable to not being paid enough, we don't know how to demand what is our due.
When you have that feeling like, "Oh, I was kind of an asshole in that room," what do you do?
Well, I think a lot about my mother. When she first saw me at the White House on the South Lawn, my job was to shout questions at Ronald Reagan so that he would hear me above the helicopter and stop and talk. I was so short I couldn't be seen over the cameras and the tripods, so I'd crawl underneath the tripod and pop up on the rope line. And it often worked. He'd stop. Or he would call on me at a news conference and say, "What is it you've been trying so hard to ask me?" He literally said that at my first news conference because I was shouting so often. And then my mother saw me do that on television and called me and said, "I didn't raise you to be rude."
Have you gotten better at that over the years? Now, when you're in the room with whoever, do you feel more entitled to your power, or do you still feel apologetic afterward?
There's always a tinge. I'll come out of a scrum sometimes and say, "Was I too pushy in there?" And I remember male cameramen at the White House complaining that I had sharp elbows, as though it was not done for a woman to be as aggressive as the guys. But I also remember competing against another correspondent from another network years ago—
Male or female?
Actually, female. And I was being relatively aggressive but also apologetic and trying to be light. It was early on in my career, and I began to notice that this other correspondent would get calls back because sources were afraid of her. Afraid of how good she was as a reporter. I say this admiringly. And so if you're always nice, they don't really think you're going to be persistent.
They're trying to keep as much information from you as possible, and you're trying to break stories.
The one who's kind of a badass gets the calls.
Yeah, I would like to be a badass—
I think you're a badass.
I'm a badass, but I also want to be liked. I'm not sure men worry as much as we do about being liked.
Talk to me about the way culture and our perceptions of sexism have changed. I was a grown-up during the Clinton-Lewinsky scandal, and the "boys will be boys" excuse was so common then. It's been very jarring for me to reconsider all of these incidents through the lens of #MeToo. Have you had the same experience?
I now look back and recognize that some of the things I tolerated are simply intolerable.
Can you give me an example?
Just harassment and, in particular, inappropriate language from close colleagues, sometimes in close quarters, lots of dirty jokes and offensive behavior that made for an uncomfortable workplace. There didn't seem to be a way to complain, and you wanted to be part of the gang because you were often the only woman. So who were you going to complain to? There weren't women executives then. I think it's generational to the extent that people's reaction to the movement is very often dictated by age.
Definitely.
The young women with whom I work, who are my colleagues and on my team here on my MSNBC show, would not tolerate the kinds of things that we put up with in the '70s and '80s and '90s — and they shouldn't. It's been a rude awakening for women of my generation, who were told all along that you had to put up with it because that's what happens in the workplace. I'm not talking about assault, because I didn't experience that. I'm talking just about really nasty behavior.
In order to rise back then, did you make capitulations to male culture or to sources or to ways of telling stories that you feel ambivalent about now?
When I look back at my coverage of Anita Hill and Clarence Thomas on that pivotal Friday night of the first day of the hearings, I remember Tom Brokaw was anchoring, and he asked me, "What have we learned?" It was close to midnight. I said something I can't believe I said on television. I said, "I think we learned that the United States Senate is the last great plantation in American government." So I didn't trim my sails at all on that, and no one asked me to.
But I think story selection was dictated a lot by the male dominance of the editorial staff. I don't think we did enough on women's empowerment and medical issues and other social questions that were considered soft. The fact is that we have to redefine what is news. Many of these questions about stressful family situations and single moms and social problems, they're as important as anything else we cover.
It's the same with the way we define what's important in a political campaign. The coverage of Hillary Clinton comes to mind. A lot of that was self-inflicted, but as a woman, when I think why she had the private server — which was definitely wrong — why she was so defensive, so secretive, I remember I saw her in 1992 right after the Gennifer Flowers story broke and the draft-dodger accusations. She came to New Hampshire, her first time on the national stage to campaign for Bill, and all the cameras were chasing her down the street. She was cowering like a trapped animal. I'm not excusing the private server, I'm just trying to understand and explain.
Do you think that's gendered or just her character?
Part of it is gender. I remember reading a good piece about another gender aspect, comparing Hillary to Scarlett O'Hara when Tara burns down. It was going back into her Arkansas roots and saying, "I'm never going to be poor again." So 1979, 1980, Clinton loses the governorship. She's got a philandering husband, a baby, aging parents, no money. She has a choice: Am I going to go work in the public sector, or am I going to join the Rose Law Firm, the biggest, richest firm in that part of the country? Am I going to join the Walmart board? I'm going to have to support myself because he may disappear.
Women don't talk enough, I don't think, about how money motivates them.
I remember one experience here where I was working so hard and there was a McKinsey study of everyone's salaries. I was part of the breakout group we had for it, and the leader was putting up a chart, with no names, of who was the most productive correspondent and who was the highest and lowest paid. My colleague, the chief White House correspondent, was the highest paid and most productive. Everybody knew who that dot was on the chart. Then there was another dot with an equally high story count: the lowest paid. One of the bureau chiefs said, "Well, everybody knows who is making the big salary" — the highest salary then was $600,000—
Holy shit.
"But who's the dumb schmuck who is working his heart out and getting nothing for it?" It just cut me to pieces to realize that everybody was making more than me. I did what a grown woman could do; I started tearing up. I was so embarrassed, and I figured everybody's going to know, but they didn't figure it out because nobody would've thought that I'd be so poorly paid.
What did you do?
Well, what the McKinsey leader did was to call the then-president of NBC News and say, "You've got a problem." And I got called in and the president of the news division said, "I am so sorry. We are really underpaying you, and I'm giving you an immediate raise." You never catch up, but that was a real lesson.
Were you more aggressive about your compensation after that?
No. You want to sort of say, "Thank you. Thank you for giving me this wonderful job. I'm so grateful." I mean, that is the female instinct generally.
My stomach is in knots right now.
I mean, it was awful.
Not On My Watch, Said Sally Yates
Job: Lawyer and former acting Attorney General
First Hired: At Justice Department by a Republican
Currently: A lecturer at Georgetown University Law Center and partner at King & Spalding
On January 20, 2017, with Donald Trump's swearing-in and the departure of Obama's attorney general Loretta Lynch, Sally Yates, a 27-year veteran of the Department of Justice, became the nation's acting AG. Seven days later, on a Friday afternoon, President Trump signed an executive order titled "Protecting the Nation From Foreign Terrorist Entry Into the United States" that barred travelers from seven Muslim-majority countries. Yates, who says she "never dreamed a new president would take such a dramatic action so quickly," had to decide whether to enforce it.
The Constitution promises we won't discriminate on the basis of religion — the executive order turned the Constitution upside down. President Trump asserted it had nothing to do with religious discrimination, yet he'd stated his intent many times on the campaign trail. How could I dispatch Department of Justice lawyers to argue something that wasn't grounded in truth?
It all unfolded in an incredibly compressed period of time of about 72 hours. You really would like more time to puzzle through the legal intricacies, but the more we discussed it, the clearer it became to me. Honestly, if I had it to do all over again with 72 days instead of hours, I'd do exactly the same thing.
Of course I considered resigning! But I wasn't a division head or an assistant — I was the acting attorney general. That felt like saying, "I'm outta here. You guys handle it."
It was a very private decision — no one else can help you. You have to look inside yourself. By Monday afternoon, I had to write a memo. Again, that's the kind of thing you'd like to have more time to do. I'm a slow writer. I wrote: "I am responsible for ensuring that the positions we take in court remain consistent with this institution's solemn obligation to always seek justice and stand for what is right. At present, I am not convinced that the defense of the Executive Order is consistent with these responsibilities nor am I convinced that the Executive Order is lawful."
I finished the memo, talked with my deputy, Matt Axelrod, and hit send. The memo traveled through DOJ channels and waylaid any attorneys scheduled to appear in federal courtrooms the next morning to defend the order. By then it was Monday early evening and the outer offices were quiet. I sat at my desk alone doing other stuff when I thought, I wonder if this it out there yet. I had a TV in my office and I turned it on and the memo had exploded. I wasn't stupid. I knew it was going to be significant. But I flipped to a couple of stations and saw it everywhere. I turned off the TV and kept working.
There was a door between my office and Matt's. We went back and forth a thousand times a day. But at nine o'clock, Matt knocked on my door and didn't come in, so I knew he had someone with him. A DOJ guy entered and handed me a business envelope from the White House. The letter was one sentence long, relieving me of my duties. You could tell it was awkward to deliver a letter firing the attorney general. He's a good guy, he was just doing his job. Then the president released a statement: "The acting Attorney General, Sally Yates, has betrayed the Department of Justice by refusing to enforce a legal order designed to protect the citizens of the United States."
I absolutely did not anticipate how people across the country, even outside our country, would respond. Recently, exiting an airplane, I felt someone behind me tap me on the shoulder. It was an elderly African-American gentleman. He wore an obama '08 baseball cap covered with campaign buttons he must've collected over many years. He took it off and offered it to me. "Oh no, I couldn't take your hat," I said. But he insisted: "Counselor, it would mean the world to me if you would accept it." I accepted it, but I teared up.
Not long after that, I was in line at the bank, and I couldn't help noticing a middle-aged white man in a veterans for trump baseball cap a few customers ahead of me. When he finished, he turned around and headed straight at me. I thought, Oh gosh.
He said: "You don't like my hat, do you?"
I said: "I respect it. Thank you for your service to our country."
And he said: "Well, I appreciate what you did, and I thank you."
— As told to Melissa Fay Greene
Roxane Gay Will Not Be Mistaken for the Caterer
Job: Writer 
Her First Nonfiction Book: Bad Feminist
Her Favorite Author: Edith Wharton
I think of my mother when I'm asked to tolerate nonsense, and how she simply isn't gonna have it. She's extremely classy, but when people tried to take advantage of us in school, she would tell our teachers, "You don't get to compromise my child's education because this is a black child."
Now, when I respond to trolls on Twitter, mostly I'm doing it to be petty, and that feels good. But also it's powerful to not tolerate bullshit and say, "You know, even though this seems like a small thing, it's not." Self-respect is not a small thing. It also brings attention to the level of harassment that black women face online.
Oftentimes I'll show up at an event and someone will ask if I'm the catering manager, or if I work there, because I couldn't possibly be the keynote speaker. To work this hard for this long and to have something as banal as racism get in the way of my work is incredibly frustrating — nobody ever asks a white writer at an event if they're the catering manager. So it's important to me to push back when those things happen.
I feel the most powerful when I walk onstage and thousands of people are there to see me and they're applauding, and I know that for the next hour, people are there to listen to me. And when someone asks me for my opinion on something and doesn't expect me to turn it around right away, when I'm allowed to have the time to really think about it, that feels like a great marker of respect. There's this idea that as a black woman I am a bottom­less font, and that I'm supposed to be grateful for the attention of the others. I'm very grateful for my reader­ship, but I demonstrate my gratitude in my work ethic. That should be enough.  — As told to Irin Carmon
To Understand Trump, Look at Melania, Ivanka, Ivana, and His Mother
Hanna Rosin talks to Nina Burleigh about her new book, Golden Handcuffs: The Secret History of Trump's Women
Outside Trump's castle, the country becomes more tolerant of women in public roles. But Trump and his "Queens," as Nina Burleigh calls them in her new book, Golden Handcuffs: The Secret History of Trump's Women, are a link to a different era. His wives — and even to an extent the other women in his family — have made a deal to accept what Burleigh calls "long-term enslavement" in exchange for wealth and fame.
We know tabloid tidbits about Trump's women, but Newsweek reporter Burleigh puts the pieces together in surprising ways. Some of the women closest to the most nativist president in recent history are consumed by their immigrant roots, from his grandmother to his mother to his current wife. Trump in many ways treats women as inconsequential props, yet he deeply fears them, almost as if they were witches who, with their mysterious bodily functions, could steal his mojo. It's all so old-­fashioned, yet part of his appeal undoubtedly comes from nostalgia for what his style of marriage represents.
Herewith, what the six most important women in Trump's life — his mother, grandmother, daughter, and three wives — tell us about him and maybe ourselves.
Hanna Rosin: Here's the thing I couldn't figure out from your book—does Trump like women?
Nina Burleigh: In his own way. Or at least he likes to feel they like him, because it's all about his ego and being flattered. But I don't think he's a woman hater.
In my head, I make a distinction between him and Bill Clinton. They're both philanderers, but it feels like Clinton really likes women.
They're cut from the same generational cloth, both '60s guys in the Hefner mode. They think harems of women should be available to them.
I still get the sense from your book that Trump's relationships seem devoid of romance, almost joyless.
I'd say they're very transactional. Although he may have really loved Ivana. Someone described a scene to me of them kissing on a bridge and him looking besotted. But again, what's love to him? It's maybe not what we think of as love.
That's a good transition to his childhood. Trump often talks about his father, Fred, but you write about his mother and grandmother as the most influential forces.
Yes. His grandmother was this stern, probably cold woman who came from a tiny village in Germany. Then suddenly her husband dies, leaving her with three young children and a small nest egg. To survive, she transformed it into the Trump Organization in the 1920s.
So she's the original Trump!
But she's been written out of history. They tell it now as if Fred started the whole organization at age 16.
And Donald's mother, Mary Anne — I had no idea she was a domestic! 
A domestic in one of the wealthiest homes in America. I couldn't believe it when I looked her up in Census records. Her first address was in the Carnegie household, the closest thing to a castle that existed in the U.S. in that time. So she's 19, coming from a place in Scotland where ten kids are crammed into a two-bedroom cottage. Then she's polishing banisters or silver and watching this woman [Louise Carnegie] with the airs of a queen being chauffeured around with footmen. It marked Trump's mother for life. She admired that wealth and wanted to be part of it, and Donald inherited that from her.
So it gave him an appetite for royal trappings. Did it also give him a sense of always being an outsider?
It's two sides of the same thing. The entire country is now living in this man's conflict between a desire to be royalty and a profound feeling that he doesn't belong.
People who feel left out can probably smell that insecurity on him and identify with it.
Exactly.
What about his father's nostalgia for the German homeland and the sense of being persecuted as Germans. How much should we read into that, about Aryan tendencies?
Trump picked up from his family the idea that German blood is cleaner — he's said stuff like when Germans have parades nobody has to clean up after them. German superiority is certainly part of his sense of self.
Can you talk about the great Freudian moment of his young life?
When he was 2, his mother went to the hospital to give birth to his little brother, Robert, and didn't come home for many months because she contracted peritonitis and had to go through numerous surgeries. And so he was alone, bereft of a primary caretaker. And his father is not warm and fuzzy. He'd tell the older kids, "Your mother may die today, but you need to go to school." At 2, you're making primary connections, learning about love and being loved — and his mother was gone.
Coupled with that, I think, he had a learning disability, a reading problem, and probably ADHD, undiagnosed. Except in those days the rambunctious boys were regarded as the healthy ones; the readers were the sissies and neurotics. So Donald wasn't regarded as having a problem. His aggressiveness was praised.
You have this phrase in there that stuck with me, which is that he thought of women as "consumables."
In that they're creatures to be taken for pleasure and then discarded. A source told me about New York parties where older men would hang out with aspiring models, most under 20, sent over by party organizers or agents. What he meant by "consumables" was that they were there to be ogled, and, if possible, taken back to hotel rooms or apartments, as sexual snacks.
And where did Trump get that idea about women from?
His dad had a mistress all of his life — he was known as the "King of Miami Beach." He'd go down and have all these girls. Again, like Hefner. 
But there's this other strain where Trump talks about women as "killers." It's an acknowledgment of the power of women or some force they have.
I think that comes from his grandmother, who was an intimidating woman. And it also goes back to the primal, female taboo thing the family had going on. You know his dad would not allow the word pregnant to be used in the home. The idea of women as unclean and also as witches. Watch out, they might take away your power!
What do you mean by "golden handcuffs"?
My original interest in this subject stems from wondering what kinds of women would want to be with a man like Trump. Most women I know find it close to impossible to imagine why Melania, this gorgeous woman who could have any guy — hot guys! Fun guys! — would choose this oaf. So why'd she do it? And what does it say about women's place in 2018? Because it's so archaic.
And did doing this book help you understand that decision?
A lot of women make these choices because they don't see other ways to get power, and Trump's administration isn't making that any better.
But isn't there something patronizing about what you're saying? Someone like Melania may just have a different understanding of how power works. And, in fact, she's gotten a lot of power and fame for herself.
But at what cost? I mean, the humiliation of being married to somebody who sleeps with porn stars right after you have a child. Or who's accused by 19 women of gross acts. And of having to accept the pity of millions of people. Is that worth what you call power, just to have the ability to pick up the phone and have a stylist come to dress you?
But do you believe Melania and Ivana would wield more power if neither had married Trump?
No, but I think Melania has no interest in wielding power. Only financial security.
But what were her choices before? You flirt around the Melania escort question. The statistics you cite about the sexualization of women in Russia are amazing, like the one about how a 1990s survey of high-school girls in Moscow found 60 percent would exchange sex for hard currency.
Incredible, isn't it? Russian and Eastern European women were sexualized the second that the Berlin Wall fell. The people of the former Soviet Union were looking across the wall at ads with scantily clad women selling cars and clothes. They equated capitalism with buying sex — that's Melania's generation.
And there was a thin line between the pageant and modeling world and being an escort. But if you're asking specifically about whether Melania was an escort? All I can say is that I don't know what her career was like between Slovenia and showing up in New York. When the Daily Mail was sued for looking into that, that avenue of questioning was closed down.
Well, clearly it was her sex appeal and beauty that got her into Trump's castle. And that's been a traditional source of power for women. Would you rather a world where that just wasn't a tool women could use?
There are many examples of worlds where it wasn't. In the former Soviet Union, women were expected to be educated and working. You don't want a world where just because a woman is attractive, it's assumed that being a model is her best route to success.
You talked about his Pygmalion relationship with his wives, but it seemed more alive with his daughter, Ivanka. She was actually interested in sitting at his knee and learning and never strayed.
She's his greatest creation in his mind — and she's him in a more palatable form. She's the future of the brand, and I'm convinced that she really does think she can run for office someday.
Do you think she'll succeed?
I don't know — who thought that her father could win? Right now, it feels like anything is possible.
­
Maria Grazia Chiuri Is Learning To See Fashion Through Her Daughter's Eyes
Job: Artistic director of Dior
First: Woman to lead the label's creative side
Put: Chimamanda Ngozi Adichie quote "We Should All Be Feminists" on a T-shirt
I think in the past, I didn't understand the power of the fashion system. For my generation, fashion was something playful. Now fashion is so popular — so pop — that we have to reflect more about the world with what we do. I feel a lot of responsibility. In my life, for example, I never thought about cultural appropriation or gender. My daughter has helped me understand all these arguments. — As told to Emilia Petrarca
[Read the Full Interview Here]
­
Ursula Burns: "We're half the friggin' population. We don't have to be better, we don't have to be smarter, we don't have to be faster, we just have to be alive."
Former: CEO of Xerox
First: African-American woman to head a Fortune 500 company
Interned: For Xerox in 1980
I am a woman, I am black, I grew up in the projects. One of the challenges that "unique" leaders have is that what people declare is unique about you, you find ordinary. Your natural state is heralded as something unbelievably special. I remember when I was an undergraduate in engineering, there were very few women. I was the only black woman. What I realized was that people could not avoid noticing me. Even if I had a stupid comment to make, people would call on me if I raised my hand. If you were reasonably smart, this was not a bad position to be in. I was noticed primarily — not primarily, totally — because of the way I looked. I thought that was a strength. When we use that significantly more as a weakness, then it creates problems, right?
When I went to graduate school, same thing. Then when I went to work, same thing. During most of the conversations I have with women, particularly women in STEM or women in leadership, they describe feeling alone. I'm like, "Yeah? Find your less-aloneness somewhere else — with your girlfriends. As long as you're here, you can use that as an advantage."
I got noticed first at Xerox at a meeting given by the second-in-command. It was opened up to questions for the senior executive, and one of the questions was around affirmative action. A person asked a question in a very respectful way, but it was not a very respectful question. They basically stated that they wanted to understand where this executive stood on hiring these women and people of color; he said "girls and black people." He thought it was bringing down the quality of the workforce. And the executive said respectfully that wasn't happening and diversity is good and so on.
Well, I followed that question with my own question, where I asked this executive why he answered a question that did not merit an answer. I said a better response would have been to march the guy out the door. I said it a little bit angrier than I am now, obviously. I said he's part of the problem! Part of the problem is that we actually accept this type of behavior!
When the meeting ended, the person who brought me to the meeting — who is now my husband — pointed out to me that I had probably done something that wasn't ideal for my career. I figured, If they fire me, they fire me. A few days later, that same senior executive pulled me into his office and we started this massive relationship that was based on difference. He was a white male from Middle America, Indiana. He was Republican and highly conservative, and I was a black female from New York City, Democrat. We ended up debating every single thing you can imagine. I remember when we started the first Iraq War. I was on a trip with him, and he said something about the war and I said, "Yeah, well, your people don't have to go fight." They were not interested in me falling in line. I was encouraged to speak my mind. He eventually offered me the job to be his executive assistant.
Gender and race were underlying everything that happened to me in the company. A lot of times it was not obvious. The person right in front of me, who I trailed, was a woman. She became a friend. So when she became president and then CEO, she got to build a team and I worked directly for her for a whole series of years.
Women have all of the capabilities that men have and then some. There is not a thing, physically or mentally, in white-collar work — and a lot of blue-collar work — that a woman can't do. The educational accomplishments are better for women. And even the desk, the chairs, everything can fit a woman. But the view, the vision, the idea of what leadership looks like, is made for a man. When you say the word leader, the thing that pops in your head is not a woman. Period. The only way it pops in your head is if it's in nursing or teaching.
It's made for men. Everything. The chairs, the tables, how we pay, everything is literally focused around the man, and then we modify it for a woman. There is nothing structural here, except for the men's and women's rooms, that says "men," except that everything says "man." It's the most insidious thing to undo, because I can't point to the five things we have to fix — fix the door, fix the chair, make the desk taller. It's none of that stuff. It is every single thing: The way we think, the way we approach things, how we even refer to people — I use the word guys — everything we think about. The leadership, the strength, the power, everything is around this person that generally has a certain anatomy and a certain color. Then you get even further structurally: Women literally, in order to re-create our species, have to change our body shape and then leave work for at least a day to produce a small child. Men don't have to do that.
We can continue to have articles justifying why having more women is better, and I say I am so sick and tired of the discussion. We're half the friggin' population. We don't have to be better, we don't have to be smarter, we don't have to be faster, we just have to be alive. That's what I'm saying. We have to back way up. It's just fair that we participate at least at a rate that is reasonable for us in the world, and we're not doing it at all.
We should be paid the same amount of money. Why? Because that's fair. We spend too much time justifying stuff. — As told to Alexa Tsoulis-Reay
Nikki Haley Kicks With a Smile
By Lisa Miller
Job: U.S. ambassador to the United Nations
First: Woman governor of South Carolina
Once: Successfully pushed to remove the Confederate flag from statehouse grounds
I sat down to talk with U.N. Ambassador Nikki Haley in early October. She'd just come back from meeting with the president in Washington, D.C., where presumably she discussed her intention to resign from her position less than a week later. When she announced her decision publicly, on October 9, she did so with little explanation, saying only that she's not running for president in 2020. Even as I spoke with Haley, all I could think of was how hard she was working to create distance from Trump and all the toxic divisiveness of Congress, positioning herself as a kinder, more compassionate representative of the GOP.
Can you tell me about negotiating for your current job? When the president was elected, there was conversation about your becoming secretary of State, then this job came up and you were like, "Not that. This. I want to be in the Cabinet and also on the National Security Council."
I knew, having been governor, you can't go work for other people easily. So to me, I wanted it to be a Cabinet position, too. I was only accountable to him and then I could speak directly with him. He said yes immediately, and I told him that I also need to be on the National Security Council because I wanted to be in the room where the decisions were made. He said, "Done." And then I told him, "But I'm not gonna be a wallflower or a talking head."
Why not secretary of State, which is a bigger job?
I think you have to know what's right for you at the right time. I'm all about pushing myself and jumping into risks, and this job was that. It was realistic. That was not. I was coming from being a domestic-policy person as governor, and really the only thing I had done was go to countries to sell companies on coming to South Carolina. I don't put myself in the situation unless I can make sure that I'm great at it.
It also keeps you out of toxic D.C.
I knew that this was more my speed. 
I was thinking about the time the White House reversed itself on additional sanctions on Russia, a decision you'd already announced, and then economic adviser Larry Kudlow accused you of "momentary confusion." You responded by saying, "With all due respect, I don't get confused."
I mean, look, Larry Kudlow is a dear friend, dear friend. I saw him last week and gave him the biggest hug. But the thing is, it wasn't right to say it.
It's important to stand up for yourself. It wasn't just me saying that about me. This entire building, they would have had to deal with the fact that I was confused. Can't have that.
Do you think being a southern woman helps you with diplomacy?
I do think coming from the South taught me a lot. In the South, you learn to kick with a smile. You learn to move your way around forcefully, but you're kind about it and you're respectful about it.
Have you talked to the president about that mode of communication?
I have never tried to. I have talked to him about certain instances and said, "That was not helpful," or "You could've done that differently." But he is who he is. He was elected because of who he is. I would never think it was my place to go and fix him, because it's not easy to win president of the United States. And it's not easy to continue to be president of the United States. And he's doing it well and getting things done. Is he offending people? Yes. But he's got just as many people loving what he's saying. Look, he's not gonna change for me. And frankly, whatever he's doing is working.
What do you think about the problem of Republican women going into the midterms? There's a big gap.
I think women don't vote in a bloc as much as so many would like to think we do, but I just think we're not loud about it. That's Republican women. It does seem like the Democrats are more vocal, but don't underestimate the strength and power of Republican women. We just do things more quietly. I mean, did we ever say that women were gonna come out in huge numbers for the president at the last election? We never saw that in any poll. I personally keep my cards very close.
Yes, you do.
So I think that it's power. I've always thought that silence is power and that discipline is power.
You're saying that women have an autonomy that we're not giving them credit for.
It kills me when they say the "women vote." There is no women vote. We all think differently on different issues.
You must be in rooms with men who don't want you to succeed. How do you handle those men?
I just ignore them and push right through it.
Do you ever lie awake and go, My boss is really out to get me?
You're gonna have challenges in every job. The best way to overcome it is to be so fantastic at your job they can't touch you.
Those are some pretty powerful men, though.
I'm pretty powerful.
[Read the Full Interview With Haley Here]
Robbie Kaplan Is Dusting Off the Ku Klux Klan Act of 1871
Job: Founding partner of Kaplan Hecker & Fink
Representing: Moira Donegan, who is being sued by one of the men on the "Shitty Media Men List" Donegan created
There's a story in my family about when I was like 2½ — my grandmother said to me, "Robbie, can you please stop talking for three seconds?" And I said something like, "Grandma, I wish I could. It's just that I love talking so much I can't stop." At a pretty young age, I realized that lawyers got paid to talk, and I was all in.
I was very close with Judge Judith Kaye, whom I clerked for. She had a huge influence on me — I remember I was quite frustrated about something, and she said, "Look, Robbie, whenever I feel that way, I just go into the bathroom and I splash cold water on my face. You can never show anger." And I think even back then, around the mid-1990s, I responded something like, "I'm a different generation, Judge, and that's not how I deal with my frustration." But someone who grew up in her generation correctly understood that if she wanted to succeed, then she had to stifle it.
In Edie Windsor's case, the Defense of Marriage Act (DOMA) had as much of an adverse impact on me, maybe even more so, because I was young and married to a woman and had a kid. But I had this Post-it on my computer that said, "It's all about Edie, stupid." And part of that was our strategy: to tightly focus the case on Edie and her relationship with her longtime partner, Thea Spyer. But part of it was a not-so-subtle statement to myself: "Keep your stuff out of this." I managed to do that 99 percent of the time, but there is a point where Chief Justice Roberts was talking about how much political support gay people have. I said something like, "Well, you know, until 1990, gay people couldn't even legally enter the country," and my voice cracked from emotion. Every time I listen to it, I think, That's Robbie Kaplan coming out. I just couldn't hold it in anymore.
I originally argued the marriage case in 2006 in the New York Court of Appeals and lost, right after my son was born. It was incredibly upsetting, and I spent a lot of time reflecting on it. One thing I realized was that we'd had all these plaintiffs, but none of their stories emerged. I was arguing with the judges about an abstract political argument. Then upon meeting Edie, hers was the world's best story; talk about "in sickness and in health," the way she lived with Thea, who was paralyzed for so many years. It struck me immediately that it was the perfect way to do it.
In 2017, I started my own firm, and I have to say I'm pretty proud of myself for doing it. We'd literally been in our new office for four days — we were all working on card tables — when Charlottesville happened, last August. We were watching the news reports, and I thought, Something has to be done about this. I remembered an old case about a website called the Nuremberg Files: They put up the photos and home addresses of doctors who performed abortions. It was an incitement to violence. I thought, Can't we use a similar theory here?
We dusted off the Ku Klux Klan Act of 1871 — it prohibits conspiracies to commit racialized violence. And last October we filed a case against 24 leaders of the neo-Nazis, KKK, and other white supremacists. We just won a motion to quash a challenge to our subpoena brought by a woman by the charming handle kristall.night. Our subpoena will reveal the identities of the members of a chat room used to plan Charlottesville. We're going to be in trial probably about a year from now in federal court. — As told to Kera Bolonik
Alison Mass Thought Stephanie Cohen Was a Mergers Black Belt
Alison Mass
Job: Global head of the financial and strategic investors group, Goldman Sachs
Stephanie Cohen
Job: Chief strategy officer, Goldman Sachs
Alison Mass: I've been a partner since the day I got here, and we always talked about who the "Q1s" were, as we'd call the high-trajectory women. Stephanie was always on those lists. We call her a mergers black belt.
We wanted to build a global mergers business focused on financial-sponsor clients. It was a completely new role, no one had ever done it — and we needed someone who could create something from nothing. She had to trust the partners that we were all going to support her to make this happen. She finally agreed, but there was about six weeks of debate.
Stephanie Cohen: There's a group of people I generally go to when I make decisions, and this was probably one of the more split decisions.
AM: In those early days, she would come in with issues. "So-and-so is asking me to inherit this VP in my group, but I don't hear great things about him." And I'd say, "So say no." And she'd be like, "That's it?" Or, you know, "I wanna hire this guy, but I know they only want to pay him X, but I want to pay him X-plus. How do I get that done?" I'm like, "Pay him what you want to pay him." And she's like, "That's it?" I said yes. Her instincts are 100 percent right.
SC: I looked up to Alison. She had great client relationships, but she also had a very full life outside the office and was quite open about all that.
AM: As a woman in finance, I was in the minority for 37 years — I'm still in the minority. But I don't go into meetings and think about how I'm the only woman in this meeting. As a junior banker, the thing that I felt more acutely was the age difference. Being a 20-year-old woman with a 45-year-old or 50-year-old CFO, CEO, that I felt, and it was more the youth, that I just had to do my homework, I had to be the expert. There were times where people look at you and because of how you look they assume that you aren't as competent as the seven men that are sitting next to you, so I just poured myself into the details of being an expert.
SC: [Earlier in my career] I was doing general industrials, and I could go weeks without having another woman in meetings with me. The one thing I did notice: We do a lot of conference calls as investment bankers. You can have 20 to 30 or more people on a call, and it's important that you get your point across, and in some cases it's important that you get your point across and they know it's you. One of the benefits of being a woman is that they know it's you.
AM: It's a double-edged sword. Everyone remembers what you said in the room, so it better be good. Because if it's not … I feel like my relationships also give me power. I remember going to Merrill Lynch in 1990, and the head of banking asked me to give Henry Kravis a call about a piece of business. I remember looking at him and being like, "Me? You want me to call Henry?" So I go to my office, and with trepidation — I was a young managing director and I'd always been the No. 2. I picked up the phone and I called Henry and he picked up and said, "Hey, Alison, how are you?" He wanted to hear what I had to say, we had the business conversation, we hung up. I remember feeling amazing. Here I was, I had been working for nine years, and now I was able to pick up the phone and call the most important person in the private-equity world. That was the first time I realized that it didn't matter that I was No. 2, my relationship with him was what made me feel very powerful.
SC: I remember being a vice-president. I was relatively young and I was working with a relatively large transaction and I was really doing the whole thing. At some point, one person has to talk to one other person and actually get a deal done. You kind of look to your left and your right and you're like, "Yeah, I guess that's me." It was the moment where I became the doer, the M&A person. It was fun. It was really fun. In my childhood, I was a competitive figure skater, and the thing with skating is that you fall a lot. And the other thing with skating is that there's judges behind you, audience in front of you, and no one else is on that ice with you. And I think that everything else after that doesn't feel so hard.
Barbara Underwood Knows Being Good at Your Job Isn't Always Enough
Job: New York attorney general
Argued: 20 cases before the U.S. Supreme Court
As a Child: "I don't think that I knew any powerful women"
In the '70s, when I was teaching at law school, there was a cartoon in The New Yorker, which I had on my refrigerator. It's two little girls — as I remember it, anyway — walking down the street, and one says to the other, "By the time we grow up, it will be too late to be the first woman anything." And here I am 40 years later as the first woman attorney general in New York and there are many other positions for which it's not too late to be the first woman.
Now why has it taken so long in New York? It's hard to know. It is a political process, usually. I didn't get here through the political process. Politics is combative. I have conducted my life so that the idea was I would do the very best work I could do and advance that way, from the recognition of my excellence. And there have been various times people have said, "Well, if this were about merit, you would get the position, but it's not all about merit." Somehow or other, this time around merit turned out to be what mattered. But that's not so often the case in politics. I don't mean there are no meritorious elected officials, I just mean merit is often not the most important quality. Women are beginning to learn how to advance themselves in those other ways, or maybe they were slower to learn that men seem to have more of an appetite for combat.
I was very happy as solicitor general of the State of New York. I felt it was a wonderful job for me, and my name wasn't in the headlines so much, but it was on the briefs. The legal profession pretty much knew the importance of my role. The difference is that now, lots of people outside the legal profession have heard my name.
I never experienced or saw any of what is said to have happened in [Eric Schneiderman's] private life. Like everybody here that I know of, I was stunned and found it completely inconsistent with the man that I knew as attorney general. So I am left thinking that he kept his private life completely separate from his role as attorney general, and I think that he built a very strong office that I am privileged to lead. That office has done, and continues to do, great work, including work to protect women. I have learned over the years that people can be different in their private lives than they are publicly.
I would say that the principal reason [I didn't run for attorney general] is that it seemed at the moment when the position here became vacant, the most important thing to do was to keep the office moving forward on all of the important work that we were doing. I wouldn't have been able to do that — and I probably wouldn't have been appointed by the Legislature to this position — if I had not been the nonpolitical candidate that I was.
Even if you put that aside, running for office at the same time as doing all of this work would have been exceedingly difficult. So I told the Legislature, and I told anybody that asked, that I am happy to help whoever is the next elected attorney general. I think I can be very helpful, but of course it is up to them, whoever they may be. — As told to Gabriella Paiella
Marti Noxon Showed a Little Leg
By Jessica Weisberg
Job: Showrunner and producer
Credits Include: Sharp Objects, Dietland, UnREAL, and Buffy the Vampire Slayer  
Jessica Weisberg: Have you ever used sex appeal to get what you want?
Marti Noxon: When I was first starting in the business, it definitely helped to be considered attractive. Here are my legs! But the right amount of them to be appealing, not distracting and unprofessional. So sex appeal, yes. I only had so many ways to get invited into a room, and talent didn't always seem to be enough. But sex, no. Don't fool around with someone who can directly help you, because then word can travel that you're not talented and just using sex to get ahead. Even when it was offered me and I might have wanted to. Nope.
When was the last time you flirted to get what you want?
At 54, I just flirt to flirt. I get what I want now by being good at what I do and by being only somewhat interested in money. My "no" power is strong.
Your main characters often aren't in control of their emotions, their addictions, their relationships. Do you think there's a power in being a loose cannon?
Ha! Obviously I do. We all have messy parts. It's the presentation of perfection that isolates us and stops us from realizing that we're not actually alone. 
Julie Schwietert Collazo Reunited Migrant Mothers WithTheir Kids
By Lauren Hilgers
Job: Writer
Runs: Program for separated immigrant families out of her kitchen
Raised: $300,000 as of late July
When Julie Schwietert Collazo started a GoFundMe campaign in June, she was a self-employed mother of three who'd decided to help reunite one migrant mother with her children. And then the effort ballooned. One mother led to another and another. By August, Collazo and her growing team had formed Immigrant Families Together. They were working with hundreds of volunteers across the country and had attracted corporate partners — Casper mattresses and Tribeca Pediatrics — and wealthy matching donors. To date, they've paid the bonds of at least 50 women, reunited them with their families, and have expanded their mission to help hundreds of newly arrived immigrant children and families.
I've had abundant examples in my life of women who had a sense of their own agency. My grandmother was a single mother who worked two jobs to support my mom and her brother. My mom was the first person in her family to go to college, working as a barber to pay for it. I have this really cool newspaper clipping of her as, like, "Gainesville, Florida's First Female Barber!"
It was not power with a capital P. It was a grounded sense of self, which I think is an ultimate form of power. So many folks are afraid to be themselves because they worry they're not whatever enough. Not beautiful enough or knowledgeable enough. You can get a lot done if you're not spending enormous amounts of energy propping up this false sense of self.
We started with the bond project and reuniting moms with their families. Afterward, volunteers in bus stations started triaging the people who were coming out of detention. It could involve making sure that diapers got dropped off at a bus station in Des Moines, Iowa, or finding a pediatric orthopedist in Knoxville who'd agree to treat a child with a broken femur and displaced hip for free.
My approach to life generally is: Do what you can with what you have. You don't have to wait to figure something out; you don't have to wait to have all the money in place or all the volunteers you need. If I waited, I'd be waiting until … what? Until my kids go off to college? If I waited for all the "right" conditions, nothing would ever happen.
Del Harvey Doesn't Want to Silence the Trolls — She Just Wants to Make Them Harder to Hear
By Madison Malone Kircher
Job: Twitter VP of Trust and Safety
Note: Del Harvey isn't her real name
Your team at Twitter is predominantly women. Have you always worked in female-centric environments?
I spent five years at a nonprofit partnering with law-enforcement agencies to conduct sting operations on adults using the internet to solicit what they believed to be minors for sex. Perhaps unsurprisingly, the vast majority of the folks who worked within law enforcement were male. Sometimes, on the phone, they would've just defaulted to assuming I was a guy on the phone. My voice is deep enough that you could make that assumption. Then I would meet folks in person for the first time and just see crossing their face this moment realization like, "Oh, no. Did I say anything terrible that I absolutely should not have because I thought I was talking to a guy? Have I insulted her some horrible way?"
You're now in a position, heading up Trust and Safety, where you have power over a sizable chunk of the internet.
I really try to think about the work we do almost from a framework of human rights. Meaning, we obviously want people to feel as though they can express themselves safely on Twitter, but you want to make sure that there are protections in place so that one person's free expression doesn't also negatively impact someone else's privacy rights.
What about intentionally bad actors?
There's one thing to keep in mind: The vast majority of people of Twitter are not engaging in behavior that is in any way negative. Even within the people who are engaged in bad behavior, the vast majority of those people are doing so because they didn't know what our rules were or they got into an argument with somebody and things got a little too heated or they just weren't thinking one day. The remaining, very tiny number of people who are deliberate bad actors, if you will, we're limited in terms of what we can do within Twitter, but we're currently working on making sure that we're actually not incentivizing the bad behavior in the first place.
You're an infamously private person. You've adopted a pseudonym and people know very little about your background. What motivated you to create these boundaries?
Even apart from the roles that I've had, I'm just a private person. There have been threats that have been directed against the different executives on the platform. There are certainly people who feel very strongly about the work that we do, certainly not always in a positive way. I use a P.O. box. That decision dates back to, perhaps unsurprisingly, when I was working with law enforcement on those sting operations. When I found myself in this role, it made more and more sense to make sure that I was continuing to keep up that personal-safety hygiene.
Katrín Jakobsdóttir Presides Over a Feminist Utopia — and Still Thinks It Has a Ways to Go
Job: Prime minister of Iceland
Implemented: The world's most stringent pay-equity laws
Works: With the world's most-gender-balanced legislature
Whe great part about being a female politician in Iceland is, even though you're constantly being asked, "How do you raise children while being a politician, blah blah blah" — to which I always say, "I don't remember you ever asking a man that" — I think, as a whole, society really is beginning to accept women in power. That's really dramatic. When I go abroad, I get that reaction of, Whoa, what happened in Iceland? Why are you prime minister? Well, uh, good question!
But female politicians in Iceland still face a lot of challenges. Even though many people celebrate that we have a second female prime minister, we have had 30 or 40 men serving the same office. Women are still a minority in the parliament. For about the last nine years, we have been on top of the World Economic Forum's gender-gap report. So you would think we've achieved perfect gender equality, but it's still not there. When a woman says things like, "I want to be prime minister," she's considered to be a little bit odd. I sense that some people don't like it when a girl says she wants to control everybody. Old habits die hard. What could women in the U.S. learn from Iceland? Maybe that sometimes you need radical action to get results. We had an all-women's party, we have used gender quotas on the boards of bigger companies. There will always be that pushback saying change will come in due time. But history has shown us that it doesn't come by itself. — As told to Alexa Tsoulis-Reay
*A version of this article appears in the October 15, 2018, issue of New York Magazine. Subscribe Now!