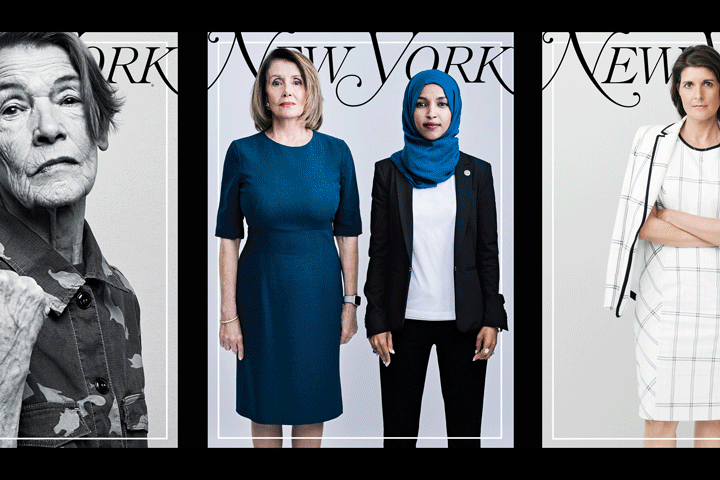 Women and Power isn't a series about women's empowerment. It's a series about women and their relationship to power — how they get it, how they lose it, how they wield it, what they sacrifice for it, and, ultimately, what they hope power will help them achieve. It's divided into four chapters that will be published on the Cut throughout the week. Click here to read more about the project and the women who participated.
Anita Hill Won, Even Though She Lost
Job: Professor at Brandeis
Once: Testified in front of the Senate Judiciary Committee during Clarence Thomas's 1991 Supreme Court confirmation hearings
Portrayed: By Kerry Washington in HBO's Confirmation
In many ways, the Kavanaugh hearings did feel like a repeat of 1991. The process is his word against hers. You'd hope the two parties would come as equals, but in this case, you have a woman against members of the Judiciary Committee who've already expressed antagonism for her, who've made it known that they don't think Dr. Blasey Ford is being truthful. And you have public statements by the president that suggest she's lying.
Someone came in with much more power to be heard, so my intent watching Dr. Blasey Ford was to clearly hear her, hear her voice. Did I have a flashback? No. But watching the hearings was distressing. Not just for me. I cannot tell you how many people told me they were sick, literally sick to their stomach, watching this. We need to think about why that feeling was so widespread: If you look at the numbers, we know that something like 50 percent of women experience workplace harassment.
I was home with the TV on in the background when I heard Kavanaugh had been confirmed. I had the same feelings I had before the vote, that it was all contrived to make sure that a confirmation occurred. On October 16, 1991, the day after the Senate voted to confirm Clarence Thomas, it was my mother's 80th birthday. I spent the evening with her and my nephew, celebrating her. And then I was back at the University of Oklahoma and taught my class like I always did.
What I really want people to understand is that everyone who comes forward is different. My experience had to do with race and with gender and with factors that might have actually improved my case, like that I was educated. But even that can be turned against women. The hierarchy of who is believed is complicated. In 2017, when I was asked to head the Hollywood Commission on Eliminating Sexual Harassment and Advancing Equality, I realized I had an opportunity to lead a discussion with people who could actually implement change. The work is not glamorous. We need to be more effective in the kinds of rules we put in place. Like bystander training. Everyone maligns it, but I'd challenge the entertainment industry to make it effective, to create organizational cultures where everybody feels it's their responsibility to eliminate bias.
Everyone likes to remind me that I did not win. I like to say I won, because I shared my story and people became much more aware of a problem that has been plaguing all of us. — As told to Amelia Schonbek
Lena Waithe Took the Emmy and Ran
Job: Creator of the TV series The Chi
First: African-American woman to win an Emmy for comedy-series writing
Once: Wore iconic Carolina Herrera rainbow-flag cape to the 2018 Met Gala
After I won the Emmy, I asked for a new showrunner for my show, The Chi. I was like, "I don't want the person currently running the show running it anymore." And the people involved were like, "Okay, whatever you want," because I just won this Emmy. It's the thing that happens in this town, where all of a sudden everybody's like, "This person is in an elite club now." I remember, myself and Donald [Glover], we went to the Governors Ball to go pick up our Emmys, we ran into each other and then Riz [Ahmed] came and we took that picture that kind of went viral. Donald looked at me, and we both said we're gonna use this — we're taking these and running with it. People of color are in a very interesting position right now. We're more than just in vogue. We are the culture. And so I think there's a desire in the industry to tap into what we've known for a very long time, that our stories are universal, that our stories travel. When someone says, "Hey, I want to go to Hollywood and be an actor," and they're a gay person, there's maybe a part of them that doesn't want to be pigeonholed: "I don't only want to play gay roles." I can't tell that person how to manage their public persona, but I think you get more bang for your bank when you are your authentic self out in the world. I think I get a lot of credit for just being myself. People are like, "You're so great. Oh my God. How powerful. How brave," and I can go, "Yo, I just woke up, put on an outfit, and came to the party." I'm just like you. But I guess very few people are like me in terms of being out. You've got Samira [Wiley]. You've got Wanda [Sykes] now. You've got me. Laverne Cox is out there. RuPaul. But that's, like, five people. Think of how big Hollywood is. Think of how sizable black Hollywood is. Obviously, there are some people in the industry that are one way at home and a different way on the red carpet, but mind you, I can't tell those people how to live. All I can do is lead by example. — As told to Anna Silman
Gloria Steinem Had to Convince Her Male Editors That Women Want Power
By Rebecca Traister
Job: Writer and activist
Founded: The National Women's Political Caucus with Betty Friedan, Shirley Chisholm, and Bella Abzug
Once: Went undercover as a Playboy Bunny
When the editors at New York were starting to put together this issue, they realized that almost exactly 50 years earlier, the magazine had published a story by Gloria Steinem titled simply "Women and Power." The main point of the piece was that women want power, but since they can't get it through work or in public life, they date and marry for it. "Sponge-like, women acquire the status (even, temporarily, some of the power) of the man they're with," Steinem wrote. "So much so that it's part of every girl's experience to be treated as two entirely different people just because she's changed escorts." Ironically, Steinem says today that she didn't want to write the piece but that her boss, Clay Felker, pushed her to do it.
"I argued with Clay about it," she says. "His premise was that women thought men were sexy just because they had power, and I disagreed with that. I told him that I thought that was a fantasy of men in power. So I tried to make it more about the fact that women wanted power in the first place." Or, as she wrote then: "A lot of men, and a surprising number of women, believe the sexual segregationist argument that women aren't interested in power at all; that something in their genes makes them prefer to be ordered about … That turns out to be no more fundamentally true than all the other past myths: that women enjoyed sex less than men, for instance."
At the time, Steinem was one of New York's only female writers, no doubt because she was already a journalistic star. Her first big article, written for Esquire, was about the Pill. "It was new and revolutionary, and Clay, who was an editor at Esquire then, was fascinated with the sexual aspect of it. And I got fascinated with how it was developed, how it was an outgrowth of the whole movement for birth control, the science. When I turned in the story, Clay told me I'd performed the incredible feat of making sex dull. I could see what he meant, and I remember by the time I finished the piece I thought that, yes, the Pill was likely to liberate women sexually. My last line was something like 'The problem may be there are too few sexually liberated men to go around.' "
Not long after she published "Women and Power," Steinem experienced what she's likened to a feminist awakening at an abortion speak-out and began to write about the women's movement. "I remember Tom Wolfe or Clay or whoever saying to me, 'You worked so hard to be taken seriously. Don't get involved. Don't be one of those crazy women.' I thought, But I am one of those crazy women," she says. "As a freelancer, I couldn't be fired, but I did get frustrated pitching stories about the women's movement. One editor said to me, 'Yes, we can publish your story saying women are equal. But then we'd have to publish one right next to it saying women are not.' "
Eventually, Steinem and a group of other female writers published the inaugural issue of Ms. (which was printed as a supplement to New York). One of Ms.'s early pieces was about sexual harassment. Surprisingly enough, that makes Steinem feel relatively hopeful. "The consciousness levels today, and the numbers of people you have to fight it, are huge," she says. "When we did a cover story on sexual harassment in 1977, we used puppets, because we didn't want to be too shocking. So we had a male puppet with his hand down a female puppet's shirt — and they still took us off newsstands."
Dianne Feinstein, Amy Klobuchar, Kamala Harris, and Mazie Hirono Asked the Questions — Brett Kavanaugh Got Hysterical
Senator Feinstein was elected in 1992, a year after the Anita Hill hearings. During those proceedings, there were no women on the Senate Judiciary Committee at all.
Mazie Hirono (Hawaii): I hope there will come a time when people like Dr. Ford can come forward, tell us their stories, and not be called a liar. Not be mocked by the president, no less. But that requires a culture change. Notice that there's all this pushback now of men being so afraid, as though we women just sit around thinking up ways to accuse them of things. Women have had to put up with this bullshit for way too long.
Kamala Harris (California): In 53 percent of sexual-assault cases, the victims do not report the case to the police. And we should no longer allow — or certainly, encourage — people to suffer in silence. We should be having this conversation out in the open, in a way that gives dignity and safety to survivors. And frankly, I don't think this process gave Dr. Ford the respect she deserves.
Dianne Feinstein (California): I think women are emerging in a way they never have during my lifetime. They are credible, they are believable, they are electable. But I don't think the culture's changed to the point where women are respected for what they do to the extent they should be.
Amy Klobuchar (Minnesota): In politics, power is when you get something done for the people you represent. Sometimes the result is a bill gets passed, sometimes it's getting something done for a constituent. But sometimes it's just making people know that you have their back and that you're a voice for them, which is what I think happened at the hearing. — As told to Olivia Nuzzi
Opal Tometi, Patrisse Cullors, and Alicia Garza Are Taking Black Lives Matter to the Polls
Known for: Black Lives Matter co-founders
Jobs: Alicia Garza, special projects director for the National Domestic Workers Alliance; Patrisse Cullors, founder of Dignity and Power Now; Opal Tometi, executive director, Black Alliance for Just Immigration
Opal Tometi: Even with the visibility that's come from Black Lives Matter, in so many ways I feel like the same person I was 15 years ago, when I was an organizer in Arizona working to unseat Sheriff Joe Arpaio and trying to rally the black community around the immigration issue. Even last night, I was with the family of Botham Jean, who was killed by a police officer in his home in Dallas. The officer thought he was a burglar. I'm with his grieving family, but I'm also in the room with a number of people whose brothers, sons, and uncles have been taken away from them. I know that now I can convene certain meetings a little bit more quickly than I was able to in the past. People know me and trust me now. But in the moment, the feeling is the same. I'm still calling people, trying to gather them for a meeting. In some cases, it's really disappointing that I'm the one reaching out, because the larger system hasn't changed. We're still having these same conversations so many years later.
Patrisse Cullors: Do I ever wish I didn't have power? Abso-fucking-lutely. Mostly in connection to being a queer black woman. I feel the trickiness of what it means to have situational power but not institutional power. My Black Lives Matter co-founders and I have social-media followings, but visibility does not equal power. Melissa Harris-Perry and Jemele Hill, for example, do they get to make decisions over their own fate at the end of the day?
Alicia Garza: We've actually gone from "Your protests are annoying" to "Why aren't there more protests?" But having power is more important than the tactics. What we're seeing now is the first wave of black women to win these primaries that actually share our values. That is the fullest expression of what power looks like. — As told to Vanessa de Luca
­
Brynn Tannehill Leads Better As a Woman Than She Did As a Man
Job: Military veteran
Felt Most in Control: When landing a Navy helicopter in the Indian Ocean in rough seas, in the dark
Maleness isn't a trump card. Being a very, very short, skinny, effeminate man doesn't actually carry a ton of privilege with it. As a trans person trying to exist within a military environment, I went from being considered a very weak, ineffectual leader before transition to being considered a very good one as a woman. It didn't happen as much until I got to a job where people didn't know I was trans. But the thing is, since transitioning, the way ­I approach things is very different. Take meetings: As an effeminate guy, if you want to come out of there with your point of view intact, you have to open up the meeting hard and fast to prove that you are the smartest motherfucker in this room. You make yourself look absolutely authoritative. Otherwise, they're going to assume that whatever crackpot idea they have is better than yours. Now, a lot of times they're going to have the same attitude toward a woman, but the way you approach that more effectively, I've found, is that you get the idea out there and you let them think that it's theirs. I'll throw an idea out and then immediately, "So what do you think, Irv?" Let him go, "Well, yeah, absolutely. This is blah blah blah blah in my experience." I honestly end up with more of my ideas getting through the gauntlet than I did before.
The naval academy, they teach leadership as a one-size-fits-all model: "This is what leaders do." And that's not true. Leadership has cultural and sociological aspects to it, and if a woman tries to lead just like a man, it's not going to go well. In a meeting recently, I got a little bit more vehement than I usually do and people were like, "Whoa." Leadership by consensus, leadership by socializing ideas, leadership by ensuring everybody's on the same page, leadership by just kind of checking in on people and giving people space to get their ideas out. There are guy leaders who can just say, "This is what we're doing." That's great, but it's a much tougher sell as a woman. — As told to Jenna Marotta
Stormy Daniels Didn't Want to Be Anybody's Hero
Known as: Adult-film actress who once slept with President Donald Trump
Accolade: 2014 inductee into the Adult Video News Hall of Fame
Once: Appeared in a 2005 Maroon 5 video, "Wake Up Call"
Briefly Considered: A 2010 run for U.S. Senate in Louisiana
Trump was not the president; he was just an idiot at a golf tournament. I mean, I went ten years without even thinking about Trump. It was funnier when he wasn't the president. Now it comes with this undeserved prestige. I actually have Trump supporters come out and get pictures and autographs and be like, "I just want to meet the lady that he picked to have sex with him." I'm like, What's wrong with you?
I didn't leak the story. Everyone thought I was doing it for attention or lying. I don't like the idea of sex being used for power, unless you're into some role-playing thing. A lot of women misuse sex as power; they'll withhold sex from their partner to get what they want, or they'll entice their partner. I think sex can be empowering — speak up in bed, take control of your body, say what you like. I didn't care if they knew I slept with somebody, but I don't want to be considered a liar or a kiss-and-tell. And that's exactly what happened — I got blamed for it. The people who believed it thought I leaked the story to extort the president. The other people thought I was just a flat-out liar and gold digger: "Oh, your porn career's in the toilet." Which, actually, it wasn't. I was the second-highest-paid director and the highest-paid, most award-winning female director ever in the adult business. I was directing big-budget movies once a month.
It was all really negative press and just a bunch of shit. People were too afraid to support me. But then the Rolling Stone article came out and it suddenly started to switch. 60 Minutes made a big difference too, because people saw that I wasn't an idiot. At that point, I was just like, Fuck it. I'll just tell the truth. I've got nothing to hide. I'm not embarrassed.
Before the story broke, I could still pack a club. I mean, I'm Stormy Daniels. Then for a while the clubs were dead; with so much press out front, nobody wanted to be filmed walking in. Then overnight the clubs got packed again. My old fans were gone, because middle-aged white guys are usually Trump fans. Now if you go to one of my shows, it's large groups of women, oftentimes in homemade matching Stormy shirts. They are loud, and they're angry. They're like, "Fuck Trump." Or they're crying. I'm like, Jesus Christ. There's no crying in titty bars. What's happening? People are grabbing me and giving me money, and then later they're sharing their personal stories. Women are saying, "I was molested," or "I was raped," and, "You've given me the inspiration to file charges against my boss." Just heavy, heavy shit every night.
That was the crazy part, because I started this just because I wanted to set the record straight and not be bullied. I really just wanted to save my own ass. Now I'm in charge of saving the world? What the fuck? No pressure, Stormy. It was very hard for me. I would have these days where I would come offstage and just want to cry. About every two or three weeks I would have a breakdown. What if I let everybody down? They really think I'm going to take down the president. That is fucking insane to me. I was like, I don't want this, I don't want this. Then eventually I became more aware of stuff I didn't know. I found out about the immigration stuff — the images of the kids in camps — and that was the big moment when I was like, Okay, fuck this motherfucker. Let's go, ladies. — As told to Olivia Nuzzi
[Read the Full Interview With Daniels Here]
General Lori J. Robinson Got Out of the Wives' Club
Retired: Air Force General
Once: Was in charge of the U.S. Northern Command and the North American Aerospace Defense Command
Slept: With phone on her chest because of Kim Jong-un
Probably the hardest job I've had was this last job. Obviously, defending the homeland is a stressful thing. One, you're working directly for the secretary of Defense, and I also worked for the prime minister of Canada. Whether it's Russian long-range aviation or Kim Jong-un, or hurricanes or wildfires, everything you do, everything I write, it's to the secretary of Defense. That's one part. The next part is that whole bit of Kim Jong-un ratcheting it up. That added a level of stress. It was just the most challenging thing I've ever had to do. Challenging is a good word. Hard sounds like I couldn't do it. I could do it.
I've been a commander, a general, an airman. Nine times out of ten, I'd walk into the room and be the only woman. Let me tell you, walking into a room in Qatar when you're the only woman and you're in charge, you know? When I got picked to be the deputy person in charge of the air forces in the Middle East, I was the first non-fighter pilot and the first female. Did I think I shouldn't do it? No. I don't remember going, Hm, I don't belong here. Were there things I had to learn? Absolutely.
I'll never forget when [Defense Secretary Ash] Carter called me and said, "I'm going to nominate you to go to Colorado [to be the general for the North American Command]," and I was like, "Sir?" He said, "It's not because you're a woman. It's because you're the best one for the job." If you listened to his speech at the change of command, he never once mentioned I was the first, which I appreciate.
I get emotional, and I'm not shy about it. In fact, at my change of command out in Colorado, when I was introducing Secretary Mattis, I got choked up. It doesn't diminish my stature one bit.
I didn't have many friends outside, so early on I'm like, Okay, I'm the only woman here, and they had what was called the Wives' Club. Now it's "Spouses." All the wives in my unit, they'd get together, and I thought, Maybe that's a source of support. So I go to one of the meetings. It's at night, and they have a couple glasses of wine, and what ends up happening is I get peppered with questions about their husbands. Like, "Hey, my husband got home late last night, did he … " I'm not answering those questions. I have to work with those guys; I'm not going to rat them out. So that did not become a source of comfort. At the end of the day, it was typically my sister, or I just dealt with it myself. If people knew me back then, I was probably pretty hard. Not in a bitchy way, but I just took a lot onboard. — As told to Alexa Tsoulis-Reay
Samantha Bee Is Really Angry
By Rebecca Traister
Host: Full Frontal With Samantha Bee on TBS
Nationality: Canadian
Accolade: Emmy winner
You've talked about the power of not giving a shit what people think about you —
Can we contextualize this conversation?
Of course.
We're in the middle of one of the most personally disruptive news cycles (at the time, Christine Blasey Ford had just publicly accused Brett Kavanaugh of trying to rape her), and there have been a lot of them. But this one is really … it's personal. It is just dredging up memories for everyone on my staff. It's hard for me to speak about my power in this moment. I feel distraught and really angry. And I think every woman I know feels the exact same way. So anyway, "How I get it done!"
Even for people like you — with a modicum of power in terms of expressing yourself — you're at the mercy of the news cycle.
Yep. It's a wild and very personal ride. It's psychologically completely taxing. Things that I haven't grappled with or thought about in 30 years — I'm remembering them now, you know? I'm shouting into a microphone, talking to you, a person I care about greatly! And I'm yelling at you! [Laughs.]
I yell at everyone, and I wake up every morning with my hands in clawlike fists.
Okay, I guess it's a good time to have a television show. I'm happy to have a voice in all of this. And look, I was like 46 when we started, and that's a great time to start if you're going to be a woman who is outspoken on television, because the industry has donkey-punched you so much. It's freedom to go balls to the wall. When you're over 40 on TV, you've got nothing to lose. No one can penetrate you with criticism of how you dress or look, because you've heard it all a bajillion times. And if you're careful with your heart, and you keep a little part of yourself outside — like you don't engage too much with social media — it's survivable. I've found it incredibly freeing to not read anything about myself, because I just don't care what people think of me.
That's great.
Is it? I don't even know. I care about the people I work with more than I care about actually performing a show. A lot more. So that's freeing too.
You got to be the person who made your workplace, right?
Yeah. It's not perfect. I'd never claim that. But it is a place where you can take your worst thoughts, where people aren't afraid to speak their opinions. And that makes it a joy to go to work every day. I have a friend who's starting a show. And she asked me for advice on hiring, and I was like, first, choose people whose ideas you care about and who care about yours, but also work with the people who will create the work culture you want to live in. Whatever that means to you, because that is very important … I don't know.
Also, teenagers should not climb on top of each other. It's just a bad thing. God fucking dammit. God fucking damn these people.
Marjorie Dannenfelser Used Donald Trump to Get Even Closer to What She Wants: No More Abortions
By Lisa Miller
President: Pro-life group the Susan B. Anthony List
Raised in: Greenville, North Carolina
Calls Trump: "The most pro-life president we've ever had"
Marjorie Dannenfelser cries easily, and this, she believes, is her greatest strength. She cries when she hears "American Honey," by Lady Antebellum. She even chokes up a little when recollecting the lyrics out loud in her office, because it reminds her of her upbringing in eastern North Carolina. "'She grew up on the side of the road where the church bells ring / And' … something," she says, laughing at her own sentimentality.
But the subject that most easily brings her to tears, the thing that really cracks her open, is the thought of the 2,500 fetuses being legally aborted every day. "It's the powerlessness," she says, her eyes brimming over. When she talks about abortion, Dannenfelser doesn't use the word fetus. She prefers baby or person, and the tears come because she feels so deeply connected with those "children," their vulnerability, and the pain of their circumstances: "Just the moment of connecting with the whole human condition and how it can be hard," she says.
For Dannenfelser, the tears are galvanizing. Since 1992, she has been at the head of the Susan B. Anthony List and has grown it into arguably the most powerful and effective anti-abortion organizing group in the country. In its early years, the narrow mission of the SBA List was to fund congressional campaigns of pro-life women, but it now supports male and female pro-life candidates at the federal and state level. It also lobbies Congress and state governments to pass laws that will restrict or curtail legal abortion. And it pressures politicians to appoint federal judges who can be counted on to uphold those laws. The SBA List projects that it will spend $25 million this midterm cycle, sending an estimated thousand canvassers to seven battleground states — including North Dakota, Missouri, and Florida, where Democratic senators Heidi Heitkamp, Claire McCaskill, and Bill Nelson are facing tough races — and supporting 13 pro-life Senate candidates and dozens more in the House. In 2016, it spent $18 million and helped reelect eight Senate Republicans — and it backed Donald Trump.
In her office in Arlington, Virginia, on the day before Christine Blasey Ford and Brett Kavanaugh were to testify before the Senate, Dannenfelser chose her words carefully. The national mood was explosive. Earlier that week, the SBA List had been rallying local support for Kavanaugh in states like Missouri, but now, perhaps out of consideration for my views (which she knew were opposed to hers on abortion), she seemed to pause. "If Kavanaugh were guilty of all these things, he shouldn't be the nominee," she told me. Once he was approved, though, Dannenfelser would push forward, promising to stoke partisan anger and elect pro-life candidates in November. "Americans saw through the vilification of an exceptionally qualified nominee, and their senators will be held accountable," she said in a statement. The legislative priority of the SBA List is the Pain-Capable Unborn Child Protection Act, a federal ban on abortion after 20 weeks — on the grounds, rejected by the American College of Obstetricians and Gynecologists, that fetuses can feel pain in that developmental phase. The bill has failed in Congress three times but has passed in different versions in 20 states since 2010. Any Supreme Court ruling upholding these laws would neuter Roe, and Kavanaugh's ascent to the Court makes such a ruling a near certainty.
In person, Dannenfelser is the kind of woman you'd be glad to chat with at curriculum night, with the harassed and slightly distracted affect of a working mother of five, which she is. "Marjorie's genuine," says Kathy Ireland, the former swimsuit model who has become a pro-life activist. "When you get to know her, you realize she loves women. She fights for women." Dannenfelser's authenticity is also tactical, an acknowledgment that the movement's past approach — hair-sprayed old churchmen lecturing women that having an abortion would send them straight to hell — didn't work. Shaming a woman "for having a different belief set, that's not what the movement really is," explains Rebecca Kleefisch, Wisconsin's lieutenant governor, who benefited from SBA List support. "Women of faith leave the judging up to God."
Two-thirds of Americans say they want Roe to stand, but half also say they are willing for it to be illegal in some circumstances. Dannenfelser embodies the movement's recognition, arrived at over the past decade or so, that its most effective proponents are women who can come across as sympathetic even as they exploit that ambivalence by pushing for restrictions to abortion, like the 20-week bans and onerous safety requirements for clinics. "Pro-life women won't be suspected, or credibly accused, of opposing abortion because they want to keep women in their place," a male editor of National Review wrote in 2010. "They can therefore talk about the issue less defensively than male pro-lifers sometimes do." Today, the movement's most visible and energetic leaders — from Penny Nance of Concerned Women for America to Kristan Hawkins from Students for Life to Serrin Foster of Feminists for Life — are women who, like Dannenfelser, might comfortably discuss their own mixed feelings about a pregnancy or their fights at Thanksgiving dinner with relatives who support abortion rights.
"Women are especially good at communicating on a human level," says Dannenfelser, although conservative women have historically been less good at this. "I think everybody knows how well the left, or progressives, do at communicating the human heart of the matter. And how the other side doesn't."
During the primary season of 2016, Dannenfelser — together with more than a dozen other female anti-abortion activists — strenuously objected to the candidacy of Donald Trump. Anti-abortion activists had been casting themselves as "pro-woman," sometimes even "feminist," for years, suggesting that it was men, or the patriarchy, that pushed women unwillingly into abortions to relieve themselves of the responsibilities of fatherhood. So it wasn't just Trump's past support for abortion rights that bothered these activists. ("I am very pro-choice," he said in 1999.) It was the degrading way he spoke about women. In a letter to caucus voters, Dannenfelser and her peers encouraged Iowa Republicans to "support anyone but Donald Trump."
The general election presented Dannenfelser with a values conflict: Trump may have come across as anti-woman, but Hillary Clinton was "a nightmare for the future for us, the legacy that we will never be able to return from," Dannenfelser says now. "Of course, I could never, ever, in any way affirm" some of Trump's behavior, she says (in her office, I mentioned the "pussy grabbing" comments), but "we had to make a decision, and the decision really came down to: Are we ever really going to be able to change abortion law or not?" The selection of Mike Pence as the vice-presidential candidate eased Dannenfelser's mind.
Before she threw the full weight of the SBA List behind Trump, she determined to extract promises from him. Here she leaned on her old friend Kellyanne Conway, whom she'd known since the early 1990s, and who, as a GOP pollster, was one of the architects of the new, female-centered messaging against abortion. The SBA List has the best ground game in the anti-abortion movement. One of its key strategies is to mobilize its paid recruits to target "high intensity" voters, who can be counted on to turn out on Election Day.  To assure the grass roots that Trump was for real (and to hold him to account), Dannenfelser enumerated her demands in a letter and gave it to Conway for Trump to sign. The letter, which Dannenfelser distributed to her grassroots leaders, was unprecedented in the history of presidential politics. It bore Trump's signed promise that he would nominate pro-life judges to the U.S. Supreme Court, sign into law the Pain-Capable Unborn Child Protection Act, make the Hyde Amendment permanent law, and defund Planned Parenthood. It also made highly politicized claims about Clinton's "extremism," including that she supports abortion until an hour before birth. When, in the final debate, Trump accused Clinton of supporting procedures that "in the ninth month, you can take the baby and rip the baby out of the womb of the mother just prior to the birth of the baby," Dannenfelser knew she had made the right choice. She and her troops focus much of their rhetoric on late-term abortions, even though only about 1 percent of abortions are performed beyond 21 weeks. ("They have to rely on extreme messaging to have impact," says NARAL president Ilyse Hogue.)
By then, Dannenfelser had been an anti-abortion warrior for more than 20 years. She understood exactly how valuable her voters were and how she might use them to incentivize the billionaire, thrice-married Trump to become what she now calls "the most pro-life president in history." The SBA List says it knocked on more than a million doors during the 2016 election cycle. In the campaign's last week, it released an ad showcasing Trump's anti-abortion rhetoric in four battleground states: Florida, Missouri, North Carolina, and Ohio. Whatever she might have once felt about Trump, her horror at legal abortion was stronger. "You've got to be decisive. You've got to take action, and you don't look back," she said.
When she was 18, the summer before she entered Duke, Dannenfelser had her own pregnancy scare. She had been raised in an Episcopalian home but at the time was adamantly pro-choice. Faced with the possible disruption of her future, she didn't have to think twice about what she would do: She would have an abortion. "No way was I going to — " she cuts herself off. "I mean, it just seemed like a stupid question." (It was, in any event, a false alarm.)
At Duke, Dannenfelser became the pro-choice chair of the College Republicans and, in that intellectualized, conservative environment of the 1980s, had numerous late-night conversations about the ethics of abortion. Her conversion, she says, was a slow process. "I remember this one particular guy. He kind of pinned me down on 'What is it?' That thing.
I mean, what is the object of the abortion? And I just couldn't get out of the logical problem I had. I had to call it a person." Shortly thereafter, Dannenfelser converted to Catholicism, inspired by the conservative intellectuals she was encountering and compelled by its prioritization of a "culture of life."
Yet the GOP candidates Dannenfelser so enthusiastically supports do little to value human life beyond eliminating access to abortion. They oppose immigration, they separate families at the border, they cut education budgets, they fail to provide any social supports for children or mothers, and they oppose the Affordable Care Act. When I point out some of those things to Dannenfelser, she talks about private-sector efforts to mediate these shortcomings and about "pregnancy care" centers, many of which are funded by organizations like hers. But on the broader failure of the GOP to deal comprehensively with the problems besetting families and children in America in the "culture of life" sense — "I know that's true," she says.
She may cry easily, but Dannenfelser is not one to get sidetracked by complexities. "I wouldn't say that if you don't get the culture right, if you've screwed up on that, you have no right to speak to the right to life. I think if you actually save the lives of 2,500 children today, it would be a job well done."
Dannenfelser has two grown daughters, who still argue with her about her choice to support Trump. One of them in particular will say, "'Don't you think it's going to do long-term damage to the pro-life movement, having someone who talked about women in a way that he did?'" she tells me. "And I would just say I'm very grateful for his leadership now, but in not many years he's going to be a footnote, and we will, I pray, have much stronger pro-life laws in this nation because of his tenure. That's the only way I can think about it."
­
Megyn Kelly Knew What She Was Doing When She Wore Those Spaghetti Straps
Host: NBC's Megyn Kelly Today
Once: Was a lawyer at Jones Day for nine years before breaking into broadcast news
Her Tough Questioning of Trump Resulted In: His infamous "blood" comment 
The night of the Republican National Convention in 2016, I wore a spaghetti-strap dress. That dress telegraphed a lot. Here's Donald Trump, accepting the Republican nomination after how many months of trying to bully me, calling me a bimbo. On top of which, I had just been outed as a Roger Ailes accuser against my will. It's like Trump, bimbo, "blood coming out of her wherever," on the one hand. And then, because of Ailes, I've become the scorn of a lot of people who the day before, or at least the month before, were dear friends. I felt encircled by men who did not at all understand what it's like to be a woman with power and to hear yourself called those names and referred to in those terms and to see a company turn against you when all you're really trying to do is stand up for what's right.
I put on the most feminine thing I had, and I rocked the coverage. I asked all my normal questions, which are always probing and often merciless, in my sexy dress. For me, it was a double-barrel moment of I can do it all. Just because I'm blonde and I have my sexy dress on doesn't make me a bimbo. It doesn't mean I need to go along with people who think only loyalty matters.— As told to Olivia Nuzzi
[Read the Full Interview With Kelly Here]
­
*A version of this article appears in the October 15, 2018, issue of New York Magazine. Subscribe Now!